International Travel Health Vaccinations

You Mean SHOTS????
COVID slowed us down for a couple of years, and now a few health issues challenge us.  We're still traveling if not writing about it quite so much. Our goal in 2022 was get to all seven continents in one year... and we did it.

Going forward health issues may not allow us to travel.  No one can take away those memories though.  We hope all of you are well and staying safe... and that you find some inspiration here for YOUR future travels. 

International travel health vaccinations.... That's a mouthful isn't it?
I debated how to title this page so you could find it. You know we travel to all kinds of exotic locations... and we love it.
The question we're asked all the time is...
"Do you need shots to go there?"
Often the answer is yes.
But you don't really care if WE need shots... what you really want to know is...
Do

YOU

need shots to travel...?

Yes, you may need some international travel health vaccinations.
Which travel shots you need will depend on your destination.
And here's something that might make you feel better...
...Some preventive medications you should take are not even shots at all... they can be taken orally as pills.

Travel to most big cities in developed countries probably won't require vaccinations, but in less developed counties, international travel health vaccinations are recommended and in some cases required.
Here's more good news... many of those vaccinations are good for 5 to 10 years, so it's not like you have to take them every time you travel.
We've got the basic requirements for travel shots below, but we're just travelers, not health experts, so let me give you a couple of places to find out details on international travel health vaccinations.
Official Places To Find Necessary Vaccinations

Check With Your Government Health Service
For U.S. citizens, that would be the U.S. Center for Disease Control Vaccination Page.
Consult A Travel Medicine Doctor
The CDC and some other government sites for travelers' health do sound a little scary and confusing, so to make it easy on yourself...
...find a travel medicine doctor.
They can give you advice on which vaccinations are required for your trip, which are recommended, and what other medications may be recommended, such as malaria pills.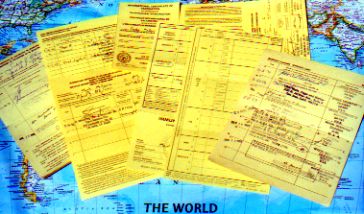 Other Tips About Travel Shots
          Get and Carry the Yellow Book
Get the yellow book entitled "International Certificate of Vaccination" as approved by the World Health Organization, and follow the advice of your travel medicine doctor.
Take this vaccination record with you. You probably won't be asked to show it.... we haven't been in years, but it takes up practically no room, and it's part of the documentation we like to have along just in case it's ever asked for.
Allow Plenty of Time to Get Those Travel Shots
Do start early and allow enough time ahead of your trip to complete all of the vaccinations that you may need.
Some international travel health vaccinations need a series of shots spaced days or weeks apart....
Other vaccinations require a few days to become effective.
If you are a U.S. citizen, no vaccinations are required to return to the United States.
OK... Here's the Basic List of Travel Shots

International Travel Health Vaccinations That May Be Required
Generally about the only vaccination that may be required is Yellow Fever, and then only if you are traveling into certain countries from an area of the world that is infected with yellow fever. This vaccination actually requires an official stamp from the vaccinating center.
For more information on Yellow Fever and where it may be required, again... head for the CDC site... click on Yellow Fever Vaccination Requirements this time. Or again, check with your government health service page for travelers. To find an official vaccination center near you, check for a travel medicine doctor or the CDC page on authorized US Yellow Fever Vaccination clinics once it is updated and again becomes available.
Most Other Travel Shots Are Only Recommended
Most of the other vaccinations are recommended for your health. They are not required... but you really should follow the recommendations.... Staying healthy is much more important than the quick prick of a shot.... It's much better to be safe than sick!

International Travel Health Vaccinations That May Be Recommended for Your Personal Well Being Are:
Hepatitis A and B
     
Polio
     
Tetanus (Diphtheria-tetanus)
     
Typhoid (either multiple vaccinations or a series of oral medications)


Others:
     

Encephalitis (Japanese encephalitis)
     
Pneumococcal
     
Meningococcal (meningitis)
     
Varicella (chicken pox) (or had disease)
     
MMR (or had diseases)

Cholera used to be recommended for some areas, but it's been years since we had it. The last we heard it was not an effective vaccination and not recommended as an international travel health vaccination.

Precautionary Medications....
In Addition to International Travel Health Vaccinations, there are some medications you might need or want for your travels.
For Malaria - Malaria pills would probably be the most commonly prescribed of these precautionary medications.
You should take these if you will be traveling in an area where malaria is a risk. (And take insect repellent with you to keep flying bugs away to fight all mosquito borne diseases.)
For Altitude - Your travel medicine doctor could also give you a prescription to help with altitude if your trip will take you to high mountains like the Himalaya or the Andes.
For Disease Outbreaks - Your travel medicine doctor might give you a prescription for an anti-viral medication if you are going into an area where influenza is prevalent.
You should have your flu shot, but it won't really protect you against things like the Bird Flu or the Swine Flu or some other influenza that rears its head.
Keep All Routine Vaccinations Up To Date - Not Just Flu Shots
That just makes sense. If you stay healthy in general, you'll stay healthier when you travel.
SHOTS...?
International Travel Health Vaccinations?
....It's Not So Bad
Call them what you like.... it really isn't so bad. Check your vaccination record... you've probably already had many of these. Talk to your doctor and get what you need.... and as I always say, plan that trip, pack and get going!
Happy travels... even if you don't travel the world... just remember that life is a journey... embrace and enjoy it! Judy and Mark
Curious about what else we've written about?  Search our site for a destination or travel tip.

But... We'd love to have you share this page or comment on it…
Thanks, Judy and Mark

Return from International Travel Health Vaccinations to MouseToursTravels Home Page