Visas and Passports
What Are These Documents? What Do You Need To Know?
COVID slowed us down for a couple of years, and now a few health issues challenge us.  We're still traveling if not writing about it quite so much. Our goal in 2022 was get to all seven continents in one year... and we did it.

Going forward health issues may not allow us to travel.  No one can take away those memories though.  We hope all of you are well and staying safe... and that you find some inspiration here for YOUR future travels. 

Visas and passports...   ...passports and visas.
Together they are the official permission for citizens of the world to travel...

...and that's what we're trying to encourage you to do... travel!
You're responsible for these documents and permissions when you travel abroad.
It's up to you to know the rules for each country.
If you're new to international travel, the paper work and documentation may sound confusing.
Can you believe it...
...Its a fact that not that many Americans have passports.
OK... seriously, I know you know what a passport is... but...

When do you need one?
How do you get one?
All countries issue their own passports to their citizens. Passports offer proof of identity and citizenship. Citizens of all counties need passports to travel internationally with certain exceptions. (Like the EU)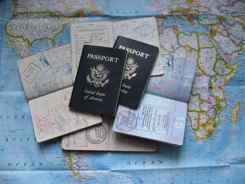 Some countries may require you to get a visa stamped into your passport before you travel. This is permission for you to enter from the country you are traveling to.
We tried to break this down for you, so check the page below that you think will help with your questions:
Visas and Passports... And Other Documents
Check the pages listed below to find answers.

If you want to travel, you're going to need a passport and depending on where you're going, you might need a visa.
It only sounds complicated because this is official government "stuff".... and you know how governments are.
Don't let all of this scare you into staying home. Getting visas and passports just takes making one step at a time. Get the passport first. You need that anyway. If you need a visa, read our page on that.... soon it will be stamped in your passport...
US Passports can take 4 to 6 weeks to get, so start early.  Why not start now?!

Then gather all your documents together. Keep them safe when you're on the road. Wear your money belt (I'll say this often... I want you to get this!!!)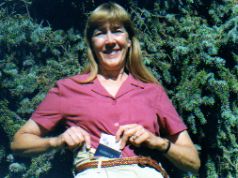 When you travel, keep documents and money safe. Wear your money belt!
Happy travels... even if you don't travel the world... just remember that life is a journey... embrace and enjoy it! Judy and Mark
Curious about what else we've written about?  Search our site for a destination or travel tip.

But... We'd love to have you share this page or comment on it…
Thanks, Judy and Mark

return from Visas and Passports to MouseToursTravels Home Page