What Is A U.S. Passport Card?
Can You Use It Instead Of A Passport?
COVID slowed us down for a couple of years, and now a few health issues challenge us.  We're still traveling if not writing about it quite so much. Our goal in 2022 was get to all seven continents in one year... and we did it.

Going forward health issues may not allow us to travel.  No one can take away those memories though.  We hope all of you are well and staying safe... and that you find some inspiration here for YOUR future travels. 

The United States only began issuing the U.S. Passport Card in July of 2008.
So just exactly what is it and when can you use it?
What Does A Passport Card Look Like?

It's a wallet size card with the same kind of information that is in your passport...

Name
Nationality
Birthdate
Sex
Place of Birth

Also when it was issued and when it expires and the card number.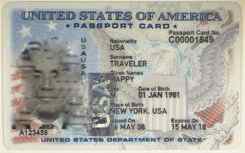 The back has a bar code and your information.
There is a also computer chip embedded in the card.
The government says there is no personal information written on this chip...
...but they will be able to access your passport photo and "biographical" information which is stored in a secure government database.
The government provides you with a protective sleeve to protect against unauthorized people from reading your card when you are not using it.  (This is something you're going to have to get used to for your passports and for your credit cards too now that the US is finally going to the "chip and pin" for credit cards.)

The cost is less than for a U.S. Passport. For more details go the the US State Dept page on them.

It Is Only Good By Land or Sea

It's size may make it more convenient for you, but it is only good for travel to and from Canada, Mexico, the Caribbean, and Bermuda -- ONLY if you are entering or leaving by land or sea....
... only cruising or driving.
The new cards are good for 10 years just like a passport. (They are good for 5 years for children under age 16.... also just like passports.)

It Is NOT Used For Flying

The U.S. Passport Card CANNOT be used for flying into these counties or any other countries.
Sorry for shouting, but you need to know this.

You Can Get Both

You can apply for a card even if you already have a passport.
You can also apply for both at the same time if it is your first time to get a passport. If you drive across neighboring borders often, it may be more convenient for you.
Remember, you CANNOT use it for international travel by air to any of these destinations.
I know I'm shouting again, but I wanted you to be sure to remember that.
We only have our passports now, that takes card of all of our needs, but depending on how you travel, the U.S. Passport Card could be for you.
Happy travels... even if you don't travel the world... just remember that life is a journey... embrace and enjoy it! Judy and Mark
Curious about what else we've written about?  Search our site for a destination or travel tip.

But... We'd love to have you share this page or comment on it…
Thanks, Judy and Mark