Visa Requirements
Visa Fees and What Else?
COVID slowed us down for a couple of years, and now a few health issues challenge us.  We're still traveling if not writing about it quite so much. Our goal in 2022 was get to all seven continents in one year... and we did it.

Going forward health issues may not allow us to travel.  No one can take away those memories though.  We hope all of you are well and staying safe... and that you find some inspiration here for YOUR future travels. 

Know your visa requirements before you go tearing off to a local Consulate or send your passport to an Embassy.
Be sure that you have collected all of the information and documents you'll need to apply for your visa.

Your travel agent may give you good advice on visa requirements...
But it is ultimately your responsibility to obtain your visa.
And to do that you need to gather the proper information.
To find out what the procedure and requirements are for each country you want to visit, check with the Embassy of that country. 
Get Visa Requirements On The Internet
You can look up basic information on the internet.  
All governments have pages to help their citizens with information they'll need for travel.
Look on your government website and the government sites from the countries you will be visiting to see what visa requirements are for you.
The U.S. State Department site, for instance, has information on what U.S. citizens need for visas.  And it has most of the information you need...
...but...
When we went to China, it didn't mention a requirement about the passport needing to have 3 months validity after a visit ends.
The Chinese Embassy site was where we found that information.  (And if fact, most countries require that now... or even 6 months of validity.)
Just check both sources.


Allow Plenty Of Time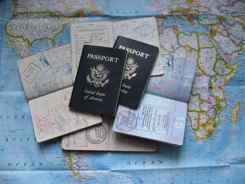 If you are going to need visas, don't wait until the last minute to see what you need to apply for a one.
You may have to gather several documents together.
You may need information from your bank or your travel agent.
You may need visas for more than one country.


Questions To Ask Yourself
Does your passport need to be valid for three or six months after your visit ends?
What are the photo requirements?
Do you need a passport size photo... or two?
What is the applications fee?
Can you pay the application fee with a credit card?
A personal check?
Or do you need cash?
Or a Cashier's Check from the bank?
Do you need a letter of "invitation" from a travel agency
...or a personal recommendation or sponsor?
Do you need a copy of round trip airline tickets?
Do you need proof of "sufficient funds"?
Do you need proof of a hotel reservation or some type of accommodation?
Do you need a copy of your Yellow Fever Vaccination Certificate?
Will you be applying for a single entry or multiple entries into the country?

You may think it's only one trip, but if you pass through a county more than once in visiting multiple counties in a region, you may need a multiple entry visa...

Which will almost always cost you more, but is worth it not having to work that out once you're on the road.


You may also be asked other questions about your health and character and why you are visiting the country.
If you will be traveling on business, you may need a different type of visa than a casual tourist will.
This may not be a complete list of visa requirements, but these are some of the questions we've come across in our travels.


Plan Ahead For A Smooth Application Process
If you plan ahead and gather together everything you will need to apply for a visa.... getting one will go smoothly... and so will your trip.

Happy travels... even if you don't travel the world... just remember that life is a journey... embrace and enjoy it! Judy and Mark
Curious about what else we've written about?  Search our site for a destination or travel tip.

But... We'd love to have you share this page or comment on it…
Thanks, Judy and Mark

International Travel Tips l Europe Travel Tips
Hotel and B&B Tips l Packing Lists
Go from Visa Requirements to MouseToursTravels Home Page