What Is A Visa?

Answers to What Is It?
When Do You Need One?
and
How Do You Get One?
COVID slowed us down for a couple of years, and now a few health issues challenge us.  We're still traveling if not writing about it quite so much. Our goal in 2022 was get to all seven continents in one year... and we did it.

Going forward health issues may not allow us to travel.  No one can take away those memories though.  We hope all of you are well and staying safe... and that you find some inspiration here for YOUR future travels. 

If you haven't traveled to exotic locations, you may well ask, what is a visa?

The more adventurous you get with your travels, the more you need to know about documentation.
You're getting ready for some adventure.
You've got your passport....
Then someone tells you you might need a visa....
OH NO!
Relax...  It's just one more little piece of the travel puzzle...
Getting a visa for travel nothing to worry about.
So... What Is A Visa?
A visa or travel visa is a document giving permission from the country you are going to visit for you to enter their country.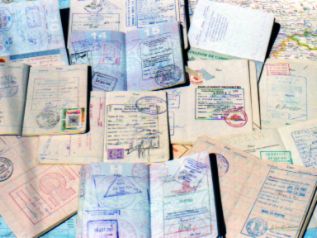 The country you're going to visit collects information about you.
They want to make sure you're one of the good guys.
If you are, then they'll issue a visa to visit for a limited amount of time, or sometimes for the duration of your passport. 
Visas come in different forms.
There are tourist visas,
     --student visas,
     --business visas,
     --work visas and
     --immigrations visas among others.
We'll deal just with tourist visas here. Even tourist visas may be single or multiple entry.
Where Does A Visa Go?
Visas in all their different forms generally go in those blank pages in your passport.
In some instances they may be issued separately, and you will have to carry these documents with you.  (This doesn't happen very often.)
Some counties require you to obtain a visa in you passport before your departure. It may be just an official stamp or it may be a specially glued in page in your passport.
Where Do You Get A Visa?
You may get one at the airport on your arrival in the country...
Or you may need to visit an Embassy or Consulate near you before you leave home...
Or, if you don't live near one, you may need to mail your passport with your application to an Embassy or Consulate.
Some countries issue them electronically.
Where To Check To See If A Visa Is Necessary
Check the website for the Embassy of the country you're going to visit.  They will have information on if a visa is necessary for you.  
You can get information on how much they cost, the rules for application, and probably download an application form.
Do You Always Need A Visa?
No, Not Always
Many countries do not require a visa for entry if you are only going to visit... on vacation.... for less than 30 or 90 days depending on your nationality.
You Don't Need It Ahead, But Upon Entry
As we said above, some counties require a visa, but it can be obtained upon entry.
This requires you to fill out paperwork on arrival in the country.
It may require passport size photos and a fee payable right there on the spot.... and it may need to be in cash.
Check ahead to see if you will need local currency or US dollars or Euros or the local currency.
It may surprise you. When we visited Cambodia, everyone had to pay for their visas in US Dollars.
If You're Honest and Law Abiding, You'll Get A Visa
A visa does not absolutely guarantee you will get into a country. It is always subject to the permission of an immigration official when you enter, and visas can be revoked at anytime if you do something illegal or offensive. 
If you're an honest traveler, you shouldn't have to worry about getting a visa or getting into the country you'd like to visit.
Happy travels... even if you don't travel the world... just remember that life is a journey... embrace and enjoy it! Judy and Mark
Curious about what else we've written about?  Search our site for a destination or travel tip.

But... We'd love to have you share this page or comment on it…
Thanks, Judy and Mark

Return from What Is A Visa to International Travel Tips l Europe Travel Tips
Hotel and B&B Tips l Packing Lists
Go from What Is A Visa to MouseToursTravels Home Page