You're Ready to Travel, Now...
What Do Passports Cost?
COVID slowed us down for a couple of years, and now a few health issues challenge us.  We're still traveling if not writing about it quite so much. Our goal in 2022 was get to all seven continents in one year... and we did it.

Going forward health issues may not allow us to travel.  No one can take away those memories though.  We hope all of you are well and staying safe... and that you find some inspiration here for YOUR future travels. 

It's part of your travel budget.... So what do passports cost?
I can only speak for U.S. citizens.

If you are the citizen of another country, you'll have to check with the proper government authority.
No matter where you live, remember to allow enough time to get the paperwork processed. 
If you need to get a passport quickly, you may have to pay extra fees to get one expedited.
If you are a US citizen, and you only want to drive to Canada or Mexico, then you may only want to get a passport card. 
We think you should always get a full passport, but we have information on the passport card here too.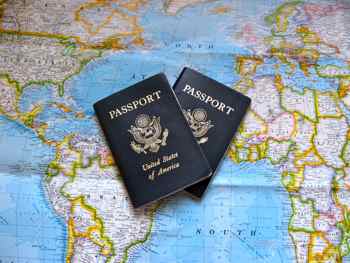 Fees For Passports
New Passports
As of 2011, the cost to apply for your very first United States passport (called a passport book on the State Department website) is $110 for adults and $80 for minors. An adult is anyone age 16 years and older.
There is a mandatory "Execution fee" or processing fee of $25 per passport for new passports, so..
The actual cost for the first time is...
$135 for adults and


$120 for minors.
Remember that there will be a small additional expense for passport size photos.
First time applicants MUST apply in person with the proper proof of citizenship.
What Do Passports Cost to Renew?
The cost to renew your passport is $110 for adults.
Adult passports are valid for 10 years. Minor passports are good for five years.
There is no processing fee on renewal for adults renewing by mail. You may mail your application in with your old passport. Your old passport (now invalidated) along with your new passport will be mailed to you.
Again, there will be small additional expenses for current passport size photos and postage.
For minors each passport is the same price as a new one.
If You Need A Passport In A Hurry
It can take 4-6 weeks to get a passport during the busy travel seasons.  If you have waited too long, you can get or renew one more quickly by paying a fee to expedite the process.

The US Government charges $60 to expedite your passport.

In addition, you should pay $12.85 per passport for overnight delivery.
Passport Cards
The relatively new U.S. Passport Card is wallet size and less expensive, but remember it is not valid for travel by air. It's a good option if you are cruising or driving between the United States and Canada, Mexico, Bermuda and the Caribbean. It's not good for cruising to Europe or Asia, and obviously you won't be driving to get there!
The cost for your first Passport Card if you do not already have a passport is $30 application fee and $25 execution fee for adults. Adults can get theirs renewed just for the $30 application fee.
Total Passport card fees...
Adults $55 for first time passport card


Adult Renewal $30


For all minors each time $40
For minors the Passport Card is $40 ($15 application fee and $25 execution fee).
Remember you'll have a small additional expense for passport size photos.
This Passport Card might be more convenient if you cross into Canada or Mexico often by land or sea.
What Do Passports Cost With Passport Cards?
You can apply for both the passport AND passport card at the same time. The cost for first time adult applicants is $140 plus $25 execution fee and for minors $95 plus the fee.
Total cost for Passport Book and Passport Card together...
Adult for first issue of both together $165


Adult renewal for both together $140


For minors $120.
Minors must pay the execution fee each renewal.
So what do passports cost? Those passport costs may seem like a lot of money, but it entitles you to ten years worth of travel. In my book, that's a bargain!
Happy travels... even if you don't travel the world... just remember that life is a journey... embrace and enjoy it! Judy and Mark
Curious about what else we've written about?  Search our site for a destination or travel tip.

But... We'd love to have you share this page or comment on it…
Thanks, Judy and Mark

Go to Passports and Visas
What Is A Passport  How to Get A Passport
What Is A Visa and When Do You Need One
What Is A U.S. Passport Card?
return from What Do Passports Cost to MouseToursTravels Home Page