Free Travel Search
Search Engine Results Help Your Travel Planning

COVID slowed us down for a couple of years, and now a few health issues challenge us.  We're still traveling if not writing about it quite so much. Our goal in 2022 was get to all seven continents in one year... and we did it.

Going forward health issues may not allow us to travel.  No one can take away those memories though.  We hope all of you are well and staying safe... and that you find some inspiration here for YOUR future travels. 

What's with the free travel search?  A bit of hyperbole perhaps, but...
With the growing number of pages on our site, not to mention the Web, we decided to add this convenient search page so you can find your way around.

Wondering where we talked about...
...Borneo
...or Brazil
...or health and vaccinations
...or travel stories?

Can't remember where you read about...
...malaria pills
...or Clan McEwen stories
...or African tented camps?
We have lots of tips on planning your trip, how to pack (depending on the climate) and how to deal with airports and security... OK I know we've perhaps tried to cover too much but we love to travel and we want you to love it too.
We hope MouseToursTravels gives you good travel tips, and we want to make sure you find them again... so that's what this page is all about.  So just use any of the search boxes on this page... they'll all lead you to answers and hopefully to a wonderful world adventure.

(We actually sometimes have trouble finding our own pages!  So we use this custom search too.  Don't be shy...
And if you have questions you think we might be able to help you with... Find our contact us page and send us your questions.  We'll try our best to answer in a timely fashion and help out.)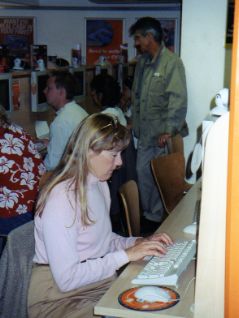 Remember internet cafes?  It used to be when you traveled, you had to find one to search the web. I think this one was in London.

Now you can just use your phone or tablet... or you could still just use your mouse to find answers to your travel questions!
In the Search Box below, simply enter whatever you're looking for.
For example, if you're searching for all the pages that mention "rental cars" on MouseToursTravels.com, you should enter rental car and click on the search button. We've set the default to search MouseToursTravels.com first to help you find what you saw on our site.

Ready For Your Free Travel Search?

We sure hope you can find what you're looking for here on our pages... we really do want to help you with your travels.

Please note that your search results page will have ads ABOVE the actual search results. Those are not from the site, but may be of interest, since Google targets the ads to your particular search.
Happy travels... even if you don't travel the world... just remember that life is a journey... embrace and enjoy it! Judy and Mark
Curious about what else we've written about?  Search our site for a destination or travel tip.

But... We'd love to have you share this page or comment on it…
Thanks, Judy and Mark

Go to Mouse Site Map  MouseMap for Travel Stories
Return from Free Travel Search to MouseToursTravels Home Page