How Our Travel Adventures Started
Now We Help YOU With Tips
COVID slowed us down for a couple of years, and now a few health issues challenge us.  We're still traveling if not writing about it quite so much. Our goal in 2022 was get to all seven continents in one year... and we did it.

Going forward health issues may not allow us to travel.  No one can take away those memories though.  We hope all of you are well and staying safe... and that you find some inspiration here for YOUR future travels. 

We've been lucky… We know that.
We've traveled a lot... and it takes a lot of trips to gain experience…
...and experience counts when you're writing a website to give help and advice.

So we thought we should tell you about how much of the world we've covered.

We're not bragging… (well, all travelers brag a little don't they?) 
We just want to convince you we know what we're talking about.

There are lots of website out there about roaming the world. 
We think sharing our adventures AND misadventures will help you plan and enjoy your holidays.

We'll Tell You Travel Stories

Stories about adventures that shaped us so you can read how we planned them.

And those misadventures?  We'll tell you some of the things we did wrong too.  You can laugh at our problems and see how we solved them.  And then try not to repeat them.

Hopefully you'll find something in our pages to encourage you.
We wanted to share our stories. Years ago, I thought of writing a book. That is still a dream.  In fact I'm thinking of children's books about Wonderful World Adventures, but in the meantime, we have fun with our website.

Stories are better than just lists. Perhaps a story will inspire you to go abroad, another may suggest an itinerary to follow; some stories will make you laugh, and hopefully they'll all drive home the point of our travel tips and help you remember them.
We are not travel agents, so we can't book flights for you.  But enough... back to how we got hooked on all this adventure...
Let's Start At The Beginning...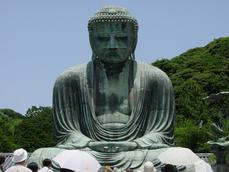 Our honeymoon was to Japan, Taiwan, Hong Kong and Thailand.
Picking Asia as a romantic holiday destination was a conscious decision. It was an option, even with our budget, because Mark was an airline employee.

We both wanted to explore the world, we were presented the opportunity, and the trip just evolved.

We had never been out of the country before, but we got budget hotels in each city, then we explored those cities on our own and took day trips to outlying areas. In Japan we took the train from Tokyo to Kamakura to see the giant Buddha.
When our plane was grounded due to a typhoon, we looked for plan B and took the bullet train from Tokyo to Osaka. In Taipei we accepted the invitation of a hotel worker to visit his home and had a wonderful, personal experience.
That very first trip taught us to be self reliant. We found that people were friendly and more than willing to help. You just have to put yourself out there.
Ask, and you'll get directions, advice, explanations and maybe make a friend. We learned that if we could get around there, we could get around anywhere.

Our first trip to Europe soon followed...
It was a whirlwind of capitals: London, Paris, Amsterdam, Copenhagen.
We included Scotland and Norway because we both wanted to see the countries that our ancestors came from.
We have gone from general overview trips to exploring specific areas in more detail as our travel style and skills evolved.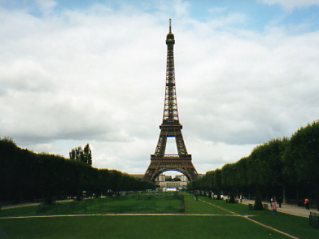 Through the years we learned to travel on a budget...
...but to sample the good life from time to time too.

You Can Profit From Our Adventures...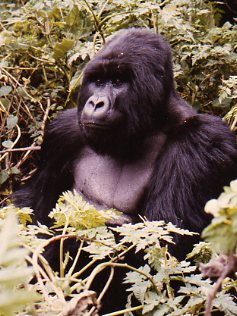 We have traveled mostly on our own or sometimes on a tour we arrange for ourselves and a couple of friends.
Tours may work for you; as this site grows, we'll give you some tips on those -- especially if you want to travel with a small group on a custom tour.
With the help of local guides we've tracked gorillas in Rwanda, chimps in Tanzania, orangutans in Borneo, and tigers in India.
We've taken traditional and untraditional safaris to see lions and leopards, elephants and antelopes throughout Africa.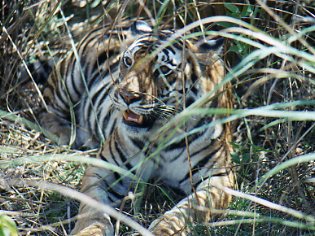 We've driven ourselves through wildlife parks around the world. We've been trekking in the Himalayas, diving in the Caribbean, and we've explored a wide variety of archaeological sites and ancient cultures.  We love museums and cities and jungles and mountains.
We are not fluent in any other languages, but we have learned a few words, and we have enthusiasm for learning about places and cultures. People love it when you show that you care for them.
One question we always get asked is what destination we like the most. Our standard answer is always the last place we went... because the excitement lingers from our latest adventure.
We've never found a place we didn't like.

How We Choose Our Destinations...
Another question we're often asked is how we decide on a destination. We're usually inspired by an article we've read, or a TV documentary we've seen, or a conversation with friends who have been there.
We like to look for a hook, something we want to see or experience or taste or ride in. It could be wildlife, a festival, wine tasting, flying an old airplane or driving an old steam train.
I'll tell you a couple of stories about recent trips where a hook turned into a wonderful trip.... just wandering as we love to do when the destination allows.
Grandpa's Home Town in Norway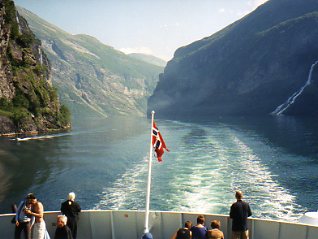 A few years ago some friends of ours from New York inherited a small summer house in Norway, and they invited us to come for a visit.
That got me talking to a cousin...
..which led me to an e-mail friend of hers...
...which led to a whole series of events that led us to the village my grandfather came from...
And a wonderful wander down the west coast of Norway including this ferry ride on the Greiranger Fjord.


Finding His Castle in Scotland
A couple of years after that, Mark started feeling like he should find his roots too.
We had the name of a town where his small clan may have come from, and we knew there was a Castle McEwen in Scotland.

That led to a trip to find the town and adventures in Scotland exploring a corner of the country we may not have gone to otherwise.

Tips We Want To Pass On

How to choose where to go.  What your travel style should be?  Nuts and bolts issues about passports and visas and money are all things we have dealt with, and you can see how we have faced up to them.
Does our lifestyle sound like one you'd like to try? Think about a website of your own!  It may not be for you, but here's a review of SBI, the company we use andlove. As we approach retirement, we want to keep on traveling and find a way to pay for it. We think our website can help us achieve that goal.
If you want to give creating a webpage a try, write a little story for us. It's easy to Share Your Story. Send us a story about a trip and see your name in print on the Web!
So use our tips, and hopefully our stories can help you find exactly what you want.
Happy travels... even if you don't travel the world... just remember that life is a journey... embrace and enjoy it! Judy and Mark
Curious about what else we've written about?  Search our site for a destination or travel tip.

But... We'd love to have you share this page or comment on it…
Thanks, Judy and Mark

Go to About Us
Our Scotland Castle  Share Clan MacEwan Stories
Our Norway Stories
Go from Our Travels Roots to MouseToursTravels Home Page