London Is Exciting, But...
Travel England Outside the City
COVID slowed us down for a couple of years, and now a few health issues challenge us.  We're still traveling if not writing about it quite so much. Our goal in 2022 was get to all seven continents in one year... and we did it.

Going forward health issues may not allow us to travel.  No one can take away those memories though.  We hope all of you are well and staying safe... and that you find some inspiration here for YOUR future travels. 

We don't think you need any kind of tour to travel England, so this is not a custom tour planning guide....
And it's not a travel guide to London or England.


We just want to encourage you to go.
You can have adventures anywhere you go even if it's not adventure travel.
It's likely that London will be one of your first international trips.
Americans find the UK comfortable because there is no language problem...
...well, almost no language problem.

London Seems Familiar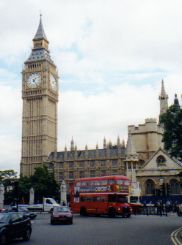 We see it on the news... you know... Big Ben, the Tower Bridge...
Why, even the Queen and the Royals seem like friends because you've seen them so often on the TV.
This picture of the big red bus in from on Big Ben is so typically London....
The sad news is the old Routemaster buses were retired (or decommissioned) in 2005.
But don't worry, they still have red buses, and they're still a good way to get around.



We Saw London Early On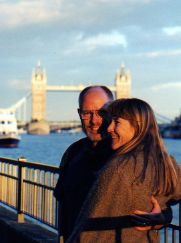 We included London on our first trip to Europe....
We started in Edinburgh then took the train to York and on to London.
We loved taking it all in...  the museums, all the plays...
The Thames and the walk along its banks,
The Tower of London, and the Tower Bridge.



See Buckingham Palace and the changing of the guard....
There is shopping at Harrods and the flea markets.
See Trafalgar Square, Picadilly Circus, Covent Gardens.

If you haven't heard about these on the TV (or the telly as they say) then surely you've seen a Masterpiece Theater or PBS Mystery that takes someone there.

Experience All Of The City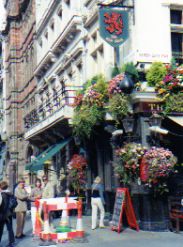 There are pubs to crawl and the tube to ride.
London is a wonderful city.
You can find accommodation in anything from a B&B to a five star hotel to suit your budget.
You can eat in those cozy pubs or in upscale restaurants.



We encourage you to see London... on your own or on a tour. It will wet your appetite for travel!
If it's more comfortable for you to travel England with a tour on your first trip... go for it, but you don't need a tour. Just get your favorite guide book and start exploring.
Travel England Outside It's Cities
You have to see the famous cities like London, but whether on your first trip or the next, you really should consider getting out into the countryside to explore.
You can travel England on trains or buses to other cities and towns or you can drive yourself.
On that first trip we broke our train trip in York and had a wonderful time exploring that city.
We Love Driving

Our favorite way to ramble around the whole of the UK is by rental car.  Not in London, but for the countryside.
Yes, you have to drive on the left.
Don't say on the wrong side of the road.... the left side of the road is the correct side for half of the world! OK maybe not half... but a lot do.
It will seem unfamiliar at first to Americans and others used to driving on the right, but take it slow and easy and you can do it.
So Much Familiar History

England may not seem that big, but travel England, and you discover so much history.
The small back roads take you to small, charming villages, and manor houses...
...and castles... Americans just love to explore castles.
Drive southwest of London and see Cornwall and Devon as we did.
For local tips see what our friends say about East Devon.
And Just Keep Driving... Or Exploring

Explore Stonehenge and the Lake District.
Venture beyond England to the rest of the United Kingdom... Scotland, Wales and Northern Ireland.
You can captain your own canal boat.
If you love old trains, there are plenty to ride and a great train museum in York.
If you like historic airplanes, there are plenty of air museums to visit and some great air shows where you can see planes you can't see at air shows in the U.S.
You can even go wine tasting!


Wow, I feel like grabbing my passport to travel England right now.
Our point is, get out of the city and explore.
Use your hobbies or interests as a draw or just choose a region to ramble around.
Cities are exciting, you must see London, but to get a true taste of England get outside of the city.
Happy travels... even if you don't travel the world... just remember that life is a journey... embrace and enjoy it! Judy and Mark
Curious about what else we've written about?  Search our site for a destination or travel tip.

But... We'd love to have you share this page or comment on it…
Thanks, Judy and Mark