Irish Pubs
Part Of The Fun On Your Irish Holiday
COVID slowed us down for a couple of years, and now a few health issues challenge us.  We're still traveling if not writing about it quite so much. Our goal in 2022 was get to all seven continents in one year... and we did it.

Going forward health issues may not allow us to travel.  No one can take away those memories though.  We hope all of you are well and staying safe... and that you find some inspiration here for YOUR future travels. 

Irish Pubs are as much a part of the local scene as the iconic tiny green fields bordered by stone walls.
Whether you're a beer lover or not...

You should visit at least a few Pubs during your visit.
When we traveled in Ireland with family, we stopped at a Pub for lunch.
Our nieces were young at the time, and they wanted to know if it was OK for them to go into a bar....
Don't think of them as bars.

What Is A Pub?

The term pub is short for "public house". The locals go there to hang out and socialize.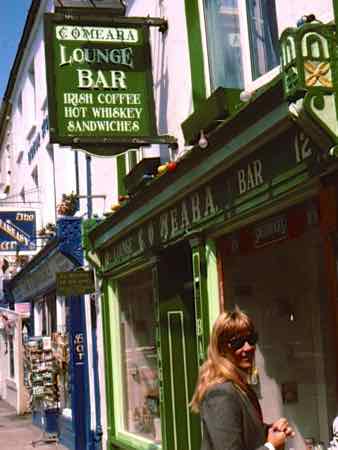 Children Welcome

Children are served food and soft drinks.
Sometimes there is a special section, and they may be asked to leave earlier at night than the other patrons.
The legal drinking age is 19 in Ireland.
Great Places To Eat

Irish Pubs are great places to get a decent inexpensive meal.
"Pub Grub" earned a bad reputation years ago, but it's not what it used to be.
There are a few pubs that have microwaved meals and wilted salads, but most are really pretty good today.

Get Tips From Locals

To find the best pub in the area where you're staying, just ask the host at your B-and-B.
You'll probably get a great tip for a meal and a fun evening.

How To Order

In most pubs, you order at the bar... both your drink and your food.
If you're unsure how to order beer... just ask... and ask about the different types.
Most bartenders or publicans will take the time to educate you. Do you know the difference between beer and a bitter?

If you just ask for a beer... you're apt to get a pint of Guinness.
If you want less, ask for a half-pint.
Get The Right Brew

We don't drink beer much at home, but we love to try local beers when we travel, so we suggest you try some of the local brews in Irish Pubs.
There are long handles with plaques on them at the bar that let you know what is on tap.
If you ask, they will probably let you have a small taste of one or two to see if you like them... of course, you must order one in the end.
Besides Guinness Stout, there are other ales, bitters, and beers. If you like lighter beer ask for a lager, something like Harp.

Irish Pubs Are Fun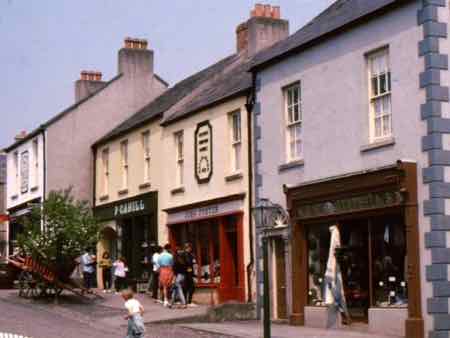 Pubs are open for lunch and straight through to dinner and into the evening...
...usually from 11:00 AM to 11:30 PM.
If you're staying in a town for a couple of nights and visit the same pub, you'll probably be hailed as a friend by your second visit.
You'll only be a stranger in a pub if you want to be. If you try talking to the locals, you'll soon be in a conversation.
If you're really lucky, you'll run into some traditional music. You may find music advertised or it might just happen spontaneously. Musical instrument can be fiddles, flutes, guitars or accordions... or all of the above. But if you're really lucky you might hear the Irish version of bagpipes... uilleann.
Whether you get music or great food or just a pint and a snack, you'll find a friendly place to stop in an Irish Pub.
Happy travels... even if you don't travel the world... just remember that life is a journey... embrace and enjoy it! Judy and Mark
Curious about what else we've written about?  Search our site for a destination or travel tip.

But... We'd love to have you share this page or comment on it…
Thanks, Judy and Mark

International Travel Tips l Europe Travel Tips
Hotel and B&B Tips l Packing Lists
Go to MouseToursTravels Home Page