Driving in Ireland
You Can Do It!
COVID slowed us down for a couple of years, and now a few health issues challenge us.  We're still traveling if not writing about it quite so much. Our goal in 2022 was get to all seven continents in one year... and we did it.

Going forward health issues may not allow us to travel.  No one can take away those memories though.  We hope all of you are well and staying safe... and that you find some inspiration here for YOUR future travels. 

Driving in Ireland? We've done it. You have to drive on the left...
and negotiate some narrow little roads sometimes, but it just gets you to so many wonderful little places.  We had fun, and we can highly recommend it.
We're not going to tell you it's easy.

We do want you to think about a few things before you get that rental car and jump in.
Let me tell you a story...
We were traveling with Mark's brother's family in Ireland.
At the Shannon airport, the fellows went to get the car we'd be sharing.



The Rest Of The Story

It was a small van since there were six of us... Already a big car for Ireland, right?
Well, brother doesn't travel much, but he had made the car reservation, and he said, "Don't worry, I can drive it."
By the time they got from one side of the airport to the other to pick us up, he gave the keys to Mark and said, "I'll watch the first day or two."
Eventually he was driving in Ireland just fine, but the point is, it does take some getting used to.  And if you're just coming off a long flight, with jet lag... it might be best to wait a day or two before tackling it.


Driving A Stick Shift On The Left
Most cars are stick shift/ manual transmission.
"That's OK", you're thinking, "I can drive a stick shift."
But can you do that comfortably on the other side of the car (the driver sits on the right)
...with the shift on the other side....
...driving on the left? Remember Mark's brother.

Extra Insurance May Be Mandatory

Ireland is one European country that has a lot of traffic accidents. Because of that, you may find that Collision Damage Waiver insurance (CDW) is mandatory on your rental car.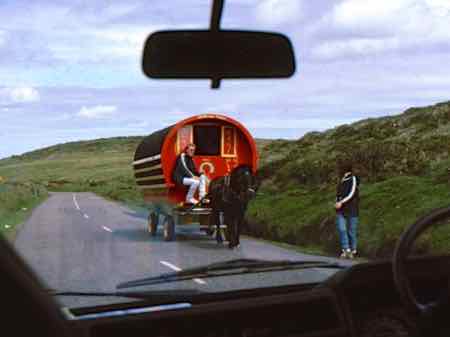 Maybe it's those narrow roads with the hedgerows that make it difficult to see other traffic, and difficult to avoid the traffic even if you see it... unless you're going very slowly.
Don't count on your credit card coverage here....
Check with your credit card company before you rent. Ireland may be one of those countries they exclude from coverage.
You'll sometimes be told that you need an international drivers license, but you can usually get by with just your regular driver's license. Always check before you go.

Get The Smallest Car You Can Fit In

When you're making a rental car reservation, we suggest you reserve the smallest car your group will fit in.
We keep repeating... remember those narrow roads.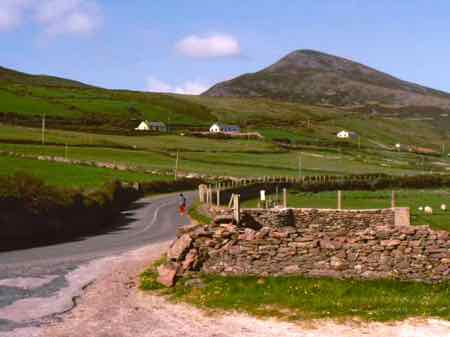 Smaller cars will be easier to park.
You'll also get better gas mileage with a smaller car.. and gas is expensive.

Take It Slow And Enjoy The Scenery

Car travel isn't necessarily fast. The speed limit through towns is 30 miles per hour or less (50 km/h).
You mostly be on small roads that go through lots of towns. That's why you're driving in Ireland... to see all those little Irish towns and the great scenery.  And you certainly don't want to drive in big cities if you can avoid it.


Get Used To Roundabouts

They really make things easier once you get the hang of merging....
Remember that traffic in the roundabout has the right of way.
Roundabouts are easier, really, than right hand turns at big intersections where most Americans and Europeans are turning the "wrong way."

Where To Park

If you get confused about where to park, ask a local.
Do you need to pay at a central machine and get a ticket to park at a pay-and-display area?
Locals will let you know what is legal... and talking to locals is part of the fun.
It's the same thing if you get lost. Stop and ask someone.
You can get directions and a dose of that Irish lilt at the same time... and sometimes a story will come with it.

A Little Gaelic?

Anything more about driving in Ireland?
Get a guidebook or map that translates Irish place names so you'll know what you're looking for...
It may not be Greek, but Gaelic can be just as confusing.

Obey Laws When Driving In Ireland

Wear your seatbelts.
Obey the speed limits; they are strictly enforced...
You shouldn't be in a hurry anyway... you're on holiday!


Happy travels... even if you don't travel the world... just remember that life is a journey... embrace and enjoy it! Judy and Mark
Curious about what else we've written about?  Search our site for a destination or travel tip.

But... We'd love to have you share this page or comment on it…
Thanks, Judy and Mark

International Travel Tips l Europe Travel Tips
Hotel and B&B Tips l Packing Lists
Go from Driving in Ireland to MouseToursTravels Home Page