Airshows In England
Antique Airplanes For Colorful History
COVID slowed us down for a couple of years, and now a few health issues challenge us.  We're still traveling if not writing about it quite so much. Our goal in 2022 was get to all seven continents in one year... and we did it.

Going forward health issues may not allow us to travel.  No one can take away those memories though.  We hope all of you are well and staying safe... and that you find some inspiration here for YOUR future travels. 

Airshows in England? Maybe you're ready for a break from castles and museums...


We love all kinds of history, and we love antique airplanes.
In the UK it's amazing how much history you can learn by visiting aviation museums and airshows....
So, we often go looking for airshows to mix things up.
You can find one... or two... every weekend from March to October.


Where To Find Airshows In England

There are military airshows at Royal Air Force Bases and displays featuring antique airplanes... or antique aeroplanes as they like to say... at museums from north to south.
If you want to spare yourself having too look all over the British Isles for times and dates, there are two big venues for airshows in England.
The Imperial War Museum Duxford and

The Shuttleworth Collection     

Those two will show you planes from early aviation pioneers to World War II almost up to the present.

The Duxford Museum and Airshow
The Imperial War Museum Duxford is a great place to see vintage aircraft. The museum is open all year.
Four times a year Duxford hosts major airshows in England, with smaller shows almost monthly.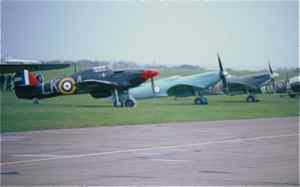 You can expect to see rare and historic aircraft on the ground and in the air....
World War II aviation legends like Hurricanes and Spitfires.

There are less well known legends like the Gloster Gladiator... or how about a Hawker Hind?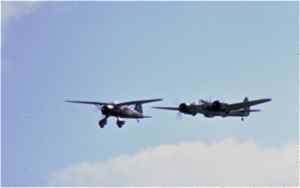 You may have heard of a Westland Lysander or a Bristol Blenheim Bomber… 
Maybe you can see them flying together.

If you're into Mustangs and other American "warbirds", there's a great American Air Museum on the grounds.
Duxford was first in use in World War I. It was a Royal Air Force Fighter Station in World War II. When it was closed, it was turned into the great museum it is today. Duxford is about 50 miles (80 km) from London just off the M11 Motorway. It is just about 10 miles (16 km) south of Cambridge.
The Shuttleworth Collection Air Display
If you're interested in seeing even older aircraft, visit the Shuttleworth Collection, in Old Warden, near Biggleswade. They specialize in "Edwardian Flying Machines."
The emphasis of their museum is on planes that are from the early years of flying, World War I and the 1920s and '30s between the wars. There are some World War II aircraft and some that visit on flying display days.
The Shuttleworth collection is dedicated to keeping even the oldest of their planes flying, and they schedule flying displays throughout the airshow season.... the airshows take place subject to "weather, serviceability and availability" according to their website.
Conditions have to be just right for some of these fragile old aircraft, and the planes themselves have to be ready to fly... if that sounds like they almost take on a life of their own, they do. The pilots learn to listen to the old planes, and if something doesn't sound quite right, they don't fly.... but you can still see them on the ground.
These old planes take off and land on grass, and that's fun to see all by itself.  This is actually a great place to take kids.

The Shuttleworth Collection is just a couple of miles off the A1 Motorway about 30 miles (48 km) north of London.... you can drive it in about an hour.
If you want to visit both, you'll probably have to settle for a flying day at one and a visit to the museum at the other... but that's not bad. They are about an hour or two apart over country roads. On rare occasions they have flying displays the same weekend... you could see one on Saturday and one on Sunday... How's that for seeing the best airshows in England.
If you want to learn more about where to see and fly old planes see our new site at Antique-Airplanes.com.
Happy travels... even if you don't travel the world... just remember that life is a journey... embrace and enjoy it! Judy and Mark
Curious about what else we've written about?  Search our site for a destination or travel tip.

But... We'd love to have you share this page or comment on it…
Thanks, Judy and Mark