Carnac, France
Mysterious, Ancient Stone Alignments
COVID slowed us down for a couple of years, and now a few health issues challenge us.  We're still traveling if not writing about it quite so much. Our goal in 2022 was get to all seven continents in one year... and we did it.

Going forward health issues may not allow us to travel.  No one can take away those memories though.  We hope all of you are well and staying safe... and that you find some inspiration here for YOUR future travels. 

You've heard of Stonehenge, but how about Carnac?
Never heard of it?
It's in Western France, in Brittany (Bretagne).

You should plan a trip to Brittany if you liked seeing ancient monuments like Stonehenge, Avebury and others.
Rent a car in Paris and drive.  It's about a 6 hour drive southwest of Paris.
We went a few years ago, and we had a ball exploring a part of France that the French love, but not many other tourists go to.

Carnac Has Ancient Megaliths

This whole area is an important site in France for ancient megaliths.
The stone circle at Stonehenge is more photographed and easily recognizable...
...but for the sheer number of stones and amazing geometry you can't beat the grand alignments at Menec and Kermario.
These Are Not Stone Circles

What do we mean alignments? You're thinking... "Don't you find these standing stones as circles or single stones or dolmens or something like that?"
The answer is.... Not always... these are different.
Alignments du Ménec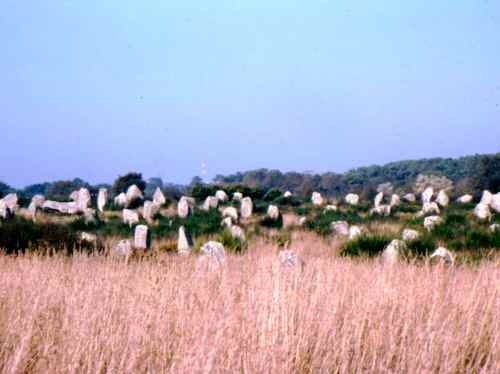 The stones of Le Ménec in Carnac are arranged in "alignments" that date back about 4,000 years.
There are over 1,000 megaliths of granite.
The largest are over 12 feet tall (about 4 meters).
They are arranged in 11 parallel rows, which run for over a mile (about 2 km).
Some guides say they ran for 2 1/2 miles (4 km). When you see them, all you really know is that it's amazing to see the rows marching through the countryside the way they do.
Scientists have determined that there were originally twelve rows. Many of the stones were taken away to use for buildings through the centuries.
Of the stones that remain, many had toppled over and have been raised back into place.
The stones decrease in size and height along the length of the alignment and also across it. Experts puzzle over the reason for that.
Legends Behind The Stones

Local tradition says that the reason the stones stand in such straight lines is that they are a Roman Legion turned to stone by Merlin.
That magician gets around doesn't he? He was supposed to be involved with moving the megaliths to Stonehenge too.
Brittany has its own local versions of the Arthurian legends.
As with other ancient stone monuments, these alignments are thought to be associated with astronomical and religious rituals of some sort. These may have been used for calculating the phases of the moon.
There Are Other Alignments In The Area

The area is rich in other groups of standing stones...
The Kermario Alignment is another that impressed us....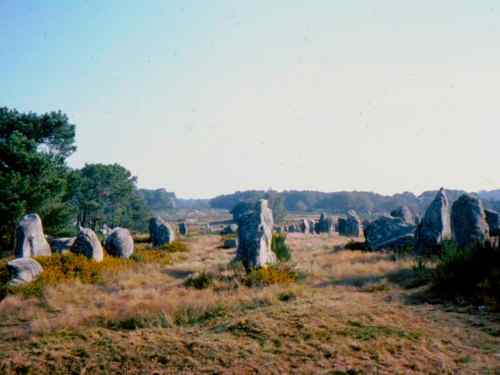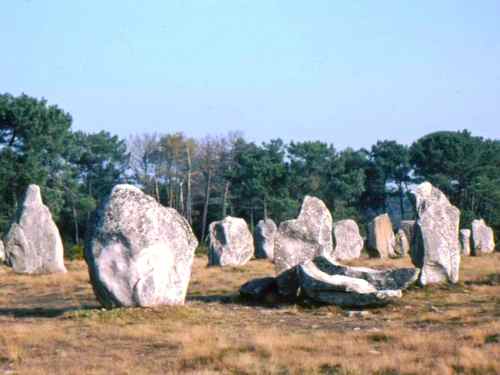 There are tombs, dolmens, and other megalithic monuments, such as the "alles couverts"... these are 3rd and 4th century BC grave sites.
Get A Brochure and Explore

To find them, the best thing to do is get a map from the tourist bureau and poke around the area.
Be Prepared For Variable Weather

Brochures on the area say the peninsula and the Golfe du Morbihan enjoy a warm micro climate, but Brittany weather is dominated by its proximity to the Atlantic Ocean...
The weather can be cold and wet at any time of the year... so take a sweater and umbrella even in the summer.
How To Get There

If you don't want to make the drive from Paris, you can take the TGV train to Auray. The train ride is only 3 hours.
Carnac is about 12 km From Auray so from there you could take a bus or taxi.
There is still the problem of getting around to all of the different alignments. You could rent a bike or a scooter, but a rental car still might be the way you want to go in the area.
Where To Stay

Stay at a little local hotel near the beach.
Try a little cider (cidre), but be careful... it's made with fermented apples so it has a little alcoholic kick.
Have crepes which are also a local specialty.
We had no problem finding hotels and restaurants.

So take a few days to explore the ancient French alignments at Carnac.
Happy travels... even if you don't travel the world... just remember that life is a journey... embrace and enjoy it! Judy and Mark
Curious about what else we've written about?  Search our site for a destination or travel tip.

But... We'd love to have you share this page or comment on it…
Thanks, Judy and Mark

Return to International Travel Tips
Go from Carnac to MouseToursTravels Home Page