A Drive Through Brittany
COVID slowed us down for a couple of years, and now a few health issues challenge us.  We're still traveling if not writing about it quite so much. Our goal in 2022 was get to all seven continents in one year... and we did it.

Going forward health issues may not allow us to travel.  No one can take away those memories though.  We hope all of you are well and staying safe... and that you find some inspiration here for YOUR future travels. 

If you take a drive through Brittany, Breton Culture and mysterious megaliths will show you a different France.
This drive through Bretagne from Paris does not generally come up as the first suggested driving tour of France in the tour guides...

...But let's look at it here because the ancient megaliths at Carnac make Brittany worth a visit.

Bypass the Loire Valley for now.

Head out of Paris on the E50.
You'll pass through Le Mans and drive to Rennes, the capital of Brittany, and on to Vannes.


Where Is Brittany?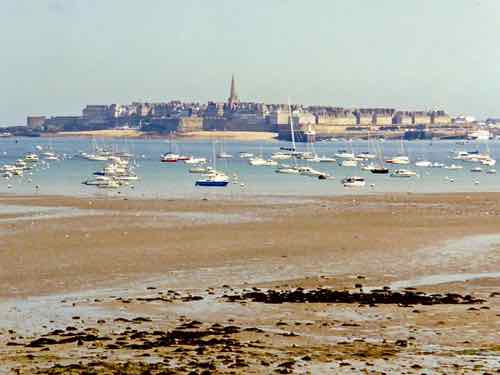 Most of Brittany juts out into the Atlantic on the northwest corner of France.
It is hugged by the English Channel on the north, and the Atlantic Ocean on the west and south.
There are great beaches on the south facing part of the peninsula that attract French tourists to the area.
There are many reminders of the Breton/Celtic culture in the villages in this part of France.
Crepes, Cider and Celtic Music

Crepes and cider are traditions here, and you'll hear Celtic music and see some traditional costumes at festivals.
The people of Brittany have always felt they were a little different than others in France. Even today a quarter of the population speaks Breton... a language that is closely related to Cornish and Welsh.
They do speak French, of course, but in many small villages they prefer to speak Breton to keep their traditions.
It's from these ties with the Celts of Great Britain that the Arthurian Legends spilled over into Brittany.
Rennes is the capital of the region. It's a good size city. You could stop for lunch here on your drive through Brittany. If you stop, concentrate on the old center of town where some of the half-timbered houses of the medieval city survive.
If you'd rather see a medieval castle, continue on to the Chateau de Josselin, and lunch in the attractive village that sits under its walls on the Oust River.

Drive Through Brittany For Ancient History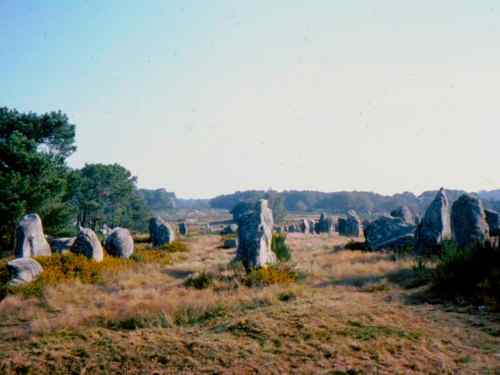 Continue on your drive through Brittany to visit Carnac.
The great prehistoric megalithic alignments of Carnac are about 6 hours from Paris.
The stones are scattered all over this area.
Learn about the stones at the Musee de Prehistoire.
There are plenty of small hotels and B&Bs near the beaches and all through Brittany. Have cider with Crepes and Gallettes (a buckwheat flour crepe).
Try the great sea food of the region.

Concarneau
After you've spent a day or two at Carnac, drive up the coast to the town of Concarneau.
Drive right in to the Centre de Ville (center of town) and you will find the 14th century Ville Close (the walled town) that is built on an island in the harbor.
This picturesque little village is completely encircled by massive granite ramparts.
There are a couple of small places to stay right on the island.
The whole town is an important fishing port, so find a restaurant, and you'll have some great seafood...
Let me tell you a little story about that...


A Story About Crepes

One of the memories we have of staying in Concarneau was of the Chef and owner of the little inn we stayed in. We had the option of including a prix fixe dinner with our stay. At first we weren't sure we wanted to do that... and we mentioned to him that we might just want to go and have some crepes....
WELL!!!! Henri, puffed up and informed us that, "Ze crepes.... they are JUST PANCAKES!"
Guess that set us straight. We laughed and laughed, and we decided to have dinner in his restaurant. We were SO glad we did. It was wonderful.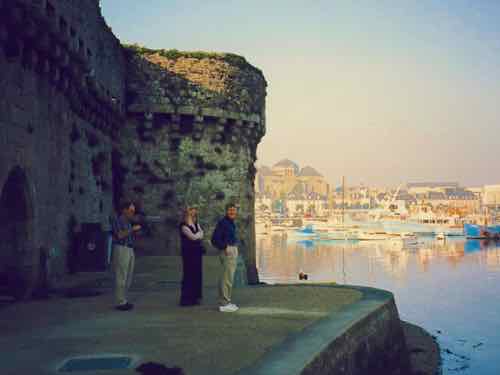 Other Towns To See

If you want to get a real feel for the Breton character of the area, stop in the town of Quimper. If you happen to be there for a festival, this is where you may see some of the women in traditional costumes, and hear them speaking Breton.
Drive up to the north coast and visit Saint-Malo.
This was once a fortified island.
Though damaged in WW II, it has been restored.
The great ramparts that circle the city give you great views of the tangle of cobble-stone streets within the walls and sweeping views out to sea.
On the return part of your circle drive through Brittany, stop in Dinan. The old town (Vieille Ville) is another of those medieval villages of half-timbered houses and cobbled streets surrounded by ramparts.
You probably didn't have enough time with the neolithic stones and medieval villages, but make your way back to the 21st century through Rennes and Le Mans to Paris.
Happy travels... even if you don't travel the world... just remember that life is a journey... embrace and enjoy it! Judy and Mark
Curious about what else we've written about?  Search our site for a destination or travel tip.

But... We'd love to have you share this page or comment on it…
Thanks, Judy and Mark

International Travel Tips l Europe Travel Tips
Hotel and B&B Tips l Packing Lists
Go from Drive Through Brittany to MouseToursTravels Home Page