A Drive Through Normandy
Is A Drive Through History
COVID slowed us down for a couple of years, and now a few health issues challenge us.  We're still traveling if not writing about it quite so much. Our goal in 2022 was get to all seven continents in one year... and we did it.

Going forward health issues may not allow us to travel.  No one can take away those memories though.  We hope all of you are well and staying safe... and that you find some inspiration here for YOUR future travels. 

We've done a drive through Normandy on three different occasions. The first time we took Mark's Dad. Whew.
Another time we combined our drive through Normandy with a visit to the Standing Stones at Carnac in Brittany with my sister. The last time we toured the Champagne region and Normandy with friends. I can recommend any of those itineraries.
There is plenty to do in Normandy and driving is easy.

Explore history from William the Conquerer...
...to Joan of Arc...
...to the D-Day Invasion Beaches.
Find little towns and villages filled with half-timbered houses.
Stop and enjoy some crepes or galettes with a sip of calvados.
OK - I know Brittany is really known for their crepes, but Normandy also has it's fair share of creperies and they both make great cider and calvados.
Start Your Drive Through Normandy in Rouen
Rouen is about 80 miles (130 km) from Paris on the A13. It'll take you a couple of hours to get there. Though it is a big city, the historical center is compact and fun.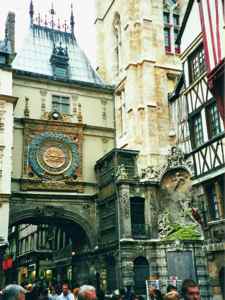 There are plenty of car parks. We found one near the Place du Vieux Marche (the old Market Square).
It was in this old square that Joan of Arc was burned at the stake in 1431.
(In spite of that morbid fact, this is a great place to grab some bread and cheese and have a picnic. That's what we did.)
Wander up the street and under the large old clock that is in a tower that straddles the street - the Gros-Horloge.
There are lots of cute half-timbered shops to browse in, and plenty of museums to fill your day.
Make your way up to the Cathedrale Notre-Dame. This gothic cathedral was the subject of several of Claude Monet's paintings.
You could spend a couple of days here... or just make a day of it and move on... that's what we did.
Spend A Night In Picturesque Honfleur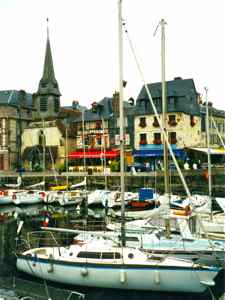 The appealing little harbor town of Honfleur is only 37 miles (60 km) from Rouen.
This is a great place to spend the night... get a hotel or B&B in the historic center of town.
Wander through the streets and around the harbor. Sit by the Vieux Bassin (the old Dock)and have a glass of wine with an outdoor dinner.
Honfleur was a meeting place for Impressionist Painters, and it continues to attract artists today, you can wander by and watch them paint.

We thought the Sainte-Catherine Church was interesting. It's an old wooden church that from the inside looks like upside down ships hulls... because it was built by ships' carpenters.
Don't Miss the Bayeux Tapestry
Continue your drive through Normandy to Bayeux. The little city is nice, but what you really want to see is the Bayeux Tapestry.
It's not a tapestry in the sense that I usually think of one.... you know those gorgeous wall hangings you see mostly in castles. The Bayeux Tapestry is only 20 inches wide (50 cm).... but it is 230 feet (70 meters) long -- it tells a long story... a three year long story.
It was embroidered way back then to show the story of how William, Duke of Normandy became William the Conqueror at the Battle of Hastings in 1066. The Bayeux Tapestry tells the three year story of his quest to become King of England.
Now displayed in the Musee de la Tapisserie de Bayeux, it's in a remarkable state of preservation... I mean, think about it... it's almost 1000 years old! Don't be tempted to skip this because it sounds boring... It's not... it's really an amazing record of history.
The Normandy Beaches
The D-Day Invasion Beaches of Normandy are only about 10 miles (16 km) from Bayeux.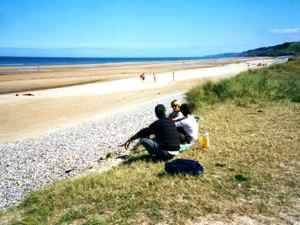 Take time to walk the beaches and reflect on what happened there. Visit a museum or two. Stop in the Cemeteries that honor all of the brave soldier that died there. Whew, that'll choke you up.
My Dad survived D-Day plus two, Mark's Dad flew over the beaches in a P46 Thunderbolt. Brings it real close to home!
Remember I told you we took Mark's Dad? All I can say is it was a very emotional day.
Mont Saint Michel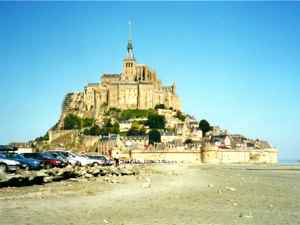 Mont Saint Michel sits on the border between Normandy and Brittany... it has been claimed by both over the years.
You really need to include it in your drive through Normandy.
The view of this monastery perched high on its rock in the middle of the bay is one of the great sights of France.


It is absolutely beautiful from a distance.
Up close you find you have to run a gauntlet of souvenir shops to get to the top. Never mind... It's worth it. Most tourists visit on day trips. We spent the night on the island, and we recommend you do too. The crowds will go home, and you'll have a different perspective to remember it by.



See Monet's Giverny On Your Drive Through Normandy
As you return to Paris on your drive through Normandy, stop in Giverny and walk through the gardens that Monet painted so often.
You can get photos of that green bridge...
those willows...
the water lilies.
How cool is that?
From the sad reflections of war to the exuberant beauty of Monet's garden, a drive through Normandy is a great vacation.
Happy travels... even if you don't travel the world... just remember that life is a journey... embrace and enjoy it! Judy and Mark
Curious about what else we've written about?  Search our site for a destination or travel tip.

But... We'd love to have you share this page or comment on it…
Thanks, Judy and Mark

Return to International Travel Tips l Europe Travel Tips
Hotel and B&B Tips l Packing Lists
Go from Drive Through Normandy to MouseToursTravels Home Page