Highways or Backroads
Choices! Get There Fast Or See More

COVID slowed us down for a couple of years, and now a few health issues challenge us.  We're still traveling if not writing about it quite so much. Our goal in 2022 was get to all seven continents in one year... and we did it.

Going forward health issues may not allow us to travel.  No one can take away those memories though.  We hope all of you are well and staying safe... and that you find some inspiration here for YOUR future travels. 

You're renting a car for your travels. Now... should you wander the highways or backroads?
Driving on motorways and autobahns will get you around fast, but sometimes you'll pass things by. 

And driving on back roads may take you through so many small towns with low speed limits that it will drive you crazy.

The truth is you will probably use both.
Let's look at the pros and cons for highways or backroads...
I'll warn you ahead some of the downsides can really be upsides.
Does that make sense?
There are trade-offs either way, and only you can decide which is best for you... on any particular trip. 

Times And Distances Can Be Deceiving

For one thing, remember that distances are deceiving when you're traveling on back roads.
It'll always take you longer than you think when you wander the smaller roads.
That's the fun part of backroads, but you need to allow enough time.

Are Highways Free or Toll Roads?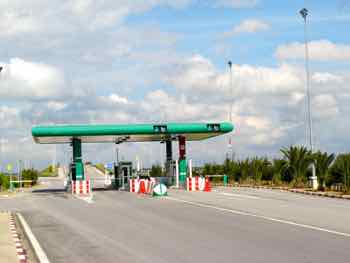 Most highways in the U.S. are freeways. There are some toll roads. You'll find more in the eastern side of the U.S. than in the west.
In Europe, many of the newer highways are toll roads. Toll roads are becoming more common around the world.
They can be expensive, but they'll get you from one place to another faster.
There are times when that's the best thing.... just get where you want to be.
And in some countries, traveling the toll road might be safer.... There will almost certainly be less traffic.


Fast May Not Be Best For Sightseeing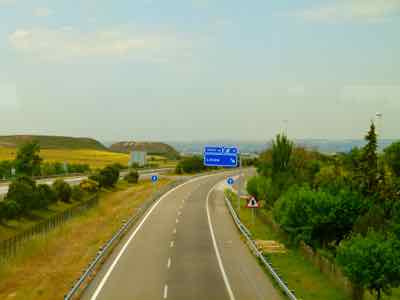 Sometimes quickest isn't always best.
Toll roads will cost you money and whip you through the countryside...
Just like highways and freeways anywhere...
...you probably won't see as much when you travel on highways and autoroutes.
They have a bland sameness about them... all over the world!

Secondary Roads May Have More Traffic

Sometimes secondary highways and other free roads are older.
They may be more heavily traveled especially in developing countries.
You'll pass through towns and villages where you'll have to slow down. Slowing down is both a plus and a minus.

Backroads May Get You To Small Towns Faster

The smaller, free highways and back roads will often be the fastest way from small town to small town.
Big highways and autobahns tend to be routed around small towns.
If you have the time and want to see more of the country, stay off the toll roads.
Toll roads may not have exits where you want.
Sometimes there are long distances between exits.

Eating On Highways and Backroads

On Highways and Autoroutes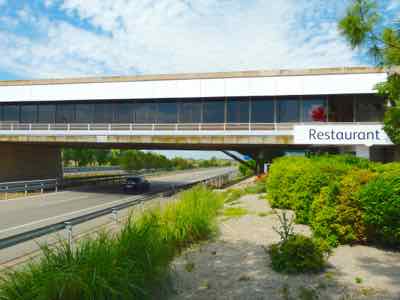 In Europe, there are great rest stops for food, gas and toilette facilities on all the toll roads.  
Sometimes they span the road from one side to the other like this one.  Other times, there are stops on each side of the road.
The food may not be as bad as American fast food, but it's still fast food.
American highways are littered with fast food stops and cheap restaurants.
On Backroads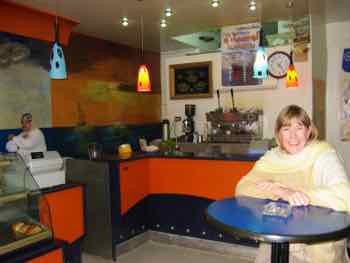 On back roads or free roads, you can find food and gas in the towns you pass through.
Take your time and stop for lunch in a little local restaurant.
Don't be afraid if you can't read all the signs.
If it looks like a restaurant... it's a restaurant.

Stopping in these local places you will get more of a feel for the local food and the countryside.

You might even meet some interesting people.  

If You Must Drive At Night

When we are traveling in foreign countries with a rental car, we try to avoid driving at night as much as possible. Sometimes it can't be avoided.
Driving those toll roads or freeways might be safer at night. Some free roads or backroads are narrow and winding.

Backroad Hazards

In rural areas, you may find yourself stuck behind farm equipment...
Or a herd of cows or a flock of sheep.... (We've been there!)

You might get stuck behind a slow driver on those narrow backroads. You have to learn the art of safe passing.
Of course, as a tourist enjoying the scenery, you might BE the slow driver... why not!

Highways Or Backroads? Depends On The Trip

Does this sound like we're contradicting ourselves with the pros and cons?
We're just trying to show you what to expect with each choice. It's slow travel versus getting there fast.
Highways or backroads, you'll want to use them both.
Prices on toll roads vary from country to country.... some tolls are nominal... in other counties they're expensive.
Decide if the old "time is money" saying is true for each leg of your trip.
Some days you may just want to get from one area to the other quickly, other days you might want to ramble.
Highways tend to take you to cities with expensive hotels, on the back roads you can find local budget accommodations in small towns.
So think about the focus of your trip.... highways or backroads.
There's a time for both and no reason to shun either.
Happy travels... even if you don't travel the world... just remember that life is a journey... embrace and enjoy it! Judy and Mark
Curious about what else we've written about?  Search our site for a destination or travel tip.

But... We'd love to have you share this page or comment on it…
Thanks, Judy and Mark


International Travel Tips l Europe Travel Tips
Hotel and B&B Tips l Packing Lists
Go from Highways or Backroads to MouseToursTravels Home Page