Traveling With An RV
Finding Places To Stop For The Night
COVID slowed us down for a couple of years, and now a few health issues challenge us.  We're still traveling if not writing about it quite so much. Our goal in 2022 was get to all seven continents in one year... and we did it.

Going forward health issues may not allow us to travel.  No one can take away those memories though.  We hope all of you are well and staying safe... and that you find some inspiration here for YOUR future travels. 

When you're traveling with an RV, you need to know where you can stop for the night.
How do you find a place to park and set up?
Don't worry...
In the U.S. there are lots of campgrounds, public parks, and private RV parks that you can choose from...
The same goes for Europe, but we'll concentrate on the U.S. here.
What do you look for?
What will make your experience traveling with an RV the most pleasant?
Find A Place To Park Before Dark

One thing that we'll say right at the beginning is don't wait until late in the day to find a place to park.
Just like when we find hotel rooms while traveling, we think it's best to have a place for the night by no later than 5:00 PM.
There are lots of places to park that RV, but once you get there, you have to set it up, and you really want to do that in daylight if you can.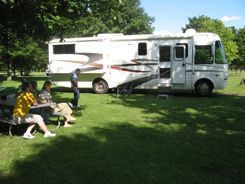 Where To Find RV Parking

In the U.S., you can't just pull off to the side of the road and park for the night, but there are plenty of options. There are RV parks all over the country.
There are even some large store chains that allow you to spend the night in their parking lots... not scenic or private, but it's nice to know about if you need it.
You'll find RV parks in cities and out in the countryside.
There are RV spaces in State Parks and National Parks.
Many small towns have town parks with spaces.
To Reserve In Advance Or Not?

You can choose to drive and find places for the night as you go, or you can book your spot in advance.
Sometimes You Must

If you're going to a popular destination or a popular event, reservations in advance are a good idea.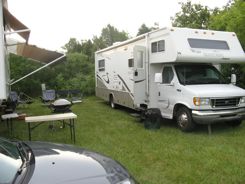 At some popular events where camping and RVing is the norm, places are sometimes reserved and paid for a year in advance!
We just rented an RV and a parking space at the popular AirVenture in Oshkosh, Wisconsin...
...and we were LUCKY to get a coach and a spot two months in advance.
Sometimes You Can Wing It

Outside of those popular destinations you have more flexibility.
You can look for signs advertising RV parks as you drive along.
You can go on the internet and plan your route... making reservations at RV parks ahead of time.
You can get an RV campground book and look them up and call ahead once you know how far you'll get in a day.
Know Jargon For Traveling With An RV

Now you do need to know some of the jargon and what to look for when you're stopping for the night....
We freely admit we know really very little, but here are some of the basics.
Dry Camping

Some parks come with just a place to park.... you need to get by with the power supplied by your batteries and the water your "rig" stores.
Full Hook-ups

Places that are RV parks usually come with "full hook-ups" which means that you have power and water....
Some Have Sewage Dumps

Some but not all RV parks have "sewage dumps". You can figure that out.... I can't tell you more than that here. 

Get Amped Up...
The amount of electrical power varies. We stopped at places that had 30 amps... that was OK, but 50 amps was better according to our friends.
Take Advantage Of Friendly Help

Everyone at the parks seemed friendly and helpful.
We traveled with veteran RVers, but if you were a novice at traveling with an RV, I'm sure you could get help with your hook-up.
It really is easier to find a place to park for the night than we ever thought it would be...
And finding some of those little parks made traveling with an RV more of an adventure than we ever thought it could be.
It was a terrific experience, and something we hope to do again.
Happy travels... even if you don't travel the world... just remember that life is a journey... embrace and enjoy it! Judy and Mark
Curious about what else we've written about?  Search our site for a destination or travel tip.

But... We'd love to have you share this page or comment on it…
Thanks, Judy and Mark

International Travel Tips l Europe Travel Tips
Hotel and B&B Tips l Packing Lists
Go from Traveling with an RV to MouseToursTravels Home Page