RV Road Trip
What We Learned About This Travel Option
COVID slowed us down for a couple of years, and now a few health issues challenge us.  We're still traveling if not writing about it quite so much. Our goal in 2022 was get to all seven continents in one year... and we did it.

Going forward health issues may not allow us to travel.  No one can take away those memories though.  We hope all of you are well and staying safe... and that you find some inspiration here for YOUR future travels. 

There are any number of ways to see the USA. An RV road trip is one way you might want to consider.
Americans love their road trips....

And our foreign friends seem to like them pretty well too when they visit.
Much of the U.S. is easier to see by road than by using buses or trains.
A rental car has usually been our vehicle of choice when we take road trips far from home, but recreational vehicles are also an option.
It's Easy To Rent One

There are plenty of places that rent RVs for a week or a month.
You may find these recreational vehicles called RVs or motor homes.
Outside of the U.S. they are often called caravans.
Whatever you call them, they are self-contained accommodations on wheels complete with beds, kitchen, toilet and shower. 
And pets can go along.

Some Reasons For A RV Road Trip
Until recently we had never considered an RV road trip for a number of reasons.
A Couple Of Reasons Against
The top two reasons are that RVs don't get good gas mileage, and if you don't own one, they are a little expensive to rent.
Then we had the opportunity to take an RV road trip with friends, and we saw the positive side of this kind of travel.
It's Big, But You Can Manage It
In the U.S RVs come in sizes from a little bigger than van size to really large, so you have to consider that you will be driving a vehicle bigger than what you're used to.... maybe lots bigger.
We discovered that this was not quite as limiting as we thought.
Most attractions and stores have parking lots that accommodate even the largest "rig".
You have to watch height limitations at gas stations and road underpasses, and narrow lanes can be intimidating... but once you're used to it, you will travel just as quickly in an RV as you will in a car.
Stopping For The Night Is Not A Problem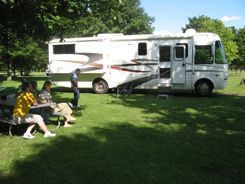 There are RV parks all over the country, and many county, city, and National Parks have spaces for recreational vehicles, so there is no problem finding a place to park for the night.
There are even some large store chains that allow you to spend the night in their parking lots... though that is not really a very scenic option.
Learn About Hook-Ups

You need to learn a few things about full hook-ups and partial hook-ups for the night, but your rental agent will give you the basics you need...
And people you meet in RV parks are friendly and helpful.
There are plenty of websites specifically about the RV experience where you can find lots of information if you're interested in trying it once.
You Have Everything With You

One nice thing about this kind of travel is that once you've got your RV set up, you have your clothes and food with you all the time.
No need to go finding restaurants.... though you could if you didn't want to cook.
You will meet lots of friendly travelers....
People in RV parks seem to like to talk to each other and share their experiences.
It Might Be More Cost Effective Than You Think

You might even find that it doesn't cost you any more than a rental car and hotels or motels along the road...
...and you might find an RV road trip a whole new kind of adventure that you like.
Our Experience With A Friend's RV

Our trip too us from California to Wisconsin.
We were "ground support" for a Piper J-3 Cub as it flew from California to the Oshkosh airshow.
We called it our Cub to Oshkosh Adventure.... and we loved it.
Happy travels... even if you don't travel the world... just remember that life is a journey... embrace and enjoy it! Judy and Mark
Curious about what else we've written about?  Search our site for a destination or travel tip.

But... We'd love to have you share this page or comment on it…
Thanks, Judy and Mark

International Travel Tips l Europe Travel Tips
Hotel and B&B Tips l Packing Lists
Go MouseToursTravels Home Page