Parking in Cities
Where Will You Leave Your Rental Car?
COVID slowed us down for a couple of years, and now a few health issues challenge us.  We're still traveling if not writing about it quite so much. Our goal in 2022 was get to all seven continents in one year... and we did it.

Going forward health issues may not allow us to travel.  No one can take away those memories though.  We hope all of you are well and staying safe... and that you find some inspiration here for YOUR future travels. 

If you're renting a car on your holiday, remember that parking in cities can be difficult and expensive.
The best strategy, if your itinerary will allow it...
Fly into a city and see it using public transportation...
Then rent your car to get out into the countryside.
So, for instance, see Paris...
Then rent your car for a drive to the Champagne region or Normandy...
 And return your car to Paris at the end of your trip.


That way you can avoid parking in cities... at least in big ones.
Drive One Way Or A Loop
You can plan your flights to be "open jaw," so you could fly into Rome and spend a few days. Then rent your car and drive through Italy and return your car in Milan.
But whether you plan a driving vacation as a loop or a one way trip, sooner or later you'll find a city you want to stop in. 
It might be for just a day trip or an over night, but what do you do with your rental car?

Parking In Cities -- Just Pay It

You need to know that it's going to cost you. You have to think about where you're going to park too.
Will you park in a hotel parking lot or a municipal lot?  Or on the street?


Pay And Display or Parking Meters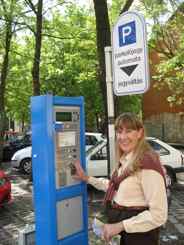 If you're stopping to see some sights in a city, you may find parking on the street.  Occasionally, you might find free parking, but...
Most often there will be a sign on the block somewhere...
And a machine at the end of the block where you will need to put in coins or a credit card and get a ticket to put in your car.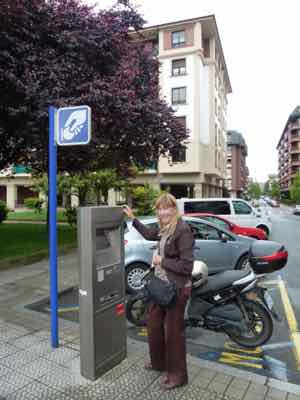 The signs and the machines may look different, but they operate on the same principle....
You choose how much time you think you will stay and punch out the ticket.
We've even started seeing some machines that ask for your license plate number... so you can't give away unused minutes!
You might be able to pay for an afternoon and park for free overnight. 
If you run into that in a small city, be sure you're out of the parking space before the pay and display law begins again in the morning... or put in enough extra so that you have a little extra time for breakfast.

In The U.S. It's Generally Meters

Most cities in the U.S. have parking meters at each legal space.  Some may have time limits on how long you can park there... only 2 hours or 4 hours.
Others will let you park for longer.
Some of the older parking meters will only take coins.  The newer ones will take credit cards too...
And there's a reason for that.  Parking in big cities is expensive. 
You can choose how long you think you will be gone.  If you will stay longer, you can go back to the meter and add on to the time....
But that means that you must be close to the meter, not wandering far off into the citiy.


It Might Be Easier To Just Find A Garage

We've driven into Venice a couple of times.
Now you know you can't have a car in Venice. We've parked in the Tronchetto Parking Garage. This adds 20-25 Euros ($29-36) to your daily budget.  (Probably more by now.)
In Florence one time, our hotel said they had parking.
What happened was they had a parking attendant pick up the car and drive it away until we left two days later. A very nice service, but it was 25 Euros a day.
It's The Same In The U.S.

In the U.S. you run into the same dilemma parking in cities. Parking in city hotels is always extra. Some hotels have reasonable parking rates and some charge up to $40 to park (28 Euros). If the hotel rates for parking are high, it pays to ask a sympathetic clerk if there are less expensive alternatives.
We were driving through Cincinnati one time and decided to stop for a baseball game. Our downtown hotel wanted $30 to park, but the desk clerk told us that we could park in the municipal lot across the street for only $10.
Is Cheaper Parking Worth It?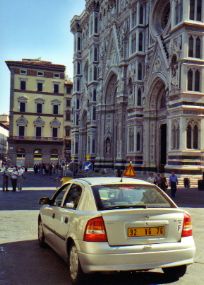 Think about whether the savings are worth it. Some cities can be a nightmare to drive in.
I remember spending almost an hour trying to figure out the narrow, one-way streets in Florence...
And trying to find a parking garage that a hotel had sent us to on our own.
That's why we loved that next visit when we had valet parking! 
And because our little hotel way just across from the Duomo... that's how we ended up being able to drive away right in front of it the morning we left...
Right through the pedestrian only zone.

Think About Safety

If you opt for a municipal parking garage, you have to think about safety and convenience.
     Is the car safe there?
     Are you safe getting to and from the garage?
     Can you drop off your bags at the hotel?
     How far will you have to carry your bags to and from your hotel?
Is Your Parking Space Legal?

If you happen to end up with street parking, check with your hotel to make sure you are in a legal space.
Rules for street parking vary from city to city and country to country.
In smaller cities and smaller hotels, you're more apt to run into this. Make sure the car will be safe.
You may need some sort of a parking disk or a note from the hotel on your dashboard so your won't get a ticket.
Driving and parking in cities, especially big cites, is best avoided... but if you must have a car in the city, have a plan...
And plan to pay for it.
Happy travels... even if you don't travel the world... just remember that life is a journey... embrace and enjoy it! Judy and Mark
Curious about what else we've written about?  Search our site for a destination or travel tip.

But... We'd love to have you share this page or comment on it…
Thanks, Judy and Mark

International Travel Tips l Europe Travel Tips
Hotel and B&B Tips l Packing Lists
Go from Parking in Cities to MouseToursTravels Home Page