Toll Roads - What To Expect
COVID slowed us down for a couple of years, and now a few health issues challenge us.  We're still traveling if not writing about it quite so much. Our goal in 2022 was get to all seven continents in one year... and we did it.

Going forward health issues may not allow us to travel.  No one can take away those memories though.  We hope all of you are well and staying safe... and that you find some inspiration here for YOUR future travels. 

You'll run into toll roads all over the world, so what do you need to know about driving on them?
How to use them for one thing.
Tolls are collected differently in different countries.
The only uniform thing is...
They all cost money.
Toll roads anywhere in the world are almost always marked as such...
and you can use your credit card for many of them...
But you may need cash or coins on some.
Check with your local automobile association or guidebooks for information on the countries you will be visiting.

Common Collection Systems For Toll Roads

There are a couple of common types of fee collection systems for toll roads.
Toll Stations For The Road Ahead

One is to charge you at a toll station at the entrance to the toll section, giving you access to that section of road.
Sometimes you will stop and pay again as you enter a new section of road.
Collect A Ticket And Pay At The End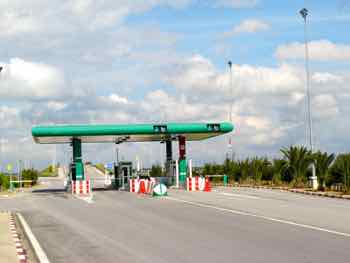 Another common scenario is that you will pass through a toll booth and collect a ticket when you enter.
Then, when you get to the exit ramp, you'll find toll booths for payment.
Look for the booths that are marked with credit card signs or currency signs.
You may give your payment to a person or to... a machine!
Many Toll Roads Are Automated

Many toll plazas all over the world are now automated.
All of these are intuitive, just take your time, follow the directions, and you'll be all right...
Let's Use Italy As An Example

Take a ticket at the entrance to the Autostrade.
When you get to the exit ramp, look for the lanes with the signs showing pictures of credit cards.
Insert the toll ticket first, then your credit card.
If the machine "talks to you", you probably need to turn your credit card around.
If everything is OK, the machine will say, "Arrivederci!" ...and you're on your way.
If you want a receipt, there is a big red button to push.
Take Your Time -- Don't Screw Up

OK... having said it's intuitive, we had friends that got to the entrance and didn't figure out that they needed to take a ticket.
(You may have to push a button for a ticket.)
When they got to the exit, they had a lot of explaining to do... and they didn't speak Italian.
Take Your Ticket And Choose The Right Exit Lane

You DO want to take that entrance ticket.
Don't lose your ticket either... you're apt to be charged for the longest distance on that toll section!
When you're paying your toll, you do want to avoid the lanes that indicate an electronic payment unless you have the appropriate transponder.
Look for a lane that takes credit cards or cash.
Highway Stickers Or "Vignettes"
Some countries in Europe, like Austria, Switzerland, Slovenia and others, require special stickers (sometimes called vignettes) to use the highways.
Try to research this before you travel.
If you're driving in one of these countries, make sure your rental car has one, or purchase one at the border.
We have sometimes purchased them at gas stations near border crossings, and they aren't too expensive.
BUT... There's No Way To Pay!!!

Sometimes you will find yourself on a toll road with no way to pay. What no toll booths?
That happened to us the last time we were in Australia.
On some of their toll roads, all payments are electronic. As we were about to panic, we saw a sign that gave a phone number and a website to contact if you didn't have a toll payment transponder.
We found that you have a grace period to call them. They will set up an account for the duration of your visit, and your tolls are charged to your credit card. (They take pictures of the license plates to figure out who you are.)
Don't delay, though, once you have used a toll road, and they have photographed your license plate, you have only a day or two to call.
They WILL Find You

No matter where you are, never say, "Oh, they'll just charge the rental car company."
Yes, they will...
And the rental car company will charge you... along with any fines that are levied.
If you drive during your travels, you'll come across toll roads.
Just take your time, and pay the toll.
Then laugh like we did every time the machine in Italy wished us "Arrivederci!" in that sexy voice.
It's all part of the travel experience.
Happy travels... even if you don't travel the world... just remember that life is a journey... embrace and enjoy it! Judy and Mark
Curious about what else we've written about?  Search our site for a destination or travel tip.

But... We'd love to have you share this page or comment on it…
Thanks, Judy and Mark

International Travel Tips l Europe Travel Tips
Hotel and B&B Tips l Packing Lists
Go to MouseToursTravels Home Page