You Want a Custom Tour....
How Do You Do That?
COVID slowed us down for a couple of years, and now a few health issues challenge us.  We're still traveling if not writing about it quite so much. Our goal in 2022 was get to all seven continents in one year... and we did it.

Going forward health issues may not allow us to travel.  No one can take away those memories though.  We hope all of you are well and staying safe... and that you find some inspiration here for YOUR future travels. 

As we were planning our custom tour to Bhutan and China,
...we thought this would be a good time to share some thoughts about how to plan a trip like this.
We wrote that a few years ago. 
We've planned more private tours just for us and friends since then, but this will give you a good idea of the process as we go through it.

While we enjoy just rambling around a country and having no commitments, in some countries you just need help getting around. 

A custom tour lets you enjoy some of these challenging destinations in a short amount of time. 

If you have unlimited time, you might be able to wander in remote areas on your own...


But we've found we still need to have some structure set up so we can see what we want and get back to work on time.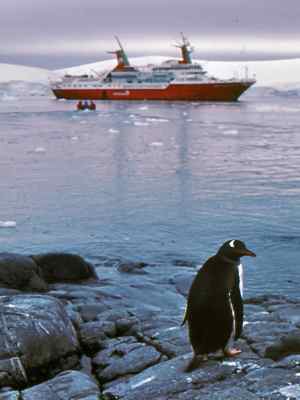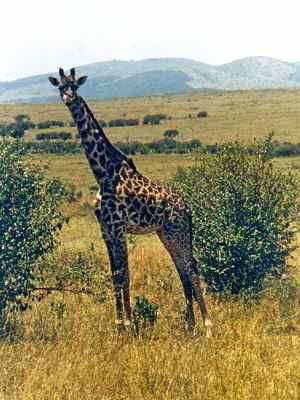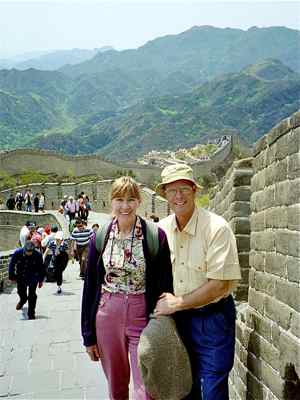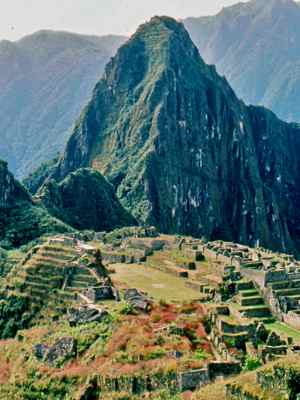 How Do You Start Planning YOUR Custom Tour?

Well, first, decide where you think you want to go.... Find a hook.  Check around our website for stories that might inspire you. We've grouped some of our travel ideas, tips and stories here. Read travel magazines, watch travel shows on TV, surf the internet, read books. Even the Da Vinci Code and the Harry Potter books have inspired travel.
What's important to you? Do you want to go trekking in the Himalaya or on safari in Africa? Do you want to explore cultural sites, ancient sites, historical sites? Do you want to prowl museums or avoid them completely? What cities or national parks do you think you might want to visit?
A custom tour will let you do exactly what you want. Once you've got an idea about what is calling you to travel, go online and see where some of the big tours are going. Find a tour that fits closely with what you want to do, then modify it into your own custom tour.
Before you give up and say....

     "Oh, a custom tour will be too much work", or...
     "Oh, a custom tour will be too expensive", or...
     "Oh, we don't have anyone who will travel with us"....


Let ME just say... the results can be worth it. With your custom tour you could end up....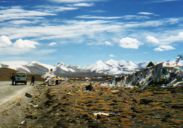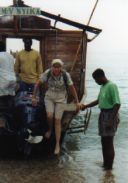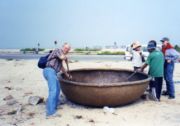 --with your own car and driver bouncing you over Himalayan passes, or...
     --with your own barge on Lake Tanganyika to visit chimps , or...
     --stopping to see how fishermen repair their boats in Vietnam, or...
     --with a visit to your guide's family at a small town on your safari, or...
     --tracking jaguars with your own guide in Brazil.

It's hard to do this with a big group. It can be done with your own custom tour... and with just your friends... we've HAD all these great experiences. I'll just tell you the process we went through for this trip because it will give you a good idea of the process. You can skip to our custom tour planning list or read on for our story. Or use both!
Talk To Your Travel Buddies
We didn't just visit China on this trip....  it all started when our travel buddies said they wanted to see Bhutan.  We have a friend in Nepal who also works in Bhutan, so that did give us a head start with the planning of this one.  But we still had to decide.....

How many days did we want to spend there? 
Did we want to trek or not? 
Which country did we want to fly in from?
Once the itinerary was in place for Bhutan, we started thinking that since we were in Asia, we might want to go into China...  That made the choice of our transit city easier to choose.   From Bangkok, we could fly to both Bhutan and China.

If you are traveling with friends, you need to see what everyone wants to do so you can make this custom tour work for all of you.  We talked about what we wanted to see in China.  Joe and Eunice wanted to take the Yangtze River Cruise and visit Guilin.  Since this was our first visit to China we wanted to see Beijing and Xian.  Could we fit all of that into about 10 days?

Now it's time for more details.


Find A Travel Agency or Guide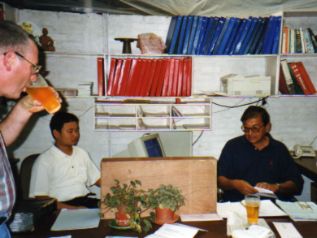 Our itinerary in Bhutan was the easy part because of our friend Brian....
But if you don't have a contact, find an agency that has tours to the area you want to visit. 
Find two or three!

Many of them will be able to set up a small group custom tour if you just ask. 
Look for agencies close to you… but also look at local agencies in the country or countries you want to visit.

Compare prices.... they may vary wildly, but remember you need to compare the level of accommodations that they use and the type transportation and guide services.  Local agencies may have a price advantage because they don't have to staff several offices.


Look At Internet Sites and Tour Brochures
The set itineraries they have will give you an idea of what you can do in a certain amount of time.

I looked up some tours.  None of them went to these cities in this order, but many went to 3 of the 4.  It was definitely going to have to be a custom tour.... besides, we have always shied away from groups. 

Our plan for China would take a little more sleuthing.  We surfed the internet, and we found out that there were Yangtze River cruises leaving both up stream and down stream on the days we would want to be there.  We checked to see if there were flights into and out of the cities we wanted to see... and out to Hong Kong at the end.

We called a couple of agencies to see if they could work with our requirements...

Yes, we sometimes play one off the other. 

Often they want to just fit you into an existing itinerary, but remember...  this is a custom tour.  We keep after them until they do it as close to our way as we can get, but you learn and refine what you can and can't do by talking to them. 


Give and Take
You may learn that the itinerary you want doesn't work because "you can't get there from here".  You will have to make modifications for flight schedules and driving time and just the everyday logistics. 

You may find, as we did in this itinerary, that  you want to go upstream instead of downstream so you can have the better boat and better flights..... take the overnight train for an adventure and have more time to sight see during the day.


Develop Trust And Accept Serendipity
Planning a custom tour, you need to settle on an agent that you trust--someone who seems to know the area, who knows what they are talking about personally instead of relying on second and third hand information.  I sort of trust my gut on this one.

Then you can listen to their recommendations and modify your plans where you need to.... or see that it will work better..... or you can insist that you stay with your plan and throw in more time and money.... We usually don't have much extra time or money to work with.

And accept serendipity... 

Just when planning China had me about to tear my hair out, Mark met a fellow at work who was a travel agent in China.  He put together the custom tour we wanted in no time. 

Stay In Touch With People You Meet
That's what we do…

Maria at a Cheetah Conservation Fund event, then we visited their farm in Namibia....
We met Ralph as a young guide in Botswana, he visited us, then we had a couple of fabulous trips to Botswana with his help.
When serendipity throws a potential contact in your path... don't be shy... take advantage of them... in a nice way.
It Takes Time...
Allow plenty of time to make all the preparations.... first there is the research and refining your custom tour with the agent you choose.
Once you have your itinerary you may have to get visas. If you live close to a consulate you can drop off your passport. Sometimes you can get your visa at the same visit, or later the same day, or it could take a week. If you're going to multiple counties, you'll need more time to collect the appropriate visas.
Is Your Passport Valid For Long Enough?
Make sure your passport is valid; some countries require it to be valid for from one to six months after your trip. There are ways to expedite getting a new passport and obtaining your visa, but that will cost you in dollars and stress, so it's best to avoid it.
Do You Need A Visa?
For U.S. citizens, check on the U.S. State Department site for visa information and a wealth information on safety and health for each country on your trip. Use the links to the Embassy or Consulate of the country you are visiting for even more details. Countries change their requirements from time to time and looking on their Embassy web site will give you the most current information.
For citizens of other countries, check with your government website for information.
On these websites, you can download visa applications and check for requirements for passport validity dates, visa fees, where to apply, what photos you need, etc. Your agent (here or abroad) should be able to advise you and help you with some of this, but you are ultimately responsible for obtaining your own documentation.... check for yourself to make sure you have all the visas you need.
Do You Need Vaccinations?
And don't forget to start early for any necessary vaccinations and medications.
Allow plenty of time... Some recommended vaccinations require a series of shots a week or two apart or they require time to become completely effective. Read up on the CDC site about what vaccinations you might need. It's also a good idea to talk to a doctor that specializes in travel medicine.

Paying For It
In case you're using an agency abroad, you may have to wire money from your bank to theirs.  If they are waiting for payment before they mail tickets to you, you want plenty of time for the wire transfer to go through (this doesn't actually take long) and for the courier or the mail to get your tickets and vouchers to you.  Sometimes the agency won't be able to make reservations until your payment is received.

You may be able to use a credit card.  Some counties will charge you a "credit card fee" to pass along they fees they are charged.

The internet can come in handy here too because we have had vouchers e-mailed to us.  I don't need to say that you must be careful what you send via e-mail..... you don't want to be sending your credit card number on any site that's not secure.

Take All Documents With You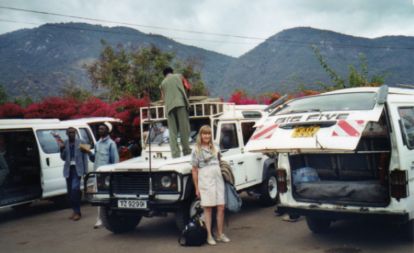 You may have to gather and take a few more documents with you especially if you're dealing with more than one agency as we did in Africa. 
(Here we had to transfer drivers at the border and have all the correct documentation.)
...Or as we did in Bhutan and China... a travel agency for each country.... one for Bhutan and one for China...
Take contact information, confirmation numbers, tour codes, e-mailed vouchers, and e-mailed visa clearances (our visa was waiting for us in Bhutan, but we needed the clearance form to prove that).
Take your itineraries, so you're sure you're getting what you want and what you paid for. All of this will help to make sure that transfers from one tour company to another can be straightened out if all doesn't go according to plan. If you are prepared with all of your documentation, any small problems that creep up can be easily solved.
......And I shouldn't even have to say take your passport and tickets!
A Step At A Time

Have I convinced you that planning your own custom tour is NOT too much trouble? I'll admit there can be lots of frustrations... we work through those frustrations..... Making changes, not taking an initial "no" as the final answer.... by looking further.... waiting a little longer for an answer because sometimes a prompt response isn't a priority in some countries..... But we look at them as what they are..... interesting challenges.
And we celebrate our triumphs when we find just the right agent.... when our itinerary works out..... when the right hotel, boat, train is actually available.... when the flight schedule will work and we can actually get to place on time......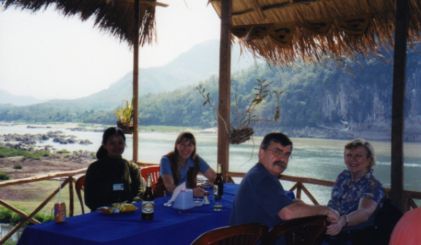 By creating our own customs tours, we are able to travel where we want with the people we want....
usually just 4 of us...
sometimes 6 of us.


You Have More Flexibility
A custom tour also allows you more flexibility to change your itinerary as you go.... you can just tell your guide you would like to do this or that at this or that time.
Sometimes you may have to pay a little extra for that museum or site you didn't know you wanted to see..... but isn't it better to see it while your there rather than think... oh now I'll have to go back.
So see..... that custom tour looks good doesn't it. And think of all the satisfaction you'll have from having done some of the work yourself..... and the research you do ahead will give you even greater insight into what you're going to be seeing.
I just talked to someone who was going to China at about the same time we are. When I asked where she was going.... she didn't know! Just wherever the tour took her. I'd just as soon do it my way..... a custom tour, a small group of friends....
What fun!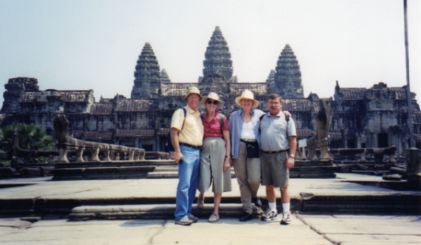 When we have a moment between trips we'll try to get pages up with more information on getting those visas, dealing with health issues, vaccinations and medications, travel safety and tips for road trips.
In the meantime, I'm always ready to put my Pepto-Bismol in my carry-on suitcase, grab my passport and take off for a great little corner of the world.
Oh, yeah, click that mouse and check how our plans turned out for China and Bhutan..... and start planning your own custom tour with our Tour Planning List. You'll love it.
Happy travels... even if you don't travel the world... just remember that life is a journey... embrace and enjoy it! Judy and Mark
Curious about what else we've written about?  Search our site for a destination or travel tip.

But... We'd love to have you share this page or comment on it…
Thanks, Judy and Mark

Travel Ideas   Custom Tour Planning List
China Full of Great Little Corners of the World  Pepto-Bismol in China   Pepto-Bismol in Bhutan
Do You Want A Rental Car?   Adventure Cruises    Africa Dream List
MouseToursTravels Home Page