Pack With Our Basic Packing List...
Where To Start So You Can Travel Light
COVID slowed us down for a couple of years, and now a few health issues challenge us.  We're still traveling if not writing about it quite so much. Our goal in 2022 was get to all seven continents in one year... and we did it.

Going forward health issues may not allow us to travel.  No one can take away those memories though.  We hope all of you are well and staying safe... and that you find some inspiration here for YOUR future travels.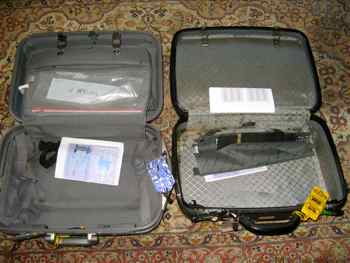 We're giving you our basic packing list to help you with packing light...
...so you can take only carry-on luggage like we do.
When you're staring at those empty suitcases, a basic packing list will help get you started packing. 
People always say, "Oh, you must just leave your suitcases packed."




No, not really. 
We leave our plastic bags packed and the travel purse,

....but believe me...
...we use our list all the time!

It's exciting to plan your trip, but packing and getting all of your documents together is a bit more of a chore.



Where to start?  With Our Lists Below!

Lay things out, consult our list, and think... do you really want to carry all of that around?

Remember to color coordinate your travel wardrobe, pack for layering, and make sure everything is comfortable.

You'll want to tweak the list if you're traveling in cold weather, you'll be playing in tropical weather, or if you might run into mixed weather.  We've got lists for all of those.  It's easy to adapt a basic packing list for any special circumstances. 
Let's face it your trip is special... any trip is special!  But you can pack light for special trips.

We've also got tips and lists for you if you're wondering what you can fit in that plastic bag.  You know... the one that security is requiring for carry-ons.  One quart or one liter plastic bag.

Check out more of our packing tips...
We have them listed on the right so you can navigate to them.  (Look clear down to the bottom right of the page.)
Be sure you have a sturdy bag and one that is the right size for carry-on.  (Not all bags that claim to be carry-on size really are carry-on size... be careful.)


Here's where we start:
Basic Packing List for Judy:
2 long sleeve blouses

2-3 short sleeve blouses
    (ratio for long/short changes with the climate)

2 pairs of slacks (or jeans if it's casual)

1 skirt or culottes (or an extra pair of slacks or shorts)

light pull over sweater

sweater or blazer to wear on plane

two pairs of shoes

underwear for 5 - 6 days
    (I wash 'em as we go)

nightgown

maybe a light long john top to layer for cold (skip this if it will be warm)

socks/nylons or trowser socks/peds

swim suit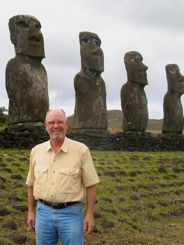 Basic Packing List for Mark:
2 pairs of slacks

4-5 short sleeve shirts
  (Mark is almost never cold.  And he loves these travel shirts with zippered pockets for security.)

6 pairs socks and undies (his take longer to dry)

swim suit that doubles as sleep wear

shorts if going to the tropics

two pairs of shoes

pull over sweater


Basic Packing List Amenities and Necessities:
a money belt - which you wear at all times

curling iron (dual voltage so we don't need a voltage converter)

razor (dual voltage)
camera and plenty of memory sticks and charger (or film)
laptop computer, iPad or phone (if it will work where you're going)
adaptors for those funny foreign plugs

deodorant (solid not gel, liquid or cream)

aspirin, antacids, cold tablets

Pepto-Bismol tablets (I used to take the liquid)

a washcloth if you can't live without one (you don't get one everywhere in the world!)

travel alarm clock

binoculars

umbrella

sunglasses

toothbrush and dental floss and small tubes of toothpaste... 
.....remember today's security rules...see below for how we pack
plastic bags (in case your laundry or bathing suits don't dry)

day pack -- useful day to day ...and if you need more room going home... you can use this

Inflatable contour travel pillow... good on the plane
... and to fluff up pillows that are too small in the hotels.


And you can pack these if you follow the rules...
prescribed medications

a small tube (or two) of toothpaste

shampoo and rinse (pack in plastic bags to prevent spills)

small containers of cosmetics, cleansers and moisturizers
sunscreen

insect Repellent

You can take your medications and small amounts of liquids, creams and gels in your carry-on luggage, but remember the security rules....

Security Alert Packing Guide
Cosmetics Packing Guide
Guide to Packing Medications.  Remember that plastic bag!
If you want to take larger amounts, many of your amenities may not be taken on the plane as carry-ons depending on security alerts at the time of your flight.  Those larger bottles must go in checked luggage.

If you are traveling with a friend or spouse as Mark and I do, try to take one suitcase on board and check the other. Always check ahead to see what is allowed onboard your carrier especially if you're traveling at a time of high security alerts.
Don't let security alerts stop you. Get together the clothes on your basic packing list, grab your passport and get on the road.
We think our basic packing list is pretty good, we hope you like the rest of our tips and stories too.
Have you read something on our site, but you can't remember where you read it? Go ahead and search our site to find it.

Why not make us a favorite? 
Tell your friends about us... click a social block below.
Happy travels... even if you don't travel the world... just remember that life is a journey... embrace and enjoy it! Judy and Mark
Curious about what else we've written about?  Search our site for a destination or travel tip.

But... We'd love to have you share this page or comment on it…
Thanks, Judy and Mark

return from Basic Packing List to MouseToursTravels Home Page