Travel Luggage Recommendations
What To Look For In Your Travel Luggage
COVID slowed us down for a couple of years, and now a few health issues challenge us.  We're still traveling if not writing about it quite so much. Our goal in 2022 was get to all seven continents in one year... and we did it.

Going forward health issues may not allow us to travel.  No one can take away those memories though.  We hope all of you are well and staying safe... and that you find some inspiration here for YOUR future travels. 

Making travel luggage recommendations is a little tricky.
People have different travel styles and different needs, but if you pick the right bag for your needs it will make your travel life easier.
Recommendation Number One
Generally speaking, the first travel luggage recommendation we'd give you is this...
Get the smallest bag you can live with...
...preferably carry-on size as far as we're concerned.
This can vary from airline to airline, but here's the general rule of thumb:
The bag should total of 45 inches or 115 cm adding the dimensions together (height plus length plus depth).

Carry-on Size Fits Better

We think carry-on size works best on planes, but it helps out when you're walking to find your hotel or when you're traveling in a rental car...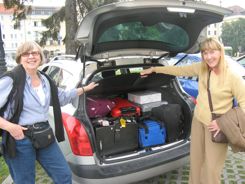 If traveling with only carry-on luggage works for you, you can save yourself a lot of stress... and money.
You won't have as much to carry around on your travels.
It's the only way to side step the checked baggage fees that most of the major airlines are charging these days.
As an added plus, you won't have to worry about luggage getting lost or damaged.

Travel Luggage Recommendation Number Two
Do not to run out and get the cheapest luggage you can find....
...Especially if you think you're going to be checking your bags.
We think the jokes about airline luggage handlers are overdone, but luggage does take a beating when it's checked and hauled from aircraft to aircraft, so you want something that will hold up.
Who wants to buy new luggage every couple of trips?

So What Do We Recommend?

What should you be looking for in luggage?
It really is up to your travel plans and travel style, but when you're looking, there are some basic things you should take into consideration.
You want something that has tough construction…
You want it durable, not necessarily pretty.
--Check to make sure the zippers or clasps will hold up under heavy use. I mean, if you have to sit on your bag to get it to close, are those zippers going to pop open as you dash through the airport?
--Check the handles. Do they look like they might fall off the first time that bag gets grabbed in a hurry?
--If there is a pull-up handle for a roll-aboard, does it extend and retract easily? Is it long or short enough to be comfortable for you?
And if you opt for a roll-aboard... Compare Bags

--Check to make sure that the wheels are sturdy. Small flimsy wheels may break, fall off, or stop working in short order.
(Consider whether you want wheels. We think they make life easier as you pass through airports and drag bags through cities to find your hotel.)
Here are some facts that might make you consider ditching the wheels….
Do those wheels make the bag heavy?  Wheels on some bags can greatly increase the empty weight of your bag.
Do they take up too much space?  Sometimes wheels subtract up to one third of your usable space. If you can't live without those wheels (I still like them) then before you buy, compare bags to find one that is as light and sturdy and roomy as possible.
Heavy bags also can cost you more if you check your luggage. Remember that most airlines have a weight limit for check luggage before they charge you even more… usually 50 pounds (22.7 kilos).
Hard Sided Bags or Soft?

Hard sided bags protect fragile contents a little better. Soft-sided bags are easier to squeeze into those overhead bins or under the seat in front of you.
What About Locks?

Check to see if the bags have locks or if you can attach locks. Bags that will be checked should have locks that are approved by the TSA or other government's security agencies.
I heard you saying we didn't recommend anything specific.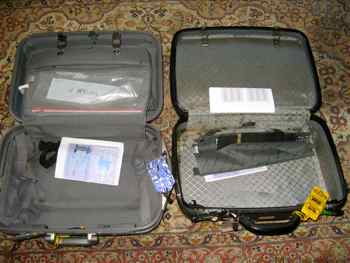 No, what you get should suit you and your travel style....
But here's what we use.  We prefer small hard sided bags that upen "clam shell" like in half.  We each pack 1/2 of our clothes and gear in each bag...
That way if one goes missing for a while, we both still have the basics to get us through.  It's  also easier to fine things towards the bottom.  See we move around so much we don't really ever unpack.
But you decide...

Our travel luggage recommendations are things to think about when you're choosing that perfect bag for your trip.
Happy travels... even if you don't travel the world... just remember that life is a journey... embrace and enjoy it! Judy and Mark
Curious about what else we've written about?  Search our site for a destination or travel tip.

But... We'd love to have you share this page or comment on it…
Thanks, Judy and Mark

Return to International Travel Tips l Europe Travel Tips
Hotel and B&B Tips
Go from Travel Luggage Recommendations to MouseToursTravels Home Page