Tropical Vacation Packing List
Ladies, Prove You Can Pack Light!
COVID slowed us down for a couple of years, and now a few health issues challenge us.  We're still traveling if not writing about it quite so much. Our goal in 2022 was get to all seven continents in one year... and we did it.

Going forward health issues may not allow us to travel.  No one can take away those memories though.  We hope all of you are well and staying safe... and that you find some inspiration here for YOUR future travels. 

Modify your basic packing list into a tropical vacation packing list...
It's easy!
My sister was helping to plan a convention in Hawaii for the Ninety-Nines International Organization of Women Pilots....
...And she was saying that people need to know what to pack.  So we thought we would help.
The Ninety-Nines proved you could do it.... It's not hard... you really don't need much. 
Now ladies (and men) prove that you can do it too.
We're always amazed at the amount of luggage that some people take to Hawaii...
...or the Caribbean
...or Madagascar any tropical destination.
If a destination is tropical, it is, by definition, hot and humid... how many clothes do you really need?
Be Prepared For Strong Sun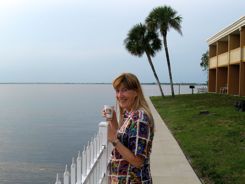 Tropical destinations ring the earth around the equator where the sun is stronger, so be prepared for sun...
--take plenty of sunscreen.
--Take a broad brimmed hat.
--If you're sensitive to the sun, you might want to pack a lightweight long sleeved shirt and long pants....
There are some companies that make clothing with sun blocking material.
The dress in most tropical destinations is casual because of the heat and humidity, so that makes it easy to pack light.
Where Are You Going and What Are You Doing?
You need to take into consideration what kind of culture you will be visiting. We think travelers should always try to dress appropriately for the country they are visiting.
If you are going to Malaysia, remember it's predominately Muslim, and to be sensitive to their culture, you should dress conservatively. You'll want to cover up more than you will need to in Hawaii or the Caribbean.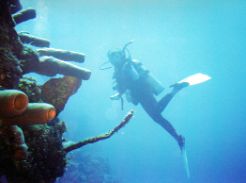 Of course, what you include in that tropical vacation packing list will depend on what you plan to do on your vacation....
Will you be scuba diving?

Bicycling or sailing?

Hiking in rain forests?

Sitting on the beach all day?

This tropical vacation packing list is a little different from a "Hot Weather Packing List". Hot weather can be deserts.... as for Jordan, India, the Sahara.... Hot places are not necessarily places with beaches and tropical forests.
It's a good idea to get clothing that washes easily in your room and drip dries overnight. Hot and humid means you will be perspiring more than usual.
Some of the articles on these tropical vacation packing lists will duplicate what we had on our other packing lists... there are just some things you need to take with you on every trip.
Those things pretty much never come out of our suitcases.
But for the sake of YOUR tropical vacation... we're including the whole list of what we would take.
As always, you have to modify it and make it your own.
Check our basic packing list too... It's where we always start.
This is for two to three week trips. We take less for shorter trips.
Double check our Basic Packing List for any tips we may have forgotten here.... that's what we do!
Tropical vacation packing list for Judy
I wear my "good stuff" on the plane.... slacks, a nice blouse and comfortable, nice looking shoes. This is what I pack....
1-2 pairs of shorts or culottes
3-4 T-shirts or cotton short sleeved shirts
1 long sleeved blouse (this can serve as a suim suit cover up for the hotel lobby or outdoor restaurants... you just might need long sleeves at night. It can seem cool.
1 pair long pants (in addition to what I wear on)
1 dress for evenings... dresses can be cooler than pants during the day too.
4-5 panties and a second bra
2-3 pairs peds and 1-2 pairs light weight socks
1 night gown (if you choose carefully, this could also be a beach cover up)
2 swim suits (who wants to put on a wet suit?)
sandals ( I don't usually take flip flops too, but you could). Take sturdy sandals if you plan dive or walk on the reefs.
broad brimmed hat
light waterproof jacket.... it can rain in the tropics
1 sweater for the evenings
Tropical vacation packing list for Mark
Mark wears slacks, a collared shirt and nice looking walking shoes on the plane. This is what he packs...
2 pairs khaki slacks or denims (in addition to what he wears on the plane)
3-4 collared shirts (usually good enough for dressier evenings).
1-2 T-shirts (you can alter the mix of shirts and T-shirts depending on your style and destination)
1- 2 pairs shorts
4-5 pairs undies
4-5 pairs socks - white or dark to go with street shoes or "tennis shoes"
1 pair sandals or tennis shoes depending on our destination.
2 bathing suits (Mark wears swimsuits that look like shorts, so a T-shirt will do for a coverup. He also sleeps in these.)
hat
1 sweater for the evenings
And for both of us...
dark glasses
Sun lotion
insect repellant
camera and maybe a video camera
binoculars
mask and snorkel (we rent fins and scuba gear there, but if you're an avid diver, you know what you need to pack)
Light weight day pack that packs flat (or a beach bag)
small first aid kit
Special Considerations...
If you're going to climb a mountains... it can get cool... cold even at higher elevations. You'll be surprised how cool it feels in the evening too.
You'll need sturdier shoes if you're going to be hiking on rocky beaches or lava flows. Are you hiking in tropical forests as in Madagascar, or just doing beach time in Hawaii or the Caribbean? Modify this tropical vacation packing list to fit your vacation.
Everyone should take a light rain jacket or poncho... it rains in the tropics! Remember those sunglasses and a wide brimmed hat we lists are musts. You'll want sandals for beach wear... try to take something that you can wear off the beach too. Shoes for walking.
Besides the usual amenities of shampoo and toothpaste and cosmetics, you'll want sunscreen and insect repellant. You want a camera and any electronics you can't do without.
We shouldn't have to remind you to take an ample amount of any prescription medications you take on a routine basis.... And pack any medications you need for this trip... things like malaria pills as well as aspirin and a small first aid kit.
A tropical vacation should be light and fun... your tropical vacation packing list should reflect that. Pack light!
Happy travels... even if you don't travel the world... just remember that life is a journey... embrace and enjoy it! Judy and Mark
Curious about what else we've written about?  Search our site for a destination or travel tip.

But... We'd love to have you share this page or comment on it…
Thanks, Judy and Mark

Go to International Travel Tips l Europe Travel Tips
Hotel and B&B Tips l Packing Lists and Tips
The Backstory on Travel Article A Day
Go from Tropical Vacation Packing List to MouseToursTravels Home Page