Dual Voltage Appliances
What Every Traveler Should Look For
COVID slowed us down for a couple of years, and now a few health issues challenge us.  We're still traveling if not writing about it quite so much. Our goal in 2022 was get to all seven continents in one year... and we did it.

Going forward health issues may not allow us to travel.  No one can take away those memories though.  We hope all of you are well and staying safe... and that you find some inspiration here for YOUR future travels. 

"I read your story on dual voltage appliances like you asked me to...
Yea... you can tell my story.
And next trip I go on,
I'll take this advice!" Deb
We traveled with our friend, Deb, before dual voltage appliances were as available as they are today.
The story she's referring to is recounted below…
But first let's get to the point…
Appliances like electric shavers and curling irons that operate on any voltage...
...and multi-voltage computers...
...are all are great for travel…
…because all you need is the correct adaptor plug (or plugs) for the country that you are going to visit.


What does dual voltage appliance mean?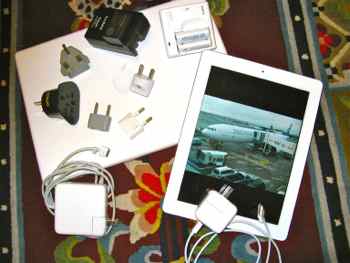 A brief lesson here…
Elsewhere, we give you a little more information on electricity worldwide if you want that too.
Here what we're talking about are appliances and electronic devices that are designed to operate on voltage anywhere between 110 and 240 volts without damage.


The U.S. uses 110 volts.
Europe and much of the rest of the world uses 240 volts.
If you do NOT have a dual voltage appliance, and if you use that device with the wrong current… it will either not work properly… or it might burn out!
Does that mean you can use them anywhere?
Yep, pretty much. You should be able to use dual voltage appliances almost any where in the world…
…And the beauty of it is they eliminate the need for voltage converters or transformers.
How do you know if you have a dual voltage appliance?
Look on the box when you buy it, or on the appliance itself. Somewhere on that electronic gizmo or it's container, it probably tells you what the electrical input requirements are....
Look on the back, or the bottom, or the handle….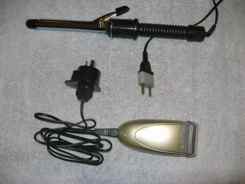 My curling iron, for instance, is stamped on the handle 120V/240V telling me it's OK to use anywhere.
Mark's electric shaver, on the other hand, is not marked...
But the box said it was when he bought this new one, and it is described as dual voltage in the "Instructions and Care" booklet that came with it.

Some accommodate automatically... my curling iron does. On other appliances you may need to flip a switch. Mark needed to change the setting on his old razor. His new one also accommodates automatically.
Either way, you won't need that transformer/converter but you may still need an adapter so the plug will fit the electrical outlet in the country you're visiting.
If you need to change the settings on yours, you might want to change that setting as you pack so you don't forget to change it once you arrive.
If your shaver or curling iron or other appliance or device isn't dual voltage, you'll probably need a voltage transformer or converter so it will work. ...And so you won't burn it up or worse... like blow a fuse in your Bed and Breakfast or something. (We talked to friends where that happened.)
Laptops, cameras and tablets should be OK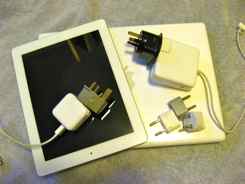 Most modern electronic equipment like laptops, iPads, and camera battery chargers are multi-voltage, meaning they will operate on voltages ranging from 110-240 volts.
So you will be OK with just an adaptor so they'll fit into the socket... You can go ahead and charge your computers, tablets, cameras, and camera batteries and phones.
Not all plugs are created equal either!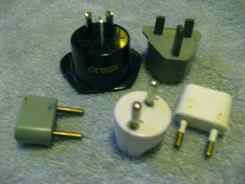 We get into explaining adaptors and converters too… but for now, just remember that plugs and electrical sockets around the world come in a variety of configurations. (We'll tell you about the different spelling too!)
Your U.S. plug will not fit into a European electrical outlet or socket. It works the other way too… European plugs need an adapter to fit U.S. electrical outlets.
We carry a collection of adaptor plugs, but when we got to Australia, we had to find a store that sold electronics so we could get an adaptor that worked there. So don't worry... even if you don't have the right adaptor before you travel, you can always get one there.
Finally... Here's Deb's story….
My old curling iron was NOT dual voltage. I used to plug it in and unplug it in short intervals as I used it. That wasn't optimal, but it worked.

When we were traveling with Deb in France, I told her about my scheme. At a little farmhouse gite we stayed in, she tried my technique too... only she didn't unplug her curling iron as soon as she should have...

She didn't burn up her curling iron, but you should have seen how she fried her hair.... and it was in the FRONT!!!! It took her weeks to grow it out.

The good news is we're still good friends, and we laugh about that story often. The moral to that story is get an appliance with dual voltage or use a voltage converter!
Look for dual voltage appliances when you're preparing for your trip. That way you won't have to buy and pack a converter or transformer.... just pack your adaptors and you'll be ready electronically anywhere in the world.
Happy travels... even if you don't travel the world... just remember that life is a journey... embrace and enjoy it! Judy and Mark
Curious about what else we've written about?  Search our site for a destination or travel tip.

But... We'd love to have you share this page or comment on it…
Thanks, Judy and Mark

Go to International Travel Tips l Europe Travel Tips
Hotel and B&B Tips l Packing Lists and Tips
Go from Dual Voltage Appliances to MouseToursTravels Home Page