Electrical Adaptors and Converters
You'll Need Them To Plug-In For International Travel
COVID slowed us down for a couple of years, and now a few health issues challenge us.  We're still traveling if not writing about it quite so much. Our goal in 2022 was get to all seven continents in one year... and we did it.

Going forward health issues may not allow us to travel.  No one can take away those memories though.  We hope all of you are well and staying safe... and that you find some inspiration here for YOUR future travels. 

Electrical adaptors and converters.... really? Can you think of anything less sexy and exciting when it comes to planning your trip and packing for travel?
Adaptors and converters are essential items to pack when you travel…
...Whether you spell it adaptors or adapters…
Put them on your basic packing list because you'll need them so you can plug in to all those funny shaped electrical sockets you find around the world.
"Stop!", you say...
You've got your itinerary planned, your suitcases are open....
You're just going to throw a few clothes into your suitcase...
...and now I'm telling you that you need to worry about plugs and sockets...
Why?
Because if you don't have the right adaptors and converters, you're appliances just might not work!
AdaptORs and Converters or AdaptERs and Converters?
OK… we don't want to get called out on our spelling here.
There seems to be a bit of controversy… depending on which reference source we looked up, either adaptER or adaptOR was fine…
We think you can spell it any way you want… you don't need to be right with the spelling… you need to have the right adaptors and converters so that you can plug your electronics in and use them or charge them.
So what are adaptors and converters anyway?
Let's look at adapters first... they're what you're going to need most often.
Electrical adaptors for travel are plugs that go between your appliance with their US or European style prongs and the foreign electrical wall socket with the receptacle for a different arrangement of prongs.
Does that make sense?
It changes… or adapts… the plug shape to match the outlet.
And there are plenty of different shapes to adapt to! Actually 16 different types of electrical outlets that you may encounter throughout the world.
How many do you need to carry?
We take several styles of adaptors when we travel so we are prepared to plug in...
...no matter what country we go to.
(That's not a "just in case" packing problem…
...it does work with our "pack light" philosophy… they don't take up much room.)

Some countries even have two different styles of wall sockets, so you might need two kinds of adaptors. You can even encounter different shaped sockets in the same room, not just in another country!
You may have one or two types of these already, but be sure you have all the appropriate ones. If not, you can get them at any travel store or order them online.
To be a savvy traveler, tuck a pouch of adapter plugs in a corner of your luggage to be prepared for any socket you might encounter…. like we said… they don't take up much room.
You mean there's more??? Sorry... there is, but only a couple of things...
Will the adapter take polarized plug blades?
Be sure the adaptors you take accept polarized-blade appliance plugs.
WHaaattt?
I'm writing in the U.S... so we'll use US plugs as an example. Take a look at the prongs or blades on one of your plugs... on a polarized plug, one is wider than the other. It will only fit into the socket one way... and it won't fit into an older socket that isn't polarized. (But there IS an adapter for THAT too!)
Seriously though... check that out. You don't want to get on your trip and find that your adaptor fits nicely into a foreign electrical socket.... but your curling iron won't fit the adaptor!!!
Will the adapter fit into a recessed socket?
You'll also want to make sure they fit down into the recessed sockets you'll find around the world. They really do sit down in a hole sometimes.
Some of of our old adaptors fit into the sockets, but because they're recessed, it's hard to get those old adaptors out.
A silly aside... One time we wrapped dental floss around the plug, so we could pull it out. We DON'T recommend that… and we did go out and get a new one pretty quickly! ...You don't want to be digging around in an electrical socket!

Now... do you need adaptors AND converters?
Maybe. This comes back to the fact that electricity worldwide is not the same. Adaptors do not change the voltage.
You will NOT need a converter if....
You have a dual voltage appliance or your electronics are multi-voltage.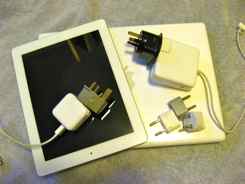 Most newer electronic devices now have smart "multi-voltage" power supplies that can be used almost anywhere in the world with the proper adaptor.
Digital camcorders, battery chargers for digital cameras, your phone, and computer chargers tend to be multi-voltage or dual voltage, so they are OK with only an adapter.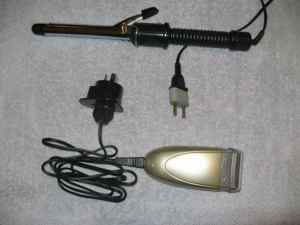 Other than those multi-voltage electronics, most of the appliances we take are "dual voltage"....
...my curling iron automatically senses if we are using 120 or 240, and all I need is the adaptor plug.
Mark's old razor had a switch he could turn to go from one voltage to the other. (He now has a new dual voltage razor... easier!)
You WILL need a converter if....
If your appliances don't allow for the change in voltage in one of these ways...
Then you will need a voltage converter or transformer that will go between your appliance and the adaptor plugs. Be sure you research which type of converter or transformer you need.
Electrical razors can operate with a small converter (50 watt converter)....
Appliances that heat up such as a hair dryer or curling iron need a larger converter (1600 watt converter).
Those "shaver only" electrical outlets in hotel bathrooms have a converter inside, but it's for the smaller wattage. That's why you can't plug curling irons or hair dryers in there.
Doesn't that drive you nuts? I'm always looking for an electrical outlet I can use... and there's never a mirror close to one. I think all of those bathrooms were designed by men!
IF you need a converter.... as an American going abroad, you'll need a "step-down" converter to bring the voltage down to 112-120 that your appliance uses. If you're from almost anywhere else in the world, you'll need a "step-up" converter.
You can go to a site like Voltage Valet to help you figure out the voltage and electrical frequency of the country you'll be visiting.

Don't let all of this seem hard... You really don't need to be an electrical engineer... Once you've figured out which electrical adaptors and converters you need to pack, you'll be plugged into a good trip. Simple as that.
Happy travels... even if you don't travel the world... just remember that life is a journey... embrace and enjoy it! Judy and Mark
Curious about what else we've written about?  Search our site for a destination or travel tip.

But... We'd love to have you share this page or comment on it…
Thanks, Judy and Mark

Go to International Travel Tips l Europe Travel Tips
Hotel and B&B Tips l Packing Lists and Tips
Go from Adaptors and Converters to MouseToursTravels Home Page