What Do Airlines Call A Personal Item?
COVID slowed us down for a couple of years, and now a few health issues challenge us.  We're still traveling if not writing about it quite so much. Our goal in 2022 was get to all seven continents in one year... and we did it.

Going forward health issues may not allow us to travel.  No one can take away those memories though.  We hope all of you are well and staying safe... and that you find some inspiration here for YOUR future travels. 

"I keep hearing that airlines will let you take a "personal item" on the plane along with your roll aboard, carry-on size bags.
I'm not exactly sure what they mean...
Can you give me an idea?" Suze

I edited that so I could put it on the website, Suze...
No, the additional item that airlines are talking about is not something unmentionable... and... er... well... personal.
In the United States, you are allowed to take one carry-on size suitcase and one personal item.
There are things you can't or shouldn't put into your suitcase... just in case you have to check that carry-on bag at the last minute...
And that can happen even at the gate with planes being so full these days.


That's where the personal item comes in... it gives you a way to carry all those thing you absolutely must keep with you all the time.


So what "items" are we talking about?
What can you carry-on the planes besides that carry-on suitcase? It can be...

a briefcase

a camera or a camera bag with all your gear

a handbag or purse

your laptop in a carrying bag

or a small day pack....or...
Something like we take.. a dedicated "travel purse"... one that you can cram all or most of the above into.
How Small Must It Be? Or Should We Say, How Big Can It Be?
As a general rule, the total outside dimension should be no larger than 36 inches (91 centimeters).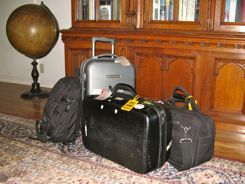 That "travel purse" we currently take is .... 10" x 16" x 7".  That's height + width + depth. 
If we need one item for each of us, we sometimes also take a camera bag or a small daypack.  If I'm taking my laptop, I have a padded day pack that I take.
And we can travel for a month with this... Even with the laptop. Really!

So...
What To Put In That Personal Item?
We pack everything that we have to have with us NO MATTER WHAT only in the bags that we KNOW will stay with us.
The overhead bins may be full...

There may be times when your plane is so full that you are required to "gate check" your carry-on suitcase, but you can always take that personal item with you.
Sometimes when you change carriers you could be required to check your bag... this is more likely internationally than it is domestically.
If you're lucky enough to be traveling internationally, be advised that many "foreign" airlines may be stricter about what you can take on.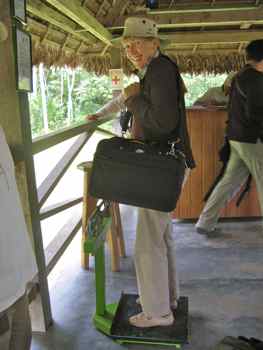 Not only may the dimensions be smaller for your carry-on suitcase, but some international carriers may have weight restrictions too.
Some of these are down right stingy!
I have to let them weigh my carry-on size bag, and I'm prepared to check it if I must... but I try not to let them weigh my travel purse with all we manage to pack in it.
We are always prepared to redistribute heavy items into a little daypack... I carry the laptop or iPad... Mark carries the camera.
Sometimes they will weigh your personal item and sometimes they won't.
If we think we might have to relinquish our carry-on size bag during a connecting flight, we pack that with "emergency supplies" that need to stay with us. To give you an idea what to pack in your personal item, we'll tell you what we put in ours.
passports and any paper tickets and supporting documents (when they're not in your money belt)

toothbrushes and toothpaste

hair brushes and combs

cosmetics (all small sizes!)

two of those "One quart plastic bags for liquids" since there are two of us traveling

medicines (including aspirin and Pepto-Bismol) and copies of prescriptions

prescription eyeglasses, extra contact lenses, dark glasses

laptop with appropriate cables and chargers

camera (also with cables and chargers)

cell phone (we just hope this stays charged!)

guidebook and reading material

small notebook and pens (you need something to fill out those immigration forms!)
umbrella

small flashlight
car keys for when we return home

and we might even pack in a change of underwear!
an expandable bag in case we really, really need more carry-on space for our return.
Sound like a lot?
It is. They are all small and compact items.
They have to be if you're traveling light... and we think that's the way you should travel.
If you've been reading any of our other packing pages, you've heard THAT before. But you can see why we don't necessarily want to put it on the scale!
In addition to your one piece or carry-on size luggage and your personal item, you can also get by with carrying your coat and an umbrella... if it's not in your bag.
Trust us, you really don't want to be juggling much more than that... especially if it's a long walk out of the terminal.
You really can get by with one carry-on suitcase and one small bag each like we do...
We've traveled the world this way for years. It's really not painful... in fact, you'll be glad you've learned to travel light. Honest!
Happy travels... even if you don't travel the world... just remember that life is a journey... embrace and enjoy it! Judy and Mark
Curious about what else we've written about?  Search our site for a destination or travel tip.

But... We'd love to have you share this page or comment on it…
Thanks, Judy and Mark

Return from What is A Personal Item to Carry-on Packing Tips
What Is Carry-On Size?
Basic Packing List  Travel Security Alert Packing List
Go to MouseToursTravels Home Page