Security Packing Tips

More Tips On What And How To Pack
COVID slowed us down for a couple of years, and now a few health issues challenge us.  We're still traveling if not writing about it quite so much. Our goal in 2022 was get to all seven continents in one year... and we did it.

Going forward health issues may not allow us to travel.  No one can take away those memories though.  We hope all of you are well and staying safe... and that you find some inspiration here for YOUR future travels. 

Travelers don't just need tips on what clothes to take...

You need security packing tips
so you can get through the airport with a minimum of frustration.

Travel security alert regulations have remained pretty steady over the last few years.
Most people have come to grips with the limitations they put on us...
And we all know they're not going to go away in the near future...
...So let's go over a few more security packing tips.
We want to help get you through the airport security checkpoint that has become the bane of many travelers.

Top Security Packing Tip...

Know Rules For Liquids, Creams and Gels!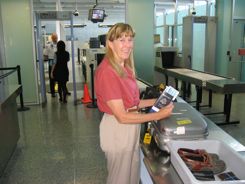 After all this time, we're amazed at how many people still haven't paid attention to the rule about liquids, creams, and gels....
The rules have been in place for years now.
If you are going to carry a bag onto the plane, you may take liquids, creams, or gels ONLY if they are in containers that are 3 ounces (100 ml) or less.

Let's Review The Rules For Liquids, Creams and Gels

I'm going to repeat it... you may take liquids, creams, or gels ONLY if they are in containers that are 3 ounces (100 ml) or less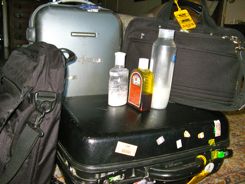 This does NOT mean that you can take a half-full 6 ounce shampoo bottle.
Sorry for shouting...
...but we see this all the time!
The container itself needs to be a size that holds 3 ounces or 100 ml or less no matter how much liquid or gel is in it.


All of the containers you want to take must fit into ONE clear, quart-size (or liter size), plastic, zip-top bag.
Let me repeat.... it's one bag per passenger.
OK, I got that out of my system...
Let's get on with more security packing tips!

Medications Are Allowed
Remember, though, medications... even liquid medications are allowed as long as you declare them...
...and they don't have to go in that plastic bag.
See Packing Medications and Traveling With Pills

No Wine In Carry-ons
Here's a security packing tip that will save you some money....
You will not get that prized bottle of wine through security. If you must take a bottle of wine home, buy it in a duty free shop, but only then if you are going home non-stop.
Remember, when you clear customs in your home country, you will have to go through security again if you are catching another flight, then that bottle of wine could be an expensive memory.

Check Larger Size Liquids

If you want to take larger sizes of liquids, creams, or gels, you may pack them in checked luggage.
Then do not lock your checked bags except with security agency approved locks.... that's TSA approved locks in the U.S.A.

Use TSA Approved Locks For Checked Luggage
You can find TSA approved locks at luggage stores and catalogs.
If your checked bag is selected for random screening, or if they think something looks suspicious, the agents can unlock the approved locks.
They will leave a note inside your bag that it has been inspected.
If you use an unapproved lock, they will call you back to open the bag if they can; if they can't find you, the agents will have to break an unapproved lock to inspect inside...
...so just get an approved one!

Organize Your Packing
Other security packing tips would be to pay attention to how you pack.
Don't stack books and other documents on top of each other inside your bag. That makes them hard to see through, and you're more apt to have a hand search.
Instead, spread them out throughout your bag.
If you have some belongings you don't feel comfortable having strangers handle, place those items in a clear plastic bag.
Don't over pack your bag.
If it's hard to close it at home, you or the security agents will probably have trouble closing it at the airport if it is opened for a check.
You can deal with your carry-on bag, but if a checked bag is opened, there is the possibility that an overstuffed bag will come off the baggage belt with your nightgown peeking out. You don't want that.
Read our Packing Tips for more help.


Don't Wrap Those Gifts!
If you're carrying gifts, don't wrap them before you leave home.
The security officers might want to inspect inside, then you'd have to wrap them twice.
No one looks forward to the security checkpoint or the line you might have to wait in to get there, but if everyone followed these basic security packing tips, we'd all get through faster.
Happy travels... even if you don't travel the world... just remember that life is a journey... embrace and enjoy it! Judy and Mark
Curious about what else we've written about?  Search our site for a destination or travel tip.

But... We'd love to have you share this page or comment on it…
Thanks, Judy and Mark

International Travel Tips l Europe Travel Tips
Hotel and B&B Tips l Packing Lists and Tips
Go from Security Packing Tips to MouseToursTravels Home Page