Travel Booking Problems
Stay Calm, Things May Work Out Better
COVID slowed us down for a couple of years, and now a few health issues challenge us.  We're still traveling if not writing about it quite so much. Our goal in 2022 was get to all seven continents in one year... and we did it.

Going forward health issues may not allow us to travel.  No one can take away those memories though.  We hope all of you are well and staying safe... and that you find some inspiration here for YOUR future travels. 

You just never know if you're going to run into booking problems when you're traveling.
That fact of travel life is just one more reason that you need to be flexible when you travel.
If you're an independent traveler, you'll have to deal with this yourself,  and that's one reason some of our friends say they only want to take tours...

...But we've developed strategies and attitudes that help...
Stay calm.
The airline/hotel/tour operator is NOT out to get you.
Listen to the alternatives that are being offered....
You just might find that things work out for the better.

Airlines Do Overbook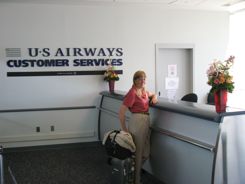 Most of the booking problems you run into will be "overbooking".
You probably hear all the time about airlines overbooking... and they do.  Less now with the computer models they have, but still, it happens.
In the U.S., airlines usually ask for volunteers who can travel later in exchange for vouchers for additional future flights in compensation.
Countries in the E.U. also have strict rules on how bumped passengers must be compensated.
If you run into booking problems in other countries, you really need to be prepared to be flexible so you can work things out.
Here's one example we have...
Our little group of four was to meet a larger group, but we got bumped on a flight from Nepal to Tibet because a Chinese government delegation took our seats.

It doesn't pay to get angry at anyone at this point... your tour operator and the airline aren't really to blame. We were understanding and flexible... we got on the next flight... two days later!

Here's the good news... Our Tibet tour ended up being a PRIVATE tour, and because of that we got into more places and saw everything anyway.

Booking Problems With Hotels

It isn't only with airlines that you might run into overbooking problems. Hotels also overbook their rooms sometimes.
Your hotel should take care of you, so if this happens, just stay calm and work with them.
Another example:
My sister was taking friends to Italy. In Venice, they were going to a hotel she had stayed in before.

When they got there to check in, the hotel was full.... but the hotel had a sister property that was newer and nicer around the corner...

And that's where they got better rooms for no extra charge.
Here's a twist on booking problems with accommodations.
We were on safari years ago. My husband and I were traveling with a long time travel buddy. We flew in to a remote tented camp.

When we arrived, there seemed to be a problem. Somewhere in the communications things had gone wrong, and they were expecting only two of us.

There was not an extra tent, so the first night, they moved an extra bed into our tent... and we had a slumber party. There are great stories to tell... and the very next night, they had that extra tent available.

They also treated us to some great long game drives because we were so flexible.

It's Not Always Overbooking
And here's a booking error that worked in our favor. Again in Africa, and on that very same trip...
We were booked into a tented camp that was supposed to be closed! It had just shut down for the season.

They managed to round up a substitute game guide and kitchen staff, and they took really good care of us... and we were the only ones in camp.

Talk about exclusive... and all because we are willing to be flexible.

Trains Too?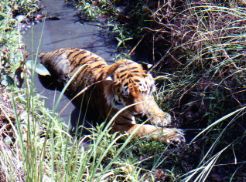 Trains can be overbooked too.
In India we were supposed to take the train to a tiger preserve.

At the last minute, they told us it was overbooked.

They offered to send us with a car and driver instead.... for the same price!

We actually got in before the train, and saw more and learned more.

Don't Get Angry

What we're trying to tell you, is if you run into booking problems, don't get angry or frustrated.
Be willing to work through those problems...
Sometimes you'll end up with a better trip than you planned.
Happy travels... even if you don't travel the world... just remember that life is a journey... embrace and enjoy it! Judy and Mark
Curious about what else we've written about?  Search our site for a destination or travel tip.

But... We'd love to have you share this page or comment on it…
Thanks, Judy and Mark

International Travel Tips l Europe Travel Tips
Go to MouseToursTravels Home Page