Airport Security Checkpoints Are No Fun
What You Wear and How You Pack Make It Easier
COVID slowed us down for a couple of years, and now a few health issues challenge us.  We're still traveling if not writing about it quite so much. Our goal in 2022 was get to all seven continents in one year... and we did it.

Going forward health issues may not allow us to travel.  No one can take away those memories though.  We hope all of you are well and staying safe... and that you find some inspiration here for YOUR future travels. 

Dress for airport security checkpoints? ....Why?
Most people don't give much thought about what they wear to the airport.
BUT...
When you're packing and choosing your clothes, it pays to think about security at the airport as well as what you'll be doing on your trip.
You need to decide if you're going to carry everything on or if you'll be checking luggage.
It will make a difference as to how you pack...
And how you pack can make a difference when you are trying to go through security lines at the airport.
What you wear can make it easier too...
...or create hassles...
So think about how you're going to dress for those airport security checkpoints and well as for the flight.


Dress for Airport Security Checkpoints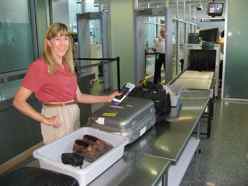 How can what you're wearing create hassles?
Ditch The Metal

Anything you have on that is metal is apt to set off alarms.
Leave the heavy jewelry home or pack it in your carry-on bag.
Are you into body piercing? You may want to remove those for the flight.
Even hair barrettes and clothing with big metal buttons can set off metal detectors that are very sensitive.
You'll get through security with any of these things eventually, but you'll get through faster if you're not wearing them.
Think About Your Shoes
Remember, in the U.S. you'll have to take off your shoes unless you have TSA Pre-Check.
Slip on shoes are easiest.
Tennis shoes or lace up shoes take a little longer to get off and back on.
And unless you really, really want to wear those hard-to-get-on-and-off cowboy boots... you might just want to pack them or leave them home.
Just Deal With Coats and Sweaters

Bulky sweaters and jackets have to be removed for security.
You'll just have to put up with that... you don't want to pack them, especially if you're not checking luggage. Room in those carry-on bags is always at a premium!
Remove Your Money Belt?

I have to tell you, we've been through those new body scanners a few times now at airport security checkpoints... They had us take off our money belts... and those aren't even metal!
I'm not going to stop wearing one of those though... those money belts are for travel security of a whole different sort... the security of my travel documents!
How You Pack Makes Airport Security Checkpoints Easier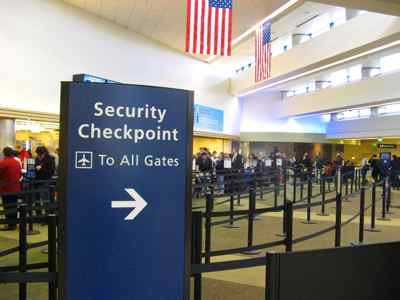 If you will be traveling with carry-on only, then you need to prepare your one quart/one liter-sized, clear plastic zip-top bag.
Have it ready ahead of time...
You don't want to be throwing out liquids at the checkpoint or trying to cram some 3 ounce/100ml bottles into a plastic bag at the last minute.

All of your carry-on liquids, gels and creams must go into one bag, and they must all be 3 ounces/100ml or less.
If you will be checking luggage, you can put any amount of liquids into those bags. You are not limited to the 3 ounces or 100ml, but can carry as much as you want.
Plan How You Pack

Try to pack your carry-on bag in an orderly fashion.
It may seem easiest to just throw everything into a backpack, but things that are jumbled up together are hard to make out on the x-ray screen...
And that may cause you to be delayed at screening or even be pulled aside for an extra bag search.
Packing Electronics for Airport Security Checkpoints
If you're planning to take a laptop computer or other large electronics, it's safer to pack them in your carry-on bag.
You'll have to take these large electronic items out of your bag for screening.
(The exception here is if you have one of the newly approved laptop bags that allows the computer to be screened without removing it. Or if you are approved for TSA PreCheck.  Check with airline or government websites for more information).
Small electronics like iPods, cameras, curling irons, and shavers can stay in your carry-on during screening.  (Although at least once going through London, I had to take out my iPad...  If the agent insists, it's easier just to comply and apologize.)

If you still carry film for a camera, (who DOES this???) it will go through screening just fine unless it is faster than 800-speed. (You'll have to ask for an officer to hand inspect fast film to avoid x-rays.)
If You're Carrying Gifts...
If you're carrying gifts, don't wrap them until you get to your destination in case they need extra screening.
You might just have to unwrap them at the airport security checkpoints, and you don't want to have to wrap them twice.
Get To The Airport Early Enough
Get to the airport early enough so you won't be rushed.
Have your boarding pass and identification available for the officers.
Know what airline cut-off times are for check in. You must generally check in earlier for international flights than you do for domestic flights.
And remember it can take a while to get through those airport security checkpoints even if you've packed and dressed for it.
Happy travels... even if you don't travel the world... just remember that life is a journey... embrace and enjoy it! Judy and Mark
Curious about what else we've written about?  Search our site for a destination or travel tip.

But... We'd love to have you share this page or comment on it…
Thanks, Judy and Mark

Go to International Travel Tips l Europe Travel Tips
Hotel and B&B Tips l Packing Lists and Tips
Go from Airport Security Checkpoints to MouseToursTravels Home Page