The TSA Secure Flight Program
What It Is
How To Make It Easier On Yourself
COVID slowed us down for a couple of years, and now a few health issues challenge us.  We're still traveling if not writing about it quite so much. Our goal in 2022 was get to all seven continents in one year... and we did it.

Going forward health issues may not allow us to travel.  No one can take away those memories though.  We hope all of you are well and staying safe... and that you find some inspiration here for YOUR future travels. 

You may... or may not notice the TSA's Secure Flight Program if you are flying to or in the USA.
The first phase of this program was quietly introduced in 2009.
In December of that year there was an attempted terrorist plot on a flight into the U.S. 
Remember the "Underwear Bomber"?  We giggle at that, but it could have been serious.

The program has been fully implemented in the years since.


This is a passenger "vetting" program...

In other words, it's a watch list matching process that checks passengers against government watch lists before a boarding pass is issued.


Secure Flight Program Behind The Scenes
This program is supposed to be behind the scenes.
In the past, it was up to the individual airline, and their front line passenger service agents to match passenger's names to the "no-fly" list.
What The Secure Flight Program Does

In May 2009, participating U.S. airlines started asking passengers making reservations to provide their name AS IT APPEARS on the government issued identification they will be using for their flight.
That's important.... your name as it appears on your driver's license or passport.... got it?
We'll nag you more on that below.

In August of 2009, they began asking for your date of birth and your gender when making reservations.
By providing this additional information, they were hoping to make life easier for passengers whose name is similar to names on the no fly list...
Those who might have been misidentified in the past.
The plan should make it easier to identify individuals who may pose threats.
The airlines transmit the information to the Secure Flight program where the TSA now uses new technology to match names against their various lists...
You Get A Boarding Pass ...or... You're On The No Fly List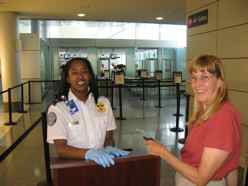 Let's hope you get that boarding pass without noticing anything!  Remember, this is supposed to work behind the scenes.

For the others...
The TSA then transmits the information back to the airline indicating that a passenger should be put on the NO-Fly List and not issued a boarding pass...
Or they may indicate a passenger should be put on a "Selectee List" and issued a boarding pass, but with more security screening before proceeding through the checkpoint and to the boarding gate.
The Rules May Change

The rules of this program may be subject to change, and whatever happens in the future, they are probably going to be more strict in enforcing them.

So What Can You Do?

Why do you need to know about this?
Make Your Reservations The Right Way...

GET YOUR NAME RIGHT!

You can make it easier on yourself by making reservations the right way....
...by using your name.... as it appears on your personal identification document....
That's the name on your driver's license...

           ...or your passport...

           ...or whatever government document you will be using for identification at the airport.
Not your nickname...

...not just your initials if your name is spelled out on the identification... 
Your name as it appears on your personal identification document.
Have I said that often enough?
Sorry for nagging...
...But Mark saw all kinds of passengers come to grief because they messed up on their own name! 
Some even misspelled it when they entered it on the internet... so be careful.

Carry THAT Identification Document With You

And then carry that identification with you...
And arrive at the airport early, because security checkpoint lines may be longer than ever.

Don't Cause Your Own Problems!

You may still encounter delays and frustrations...
But there is no need to cause them for yourself by using a nickname instead of the name on your identification!
And check your spelling before you hit the "buy it" button.

Happy travels... even if you don't travel the world... just remember that life is a journey... embrace and enjoy it! Judy and Mark
Curious about what else we've written about?  Search our site for a destination or travel tip.

But... We'd love to have you share this page or comment on it…
Thanks, Judy and Mark

International Travel Tips l Europe Travel Tips
Go from Secure Flight Program to MouseToursTravels Home Page