TSA Self-Selecting Security Lanes
Gone
Replaced By A (Hopefully) Better Idea
COVID slowed us down for a couple of years, and now a few health issues challenge us.  We're still traveling if not writing about it quite so much. Our goal in 2022 was get to all seven continents in one year... and we did it.

Going forward health issues may not allow us to travel.  No one can take away those memories though.  We hope all of you are well and staying safe... and that you find some inspiration here for YOUR future travels. 

TSA Self-selecting security lanes are an idea that has come and gone.  You won't find these anymore… Now you should look for TSA Pre✓™.
The TSA keeps trying to make things better....
It may not seem like it, but really... they are trying.

Back a few years ago, they thought that different lanes for travelers with different levels of experience might speed things up.

They weren't implemented at all that many airports.

At those airports where the process was implemented, it seemed to cause as much confusion as help.  Did you ever hear of them or run into them.

Participating airports had black, blue and green lanes for security... and names for those lanes which weren't always consistent... so that whole idea went away.

Now We Have TSA Pre✓™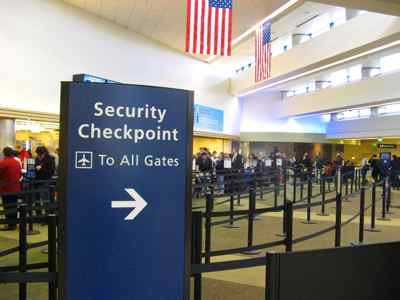 Move forward several years, and the latest idea to try to get us all through security faster is the TSA PreCheck Program...
You may see it as TSA Pre✓™. 

It's a program that some frequent flyers have been signed up for by their airline of choice....

Some passengers are randomly selected for PreCheck at airport check in... Though the confusing thing about that is not all passengers who are randomly selected may know it... if they don't know what they're looking for on their boarding pass! 

If it's something you're interested in, you can also sign up for PreCheck... for a price!  Read more about that on our page about trusted travelers.


Living... and Traveling With Airport Security

All I can tell you is that we will have to deal with security checks for years to come. 
Does the new TSA Pre✓™ make things better?  For us it has most of the time...
Although I was randomly selected on a recent trip and Mark was not.  We went through separate lanes... and he got through faster!

Most of the time PreCheck lanes are faster and there are less hassles, but we will all have to wait and see if it really works, or if it's another idea that will go by the wayside like those TSA self-selecting security lanes.
What Those TSA Self-Selecting Security Lanes Were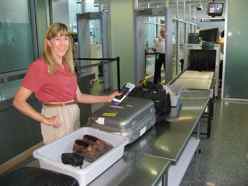 It was an honor system, and it was up to the individual traveler to decide which lane to be in. 

Now the problem with that, as Mark will tell you, is that there are a whole lot of travelers who are really confused about the whole security thing...
...let alone having to decide which lane to get into!

You had to decide if you were an Expert Traveler who should use the black lanes (that one was actually always pretty consistent)...

...Or if you were only a Frequent Traveler who should use the blue lanes.  And aren't frequent travelers usually pretty expert?  But wait...  sometimes the blue lanes were for Casual travelers.

The Green Lanes were meant to be for travelers who really needed extra time... families or people who just didn't know what they needed to do.  But if the lane was marked as a  "special assistance lane" or "medical liquid lane"... maybe a family would feel like they shouldn't go there.

The black lane was supposed to move the fastest, but it didn't always.

Add to that the fact that the TSA needed to have more personnel for the added lanes, and it all ended up being a noble experiment that just didn't work.  Like I said... an idea which has come and gone.
Happy travels... even if you don't travel the world... just remember that life is a journey... embrace and enjoy it! Judy and Mark
Curious about what else we've written about?  Search our site for a destination or travel tip.

But... We'd love to have you share this page or comment on it…
Thanks, Judy and Mark

Go to International Travel Tips l Europe Travel Tips
Hotel and B&B Tips l Packing Lists and Tips
Go from TSA Self-Selecting Security Lanes to MouseToursTravels Home Page