Internet Flight Insurance
Is It Worth It?
COVID slowed us down for a couple of years, and now a few health issues challenge us.  We're still traveling if not writing about it quite so much. Our goal in 2022 was get to all seven continents in one year... and we did it.

Going forward health issues may not allow us to travel.  No one can take away those memories though.  We hope all of you are well and staying safe... and that you find some inspiration here for YOUR future travels. 

You're ready to push that "buy it" button, and you see that internet flight insurance is offered with that airline ticket you're buying online.
Don't Buy It Impulsively


Internet flight insurance?
Sometimes you have just seconds to think about it.
It seems cheap enough so you add it on to the price of your ticket.
But is it worth it?
There are times when you should get some kind of travel insurance...
And times when you may not want to.
Either way, don't buy insurance impulsively.
Take your time. Research what is offered and what your options are. Choose carefully.
Book Your Flight Carefully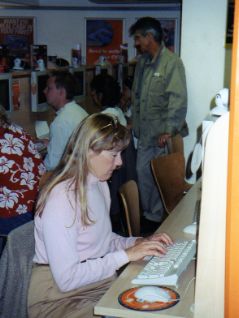 We have a story to illustrate this.
We heard of a passenger who really wasn't paying attention when he was booking his flight on the computer.
This traveler mistakenly purchased his ticket for the day BEFORE he wanted to leave.
This only came to his attention when the check-in kiosk wouldn't work... It said "see agent".
This fellow was really annoyed with the airline because the kiosk wouldn't check him in.
It had to be the airlines fault, right?!?
If You Book It Wrong...

When he found out that the ticket he had booked online... for himself... was for the wrong day, at first he said, "But that's not when I wanted to go.... I wanted to go today. I HAVE TO go today for a meeting."
Substitute a wedding or a reunion or whatever.... you get the picture.
Travelers incorrectly booking themselves...
It happens with surprising regularity.
I guess the first lesson here is for you to be careful that you are booking your flight correctly.
That's the problem with computers, they do exactly what you TELL them to do.... even if it's not what you INTENDED to tell them.
Will Internet Flight Insurance Cover THAT?

So back to that flight insurance offer.
His ticket had no value... That's what came up in the airline computer.... "NO VALUE".
When he got over the shock of that, he said, "No problem, I bought insurance."
It was not the airline he could deal with at this point, he had to call the internet insurance company. So he went off and got in touch with them.
Know what happened?
IT DIDN'T COVER IT!

Know What The Insurance Covers
He had insurance for the flight in case it was canceled or delayed...
He didn't have insurance for missing the flight because of his own mistake.
The internet flight insurance company wouldn't pay anything.
The airline was not responsible.
The insurance cost him US $13.50. The ticket only cost him about US $100 in the first place.
Is It A Good Value For Your Flight?

Not very good value for the risk in this case....
But he bought the insurance because the question popped up just as he was making that online purchase.
I guess we should tell you again to make very sure you have everything right when you purchase those tickets on the internet. They are often non-refundable and non-changeable...
And let's say it again about that internet flight insurance...
There may be times when it's a good idea to get it, but don't buy it impulsively. Research it and know what you're getting.
Happy travels... even if you don't travel the world... just remember that life is a journey... embrace and enjoy it! Judy and Mark
Curious about what else we've written about?  Search our site for a destination or travel tip.

But... We'd love to have you share this page or comment on it…
Thanks, Judy and Mark

International Travel Tips l Europe Travel Tips
Hotel and B&B Tips l Packing Lists
Go to MouseToursTravels Home Page