Foreign Travel - International Travel
Just How Foreign Is It?
COVID slowed us down for a couple of years, and now a few health issues challenge us.  We're still traveling if not writing about it quite so much. Our goal in 2022 was get to all seven continents in one year... and we did it.

Going forward health issues may not allow us to travel.  No one can take away those memories though.  We hope all of you are well and staying safe... and that you find some inspiration here for YOUR future travels. 

"I'm impressed that you have all that foreign travel experience.
It makes your tips real...

But have you really been to all the countries you write about?"

We usually answer questions individually, but we get asked this a lot....

The answer is YES, we've been to all the countries we write about.
We love foreign travel.
See our FAQ page for more on that.
We usually say we're traveling internationally.
I mean, with the internet and television, we've all become more and more aware of what's going on in the world...
And international travel sounds sophisticated, glamorous...
But when you start to think about visiting far-away places, especially for the first time, somehow that's different, more personal.
You are traveling to a different nation, probably a different continent, and now some things might be really different...
...Foreign even.
So foreign travel is probably how you're thinking about your trip right about now.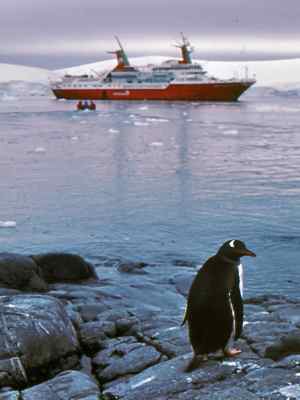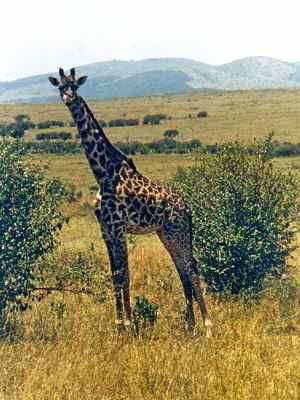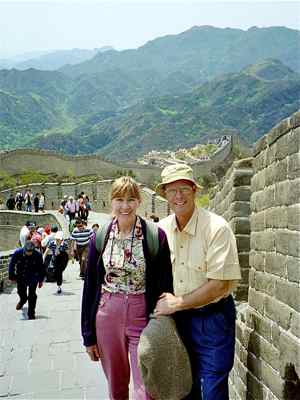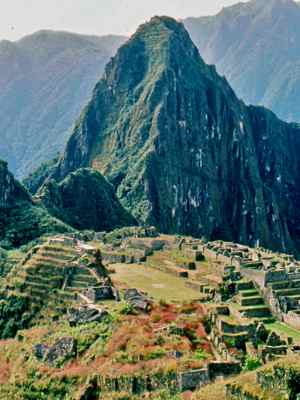 The dictionary says foreign means...
1. of, from, in or characteristic of a country or language other than one's own
-- or --
2. strange and unfamiliar
Hummmm..... Characteristic of a country other than one's own... that doesn't sound so bad.
But strange and unfamiliar? THAT sounds a little scary.
But hold on... we think foreign travel is a true education.  You learn about foods and fashions and cultures. 
Foreign isn't strange... it's just different. Wonderfully different.

So Just How Foreign Is Foreign Travel?
Foreign Language
You deplane and suddenly that hum of words around you does sound unfamiliar and strange.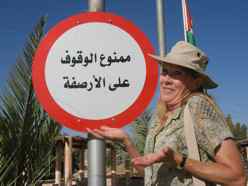 I mean, even English as spoken in other English speaking counties can sound foreign.
I remember an Indian rug dealer speaking to me...
And me apologizing for only speaking English...
...when he said, "But Madam, I AM speaking English," Oops!
English speakers do have an edge though. You just have to listen carefully and speak slowly. If you are speaking English with non-native speakers or native English speakers with an accent you aren't used to, it just takes a little more patience listening. Read more about our tips for dealing with a foreign language.
Foreign Money
Most money is divided decimally somehow.
They may not call it dollars and cents, but the denominations will make sense once you study them. (A pun I couldn't resist... sorry.)

Take your time when you're paying and getting change. We have a whole page on how to get and handle foreign money.
Foreign Toilets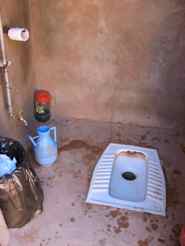 This one is always good for stories!
Yes they can range from the western style "throne" to a porcelain hole-in-the-ground.
If you're handicapped, using the squat style can pose a problem.
For western travelers, you're more apt to run into those "eastern style toilets" in more rural areas and on adventure tours... and if you're on an adventure tour, this will just add to your stories.
We have more on foreign toilets too.


Foreign Dress
Fashions around the world are wonderfully different.
Saris in India are beautiful.
Kente cloth dresses and 'turbans" make African markets a swirl of colors.
In most countries men won't have a problem with dress.
Women have to be a little more attentive... you may want to dress conservatively, but you don't have to dress like a local.
Unless you want to....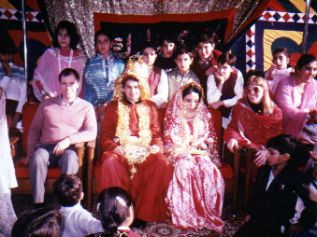 And there are times when you may want to...
When we went to a wedding in Pakistan, I purchased a couple of shalwar camises simply because I felt drab and under dressed in my western clothes.
I didn't have to, but it was fun to shop for them, and they're fun souvenirs that I still put on once in a while.
If you are traveling in countries where women routinely wear head scarves or cover up with burkas or abayas, you need to research how you should dress. But generally as long as you are dressed modestly, you will be fine. They know you are a visitor.
Foreign Food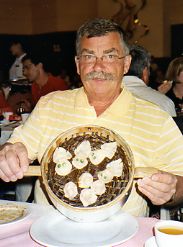 Well that's part of why you travel isn't it?
To try different foods, see the different way they're served.
Plastic Models?  But what if you're in Japan and there is no English menu? Well, in upscale restaurants, there will probably be someone who speaks English.
But in many restaurants there window displays with elaborate plastic models of the food being served. You can just point to what you want to try.
Can't read Greek? I remember times in small towns in Greece where the taverna owner would take us into the the kitchen to see what they were cooking, and we'd pick and choose our lunch or dinner.
Just Take A Chance.  Sure you might feel a little unsure of yourself... is that what you really think it is? But whenever we've had experiences like this, we've had good meals and lots of fun.
Locals and a phrase book will help.  If you're in small restaurants in France or Germany or Italy, the menu may not be translated for you. If you're lucky and are in such a small place that no one speaks English, your phrase book will help, the staff (probably the owner) will try hard to make sure you have a good idea what you're getting... and you'll probably have a wonderful meal.
Foreign Greetings

You may find that greetings are different in foreign parts...
"Namaste" with the praying hands gesture is common in India,
And in Japan you may be greeting people with a little bow.
You should always greet a French shopkeeper with a polite "Bon Jour".
You may never look... or sound... like a local, but at least give those polite greetings a try. It's all part of the experience.
So foreign travel makes you stretch.... that's the beauty of it... it's different. That's WHY we want to travel the world. To experience all those wonderful differences. Foreign travel helps us understand and appreciate our differences.... and it's like we say at the bottom of every page... We believe that travel promotes understanding and understanding promotes peace.
Happy travels... even if you don't travel the world... just remember that life is a journey... embrace and enjoy it! Judy and Mark
Curious about what else we've written about?  Search our site for a destination or travel tip.

But... We'd love to have you share this page or comment on it…
Thanks, Judy and Mark