Museum Sensory Overload
COVID slowed us down for a couple of years, and now a few health issues challenge us.  We're still traveling if not writing about it quite so much. Our goal in 2022 was get to all seven continents in one year... and we did it.

Going forward health issues may not allow us to travel.  No one can take away those memories though.  We hope all of you are well and staying safe... and that you find some inspiration here for YOUR future travels. 

Museum sensory overload is what I call that feeling you get when you've been inside too long and your head starts feeling fuzzy...
...no matter what you're looking at.
To avoid it, you need some strategies....
See if you can get in and out privileges with a museum card...
Figure out what is important for YOU to see in any given museum...
Determine if it would be good to get a guide or the audio tour.
You want maximize your enjoyment of your museum visit...
...and not get stuck wandering the halls for hours looking at paintings by artists you never heard of and don't like....
Or spend way too long wandering so you find yourself yawning and saying, "Oh, just another Rembrandt!"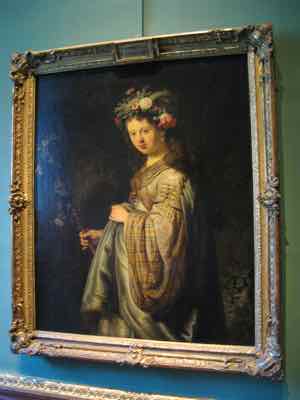 Planning Avoids Museum Sensory Overload

Planning will help you get the most out of museums when you're in them. Then you can feel free to leave when your mind wanders.
We always plan to visit the museums when we travel.  There are great masterpieces of art in all the major museums of the world that shouldn't be missed.
And don't overlook cultural museums. For example, we love the Pacific Northwest Coast First Nations collections in the Museum of Vancouver, Canada and the Maori Galleries in the Auckland Museum in New Zealand.
But too much of any museum collection can leave you wishing for something else.
Just being inside some museum rooms can leave your head fuzzy.... so take museum breaks to avoid museum sensory overload.

A Little Research Helps

Do your research.... Learn a little about the art you will be seeing...
But also research the museum itself.
    --What days is it open.
    --Do you need reservations?
Reservations Are A Must At Some Museums

For some popular museums, if you don't have advance reservations, you won't get in....
Places like the Alhambra in Granada, Spain and the church that houses Leonardo da Vinci's Last Supper in Milan, Santa Maria delle Grazie.
Here's a story about needing reservations.... I remember arriving in Rome... when we checked in at our hotel, the desk clerk asked what our plans for the afternoon were. We told her we were going to the Borghese Gallery. She said, "Oh, You'll never get in. You MUST have reservations." We were able to reassure her that we had made reservations before we left home... and we had a great afternoon enjoying those fabulous sculptures.
Reservations Can Avoid Long Lines

For other museums, reservations avoid long lines like the Uffizi in Florence.
Check About City Passes or Museum Cards

Museum passes can also get you in special entrances where you can avoid lines.  And depending on the card, you may be able to go in and out as often as you want over the days the card is valid.

We love zipping in and out of the museums in Paris with that Museum Card.
Have An Idea What You Want To See

In your pre-trip research, or at least the night before your museum visit, read up on the important pieces... those that are important to you.
You can avoid museum sensory overload if you find a guidebook or brochure that gives you the highlights... sort of a "What to see in two hours" type of thing.
Try To Visit Off Peak Hours

If you can't or don't get reservations, try timing your visit either early or late. Crowds tend to be thinner then.
Of course, the late strategy only works in places where there is no chance of tickets being sold out.
Sometimes lunch time works well too....
In Florence one time, we took friends to the Accademia to see Michelangelo's David. We had not planned ahead for reservations, but we arrived just before noon. The line thinned quickly, and when we got inside, we had David almost to ourselves.... the groups had all gone to lunch!


Visiting the great museums of the world is almost a right of passage for travelers... but enjoy all the other aspects of the country you're visiting. To avoid museum sensory overload, you want to see what's alive and fun as well as take in the art.
Happy travels... even if you don't travel the world... just remember that life is a journey... embrace and enjoy it! Judy and Mark
Curious about what else we've written about?  Search our site for a destination or travel tip.

But... We'd love to have you share this page or comment on it…
Thanks, Judy and Mark

International Travel Tips l Europe Travel Tips
Hotel and B&B Tips l Packing Lists
Go from Museum Sensory Overload to MouseToursTravels Home Page