Choose A Travel Guidebook
Fit Your Travel Budget and Travel Style
COVID slowed us down for a couple of years, and now a few health issues challenge us.  We're still traveling if not writing about it quite so much. Our goal in 2022 was get to all seven continents in one year... and we did it.

Going forward health issues may not allow us to travel.  No one can take away those memories though.  We hope all of you are well and staying safe... and that you find some inspiration here for YOUR future travels. 

Before you can choose a travel guidebook for your next trip...
...and we think you should still carry a guidebook even with all of your electronics...
You need to think about what the focus of your trip will be.
Some guidebooks have in-depth cultural information.
Some give you lots of history about the area. 
Some concentrate more on seeing the major sights...
...or on finding accommodations...
...or on telling you how to get around on local transportation.

So what will help you on YOUR trip?
No One Series Does It All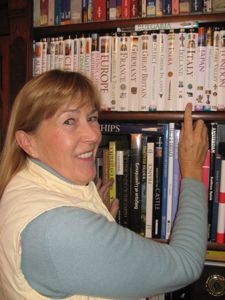 There really isn't a single series that will cover everything for every trip.
You might even find you like certain things about two different guidebook series. 
Take Two?
Well, why not buy them both? 

You don't have to carry them both around you know. 
Cut Them Up?
We've even heard of people who cut them up.... 
While we, personally, have a hard time with dissecting books, it's really not a crime. 

If you do this, take only the sections with you that you need. Cut them up into little sections so you can take just the sightseeing notes you need for the day. 
If you really want that book for a souvenir of your trip, buy two copies and leave the whole one at home. 
Great For Budget Travel
Even if you're a budget traveler, go ahead and spend the money.
If you choose a travel guidebook wisely, it will SAVE you money on your trip.
If you can figure out how to take the bus or subway instead of a taxi... 
If you can find a real budge hotel... That book will definitely be worth it.

So How To Choose A Travel Guidebook?
Which Will Help On YOUR Trip?
Check through several different offerings before you choose a travel guidebook.
Do they cater to luxury travel?
Can you afford the hotels and restaurants they're recommending?
Are they talking to backpackers and college kids?
Do they list mostly hostels and cheap hotels?
Get one that recommends accommodations that fit your budget.


Does The Author Talk About Your Interests?
See who has written the book, and what their expertise is in the region.
Has the author traveled often in the area?
Does he or she write in a style that makes you want to go and see these things for yourself?
Have they checked out the hotels, eaten at the restaurants?  And do you think those reviews are up to date?
If one book has things like long, scholarly explanations about the foundations for castles, and you're just not interested in that...,
you might want to look for a different guidebook.
Maybe something with lots of pictures to fire your imagination.  Mark loves guidebooks with lots of pictures.


Check Your Local Library Or Bookstore
You can check some out of your local library and take your time looking at them.
Also check out one of those large bookstores or one that specializes in travel so you can check out a really large selection before you choose a travel guidebook.
If you find one that makes you feel like you can't wait it get THERE and see THAT, then you've probably found the right one for you.
Once you've found the right one, or two, that will work for your travels, make sure you get the most current edition available and relax....
You can't make a wrong decision.
Any good guidebook will be a help. 
If you need more information, you can probably find brochures or even guidebooks on you trip....
Now THOSE could be great souvenirs.
Happy travels... even if you don't travel the world... just remember that life is a journey... embrace and enjoy it! Judy and Mark
Curious about what else we've written about?  Search our site for a destination or travel tip.

But... We'd love to have you share this page or comment on it…
Thanks, Judy and Mark

International Travel Tips l Europe Travel Tips
Hotel and B&B Tips l Packing Lists
Go from How to Choose A Travel Guidebook to MouseToursTravels Home Page