Contact Us -- We'd Love It
Send Us Your Questions and Comments
COVID slowed us down for a couple of years, and now a few health issues challenge us.  We're still traveling if not writing about it quite so much. Our goal in 2022, get to all seven continents in one year!

We hope all of you are well and staying safe... and that you find some inspiration here for YOUR future travels.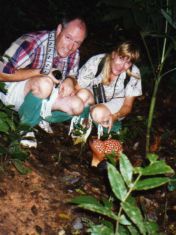 That's us! Finding Rafflesia in Borneo
If you would like to contact us here at MouseTours Travels, please fill out the form at the bottom of the page and hit the "Submit" button.
You will receive an automatic acknowledgment of receipt immediately after you click "Submit" below.
We'll get back to you as soon as possible. When we're traveling, it's sometimes hard to check on our e-mail so please be patient.
You can find giant flowers in the jungles of Borneo and see the whole Milky Way in the Kalahari Desert after dark, but sometimes it's really hard to find a wifi connection... though I do admit... it gets easier all the time.

Why MouseTours??? How We Got Named

Our name may suggest a travel agency, but if that's why you want to contact us...
Sorry, we're not  travel agents.
Let me tell you the story.... long, long ago Mark's buddies at work started calling him "Mouse" because of his initials being MM, the same as a certain famous mouse...
And because our travel style is that we like to stay on the move, and we like to scurry out into the far corners of the world.
Early on, my sister said (as she was recovering one evening on a trip with us) "When you travel with Judy and Mark, you're on a Mouse's tour."
It just kind of stuck. We think of ourselves as Mousetours... but no... we're not travel agents... We like helping people to travel though, so contact us, and I'll try to answer travel questions, as long as you keep that in mind.

Any Questions or Thoughts About Travel?
Please Contact Us

We've been working on this website for a few years now, and we're adding to it as we find the time between trips. Any comments or suggestions are welcome. We like to hear stories, experiences, and opinions... about your travels or about MousetoursTravels.com.
Maybe some of your travel stories can help us too... feel free to send us stories.  Check for places to share in the nav bar on the left.

So please, do write to us. Tell us how we're doing.... what you might like to see here. If you have questions we will be happy to try to answer them, but remember we... We don't sell tickets, book tours, or make reservations.
We just love traveling and sharing our experiences, and if some of our tips help, or our itineraries spark an interest in travel..... great!
We ask you to contact us this way so we can all avoid spam. We ask for your e-mail address so that we can add you to our "whitelist". That way, if you want to write again, you'll make it past our spam protection. To ensure that you receive our reply, add us to your e-mail address book so we are whitelisted for you. Your e-mail address is safe with us... we hate spam, and we will never use your e-mail address without your permission.


Thanks..... Now sit back and relax...... if we're out in the middle of nowhere.... or in the middle of the Kalahari, that's what we're doing. We'll get back to you when we can.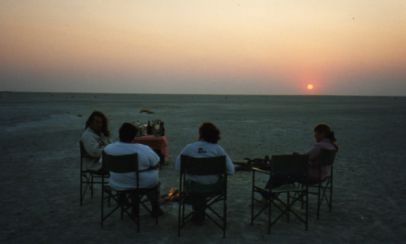 Yep. That's us too... enjoying sundownders in the Makgadigadi Pan of the Kalahari Desert. Thanks, Ralph
Happy travels... even if you don't travel the world... just remember that life is a journey... embrace and enjoy it! Judy and Mark
Curious about what else we've written about?  Search our site for a destination or travel tip.

But... We'd love to have you share this page or comment on it…
Thanks, Judy and Mark

Go to Share Travel Stories With Us
Share Amusing Confusing Roadsigns  Share Clan MacEwan Stories
return from Contact Us to MouseToursTravels Home Page