Our Recent Travels
Or Rather - Random Travel Tales
COVID slowed us down for a couple of years, and now a few health issues challenge us.  We're still traveling if not writing about it quite so much. Our goal in 2022 was get to all seven continents in one year... and we did it.

Going forward health issues may not allow us to travel.  No one can take away those memories though.  We hope all of you are well and staying safe... and that you find some inspiration here for YOUR future travels. 

Keeping up with with our recent travels is an adventure all by itself for us.
It was too hard for us to really post good travel pages in a timely fashion, but there are sometimes quick, funny travel tales that we think you'd enjoy.

We originally thought we'd put this page up so all of you can keep up with what we've been doing...
...and so you'd know why sometimes we haven't written anything new about our travel or tips for days or weeks!
But we needed to change the focus from keeping up with our travels to random travel tales. 
Fun Little Stories - Please Share Yours Too
So OK... we have a few random travel tales below. They are stories that don't really deserve a page of their own, but they were just fun to share with you.  Things that happened on trips that made us giggle, or little landmarks in our travel experience.

Jump straight down to the box if you're ready to submit or comment.
Our amusing little travel stories are listed below the invitation.  If you don't yet want to add a little story of your own, feel free to comment on ours.


Why We Don't Often Write On The Road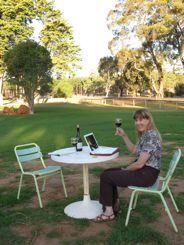 It's getting easier all the time to find internet connections on the road...
...But truthfully, when you're traveling and having fun, it's not always easy to break away and write about it.
Some trips it just isn't convenient to take a computer along.
We left it home when we went to Madagascar.
We took it to Dubai, but didn't take the time to use it much.
We did use it a little on our Australian wine tasting adventure.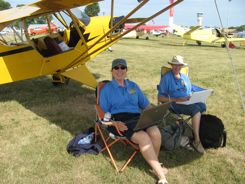 In Oshkosh, Wisconsin attending the EAA AirVenture 2009, we had wifi and free time to tell you about it.
Don't know about Oskhosh?
We sat under the wing of my sister's little Piper J-3 Cub and wrote about the Cub to Oshkosh flight.

Some Travel Tales Need More Photos To Tell The Story

Some stories just require more time and photos and we write those after we're home.  Stories like:
Other stories are just cute little vignette about our past or recent travels.


We'll Add Recent Travels or Random Travel Tales As We Can

Follow along -- and remember, with this form, you can add your travels too! It's easy. Promise!
Share Recent Travels - And Read About Ours
Do you have recent travels to share? This is the place. With all of our travel, I couldn't keep up with a daily blog, or with full travel stories. I'll share recent travels with you here... And Please... Share Yours with us!
Where In The World Have You Been?
Click below to keep up with our recent travels and to read where others have been. Read the stories, and if you're inspired please, share your own...


Thanks for reading.  We'd still love to have you comment or contribute.  It really is easy and we'd love to hear your stories or comments.  Don't be shy.


Happy travels... even if you don't travel the world... just remember that life is a journey... embrace and enjoy it! Judy and Mark
Curious about what else we've written about?  Search our site for a destination or travel tip.

But... We'd love to have you share this page or comment on it…
Thanks, Judy and Mark

To Share Other Travel Stories, Go To Your Contributions
Return to International Travel Tips
Go from Recent Travels to MouseToursTravels Home Page