Travels With the Monkey?
An Unexpected Travel Story
COVID slowed us down for a couple of years, and now a few health issues challenge us.  We're still traveling if not writing about it quite so much. Our goal in 2022 was get to all seven continents in one year... and we did it.

Going forward health issues may not allow us to travel.  No one can take away those memories though.  We hope all of you are well and staying safe... and that you find some inspiration here for YOUR future travels.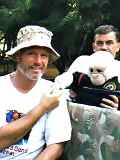 Travel stories often start with something unexpected....
Travels with the monkey is no different.
How to tell you this story...

I thought about calling it travel monkey business...
But why?
Travels with the monkey is how we always referred to it when we were on this trip.
This little guy wasn't really a monkey.

Our little traveling companion was a 15 inch tall, white, stuffed toy gorilla.
Go to our Mountain Gorillas or Our Silverback Mountain Gorilla pages if you want stories about real gorillas.
You know we're always going on about packing light...
How did we feel about this?
We were a bit dismayed at first when we discovered that we would be a party to carrying this toy around.
Our travel buddies brought it along on an adventure trip to Nepal, Tibet and India.
Travels With The Monkey A School Project

Their neighbor was in second grade in school. The teacher had come up with this idea of having kids take the toy gorilla on family vacations....
To the Grand Canyon, to Hawaii, to San Francisco... even to Japan.
When the teacher learned that we were seeing friends in Nepal, flying to Tibet and returning overland back to Nepal... then tracking tigers in India, our friends got talked into bringing the gorilla along.
The Monkey Was A Great Traveler

The teacher had made this gorilla its own little backpack that contained its own little "passport" and a journal for the kids we met to write in.
We kept it wrapped in a plastic bag in an attempt to keep it clean... remember it was a WHITE toy gorilla.
Somewhere early in the trip, we started calling him "the monkey".....
"This is travels with the monkey!"
"Where's the monkey?"
"Who's got the monkey?"
We didn't want to lose him.
Our dismay about dragging this little white gorilla around was short lived.
It turned out to be way more fun to have this toy along than I ever would have imagined.
Adventures The Monkey Had

We took him rafting Trishuli River, but we restricted him to "drying out" at our lodge with the kids.
The next morning, we posed him riding on a kiri kiri with school kids as they crossed the river in the only way they could to go to school.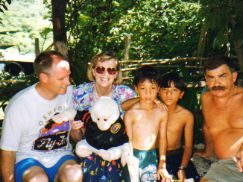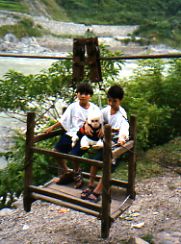 We posed him on a truck carrying us into Nepal's Royal Chitwan National Park,
then we had to transfer to a dugout canoe....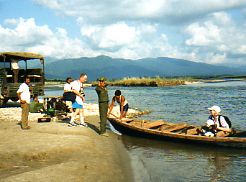 Elephants came later, but we couldn't let the monkey help us bathe them.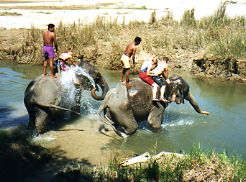 He accompanied us on a drive to look for tiger in Ranthambore National Park in India....
We told the kids back home he was excited to see real monkeys and monkey gods. Talk about travel monkey business!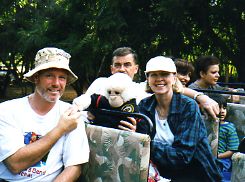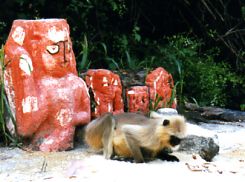 There Was Lots Of Interaction

We got local kids to write in the journal and hotels and lodges to stamp his passport....
And in one touching moment, we met a lucky little girl who had a white stuffed toy that really was a monkey....
Her monkey got to meet our gorilla and we had a wonderful afternoon with her parents. Travels with the monkey doesn't get much better than that.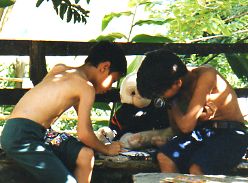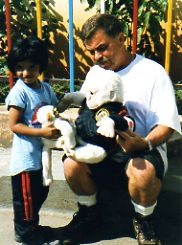 The Monkey Connected

We sent e-mails to the kids back home from the monkey when we could find an internet cafe (this was before cell phones!)
And we had him go shopping for souvenirs to give to the kids when we got him back to the school in New York.
And somewhere along the line...
...instead of dragging along an inconvenient toy gorilla...
...we discovered that we were enjoying our travels with the monkey!
This little toy was a real ice breaker at times. The kids we met were serious about writing in the journal... in a foreign language....
What a great education for kids on both the sending and receiving of greetings to the monkey.
We don't advocate carrying a lot of extra "stuff". If you've been reading our site, you know we always say to travel light...
But if you somehow find yourself roped into something like this... relax, this kind of travel monkey business might turn out to be lots of fun.
For information on India from a non-commercial website check out All About India.

Do you have a great travel story? Go to our Mouse Travel Stories page and share your story....
Happy travels... even if you don't travel the world... just remember that life is a journey... embrace and enjoy it! Judy and Mark
Curious about what else we've written about?  Search our site for a destination or travel tip.

But... We'd love to have you share this page or comment on it…
Thanks, Judy and Mark

Go to Mouse Travel Stories
Mountain Gorillas  Our Silverback Mountain Gorilla  Mountain Gorilla Facts
Share Amusing or Confusing Roadsigns  Clan MacEwan/MacEwen Stories
Go from Travels With the Monkey to MouseToursTravels Home Page