It's True... I Do Testimonials for




Pepto-Bismol


For Travel Health That Is...


COVID slowed us down for a couple of years, and now a few health issues challenge us.  We're still traveling if not writing about it quite so much. Our goal in 2022 was get to all seven continents in one year... and we did it.


Going forward health issues may not allow us to travel.  No one can take away those memories though.  We hope all of you are well and staying safe... and that you find some inspiration here for YOUR future travels. 


"I tried Pepto-Bismol on a recent trip, and it really worked. 
Now I want to read all of your travel tips…"

I had an old doctor, years ago, tell me that he had heard that if you took Pepto-Bismol, it could help prevent travelers' diarrhea...

...Something like two tablespoons of the pink stuff four times a day.

Well, I figured it couldn't hurt to try it.


Mark used to get sick everywhere we went...

And I'm not just talking about the time I had to leave him in the hotel in Cuzco, Peru....

He used to have problems in Arizona,

...Texas,

...Florida...

...tourista anywhere the water was different.

We started packing Pepto-Bismol, and lo and behold, Mark hardly ever got sick. Check out our stories about travel health in Bhutan and China.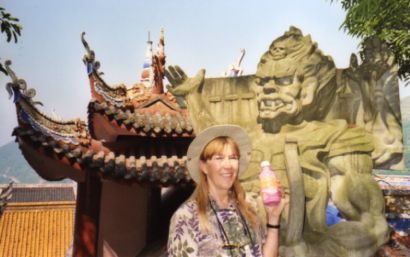 How We Used To Take It

We didn't take it the way that old doctor suggested... it was hard to do that when we were out and about and away from our room. What we did was this... we would take a swig in the morning and one at night. And more often when we were less cautious with what we ate.
The CDC discussion below will tell you that Pepto-Bismol tablets are effective too. On this I'll just say that we used to be superstitious. We always took the liquid.... with tablets as back up. I know that's silly, but it's what we did.
How We Take I Now

With today's security rules on packing liquids and medications, I've changed to the tablets.  Pepto-Bismol is considered a medication, so theoretically you should be able to take a big bottle, but who wants to chance it?  With the tablets, you can pack as much as you want... more than just 3 ounces!

More Stories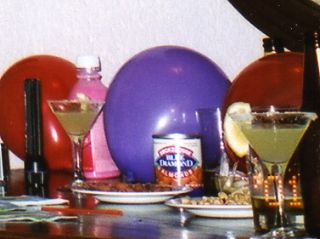 On a historical note...
We think so highly of the pink stuff, that we even used it as a prop for a silly song we made up to celebrate the anniversary of friends we were traveling with in Africa....
See the pink bottle of Pepto-Bismol hiding among the balloons?
One time traveling with a group of friends in Ladakh in the north of India, we loaned our Pepto-Bismol to a friend who was having troubles with tourista. We've read that if you miss a few doses the liquid's effectiveness decreases. It must be true. After a couple of days without the pink bottle, Mark told me to get the Pepto-Bismol back... and soon everything was fine.

To Be Really Safe When You Eat

To be really safe, the tried and true travelers' rule is to eat it only if it's peeled or boiled or well cooked.... another rule I'm afraid we break more often than we should.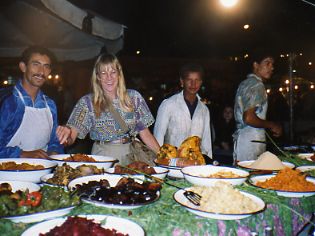 We do eat at street stalls if they look clean...
Yes we do realize you never know what microbes are lurking...
but we can't resist.
And we eat salads even on safari or in the jungle or traveling overland in India or Tibet.
Sometimes it's a matter of "what else can you do"...
..as it was on the road here in Tibet...
Sometimes it's just because it seems like the thing to do at the time as in the Djemaa El-Fna square in Marrakesh, Morocco (above).
We took bottles of the pink stuff to Bhutan and China. In Bhutan the food was unfamiliar and spicy. In China the food was more familiar, but there was too much of it, and it was certainly no less spicy. We had fellow tourists laughing at our "drink pink" pictures... (Like the one at the top.)

More Advice From the Old Doctor
Because we succumb to those temptations, we follow another bit of advice from that old doctor... that it's a good idea to eat things that are "acidy and yeasty"....
Yogurt, Beer and Wine?

So we make it a habit to eat yogurt when we travel.
And to drink beer. Who'd of thought beer was good for you?
Wine works well too... and we're Californians so we love our wine.
You do have to be careful with the water in many places.  You can always order bottled water with your meals, but we enjoy trying the local wines and beers when we travel... always in moderation, of course.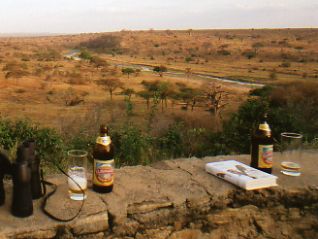 Now I can't say that any of this will work for you, but I pass it along because it has worked for us.
The Official Word On Pepto-Bismol

Here's the official word in the Center for Disease Control and Prevention site under Travelers' Diarrhea and then the subheading "Nonantimibrobial Drugs for Prophylaxis"...

For prevention of travelers' diarrhea:
....Studies show a decrease in the incidence of TD (Travelers' Diarrhea) with use of bismuth subsalicylate ... ...Several studies show that bismuth subsalicylate taken as either 2 tablets 4 times daily or 2 fluid ounces 4 times daily reduces the incidence of travelers' diarrhea... ...prophylactic bismuth subsalicylate should not be used for more than 3 weeks.
For treatment measures for travelers' diarrhea:

.......... Bismuth subsalicylate is no longer recommended as a treatment for travelers' diarrhea.  The CDC recommends an antibiotic.  Which antibiotic depends on which bug has caused the diarrhea.  They also mention that it might be helpful to combine the antibiotic with the symptomatic relief of an antimotility agent such as loperamide.  (Just remember those antimotility agents only slow the symptoms... they don't cure you.)

Obviously you've figured out that "bismuth subsalicylate" is Pepto-Bismol. For the full discussion, go to the CDC site for Travelers' Diarrhea.
More Preparation For Travel Health

The CDC site for Travelers' Health is full of information on other diseases. Be informed, but don't let it scare you off!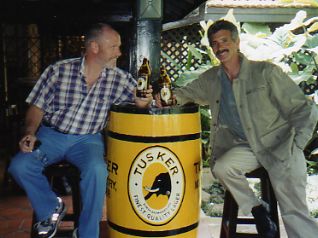 Go ahead and get off the beaten path.... just take all the precautions you can.

The CDC also addresses that other question, "Do I need SHOTS?" Click on THAT question for our page on international travel health vaccinations.
We have pages on foreign money matters and rental car tips and general travel safety tips.
Remember, it's all just preparation.... none of these discussions should worry you too much.
Go and enjoy. Just remember to pack your Pepto-Bismol.
Cheers!

Happy travels... even if you don't travel the world... just remember that life is a journey... embrace and enjoy it! Judy and Mark
Curious about what else we've written about?  Search our site for a destination or travel tip.

But... We'd love to have you share this page or comment on it…
Thanks, Judy and Mark