A Tourist Angel? 

Well, That's What I Called Him
COVID slowed us down for a couple of years, and now a few health issues challenge us.  We're still traveling if not writing about it quite so much. Our goal in 2022 was get to all seven continents in one year... and we did it.

Going forward health issues may not allow us to travel.  No one can take away those memories though.  We hope all of you are well and staying safe... and that you find some inspiration here for YOUR future travels. 

Have you ever encountered a tourist angel?  They're out there.

We say you should accept that good things will happen when you travel.
What does that mean? 
It means to look for the positive things that happen when you travel. 

A little editorial comment here....

We have met people who say that Murphy travels with them. 
You know… the travel version of Murphy's law…. if something can go wrong when they travel it will. 
I'm thinking that just sets you up to think negatively…. to look for things that aren't quite right.



That's not how we travel... We always expect things to go well. 


Plan For Problems, But Don't Expect Them
We think if you expect things to be good and people to be friendly and helpful… that's what you get.

Let me give you a recent example…

Our Spanish Tourist Angel
We were driving into Granada, Spain… on a Saturday in May.  We try not to drive in big cities, but sometimes our plans just call for it. 

One wrong turn and we were lost. 

We were still driving towards "Centro" and following signs towards the Alhambra, but we were clearly not exactly where we wanted to be. 

Mark was carefully negotiating the roundabouts and watching all the traffic signals when he noticed a fellow following us on a motor scooter.  His uniform and badge made Mark nervous that he may have done something wrong….

So we pulled over.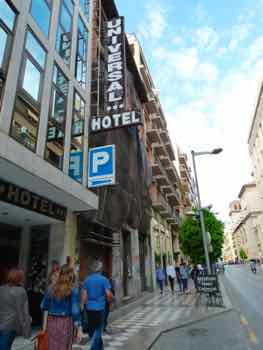 A hotel with parking in central Granada - what a relief
This very official looking fellow approached the car, and in perfect English told us that he worked for the Visitors Bureau and that we looked lost.  If we wanted, we could follow him and he could take us to our hotel.

If you don't know by now, we most often travel with no reservations, and this time was no exception.  When we told him we didn't have reservations, he said, "But it's Saturday night in Granada!"

We know….

Then he pulled out his cell phone and found us a hotel only a couple of blocks from the old town… with parking… and he had us follow him there.

A tourist angel… That's what I call him.

 If Your Plans Don't Work
If you are planning on an activity, and it looks like you might not be able to do it… don't give up.  There might be a way to work things out….

After checking in to our hotel, the hotel staff told us that there were no tickets left to visit the Alhambra for the whole weekend… maybe even for the rest of the month.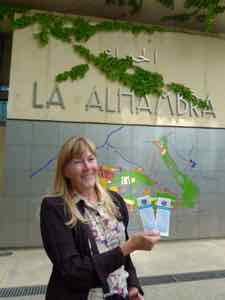 Tickets to the Nasrid Palaces in The Alhambra
Now, for popular sites like this, any good guidebook will tell you to get advance reservations online.  We didn't… and we often don't because we don't have a set itinerary. 
So what were we to do now?  Visiting the Alhambra is the main reason for going to Granada… right?

Once again, we expected things to work out. 

We asked at the Alhambra bookstore, and they told us that there were tickets for a night tour to the palace… not the whole tour, but enough. 
We had to hike up to the ticket office, and we got tickets… for 10:30 at night! 


We would never have planned a visit for that late at night, but you know, it was very pretty seeing the carving and arches and fountains at night…. and it was definitely cooler!


Be flexible… and look at the bright side.  We took in an early Flamenco show with tapas AND toured the Alhambra palace… just not in the order we had expected to...
And we kept saying, if that tourist angel hadn't helped us get a hotel so quickly, none of it might have worked out... but he did find us... and good things happened.

We were so happy on the stroll back to the hotel that we grabbed an ice cream cone.  Problems easily solved all day long… travel may keep you on your toes, but it's just so much fun!
Look For The Good Things
And that's what I'm talking about when I say to expect that good things will happen.  That was early in our trip, and somehow it made driving into other cities easier. 
Even though we didn't encounter another tourist angel, we did find many friendly and helpful people.

There will be times when you'll be tired and cranky as you travel.  I think that's to be expected… Travel is fun, but it can be hard work.  Just don't go looking for the bad things… 

Look for the good and the fun and the funny, and more often that not… that's what you'll get.

Happy travels... even if you don't travel the world... just remember that life is a journey... embrace and enjoy it! Judy and Mark
Curious about what else we've written about?  Search our site for a destination or travel tip.

But... We'd love to have you share this page or comment on it…
Thanks, Judy and Mark

Go from Tourist Angel back to Travel Stories
Home Page