Isle of Skye Scotland
A Cute "Welcome Home"
COVID slowed us down for a couple of years, and now a few health issues challenge us.  We're still traveling if not writing about it quite so much. Our goal in 2022 was get to all seven continents in one year... and we did it.

Going forward health issues may not allow us to travel.  No one can take away those memories though.  We hope all of you are well and staying safe... and that you find some inspiration here for YOUR future travels. 

The Isle of Skye Scotland... We named one of our dogs after it...

What's THAT got to do with travel?
Well, it's one more little story about what might get you traveling, and why we went to the Isle of Skye.

A little personal story here... Our dogs have always found us.
The amazing thing is that most of them were Irish Setters... who wouldn't want one of those beautiful big red dogs?
Then Mark met someone who had a Gordon Setter....
What is a Gordon Setter? 

A Gordon Setter is the Scottish black and tan setters.  Related to, but different from Irish and English Setters.  And he decided we needed one.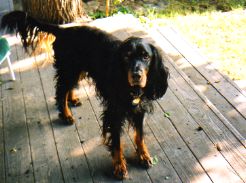 So we contacted a Gordon Setter rescue club...
...and within months we had one.
A black and tan character who ruled our lives for 15 years.
He was as at home with the neighbors as he was with us... good thing since we travel so much.
We named him Skye...
After the Isle of Skye Scotland
And that brings me to this Mouse Travel story.... It was a great travel hook.
With our Gordon Setter named after the island, we had to go there!
On this trip we flew to Manchester, rented a car and drove to the Borders.
We explored our way through the Western Highlands past Eilean Donan Castle and drove to the Isle of Skye on an absolutely gorgeous sunny warm day.
We stopped just outside of the town of Dunvagan thinking that we'd see the Dunvegan Castle the next morning.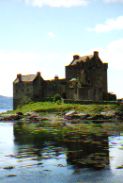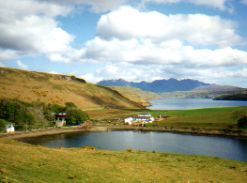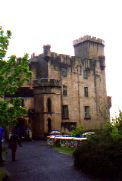 The Inner Hebrides weather being changeable as it is... we woke to a full blown gale, but we decided to go to the castle anyway.
Using an umbrella to get from the parking lot to the entrance was useless, so when we dashed in to pay our entrance fee, we looked a little like drowned rats.
We hung up our coats and started on the self-guiding tour.
In the first room of the castle, we came upon a little old lady sitting in a rocking chair, knitting.

Here's Our "Welcome Home" Story
She looked up and smiled at us. "Sorry about the weather," she said in a thick Scottish brogue.
"We don't mind the weather," said Mark. "We're just thrilled to be in Scotland."
"Oh," said the little lady raising her eyebrows, still rocking. "And where are your people from?"
Knowing she wasn't meaning California... and having found a little information about our clan in a book earlier on this trip, Mark said, "Well, m'am, my people are from Loch Fyne."
"Good kippers in Loch Fyne," she says (are you hearing the brogue?) "And do your people have a proper tartan?"
"Yes, m'am. It's the MacEwan tartan."
"Aye," she says.... (You really need to imagine her Scottish accent here...) "I'll be looking it up in my wee book tonight.... Welcome home!"
Need I tell you that nearly reduced Mark to tears? Welcome home indeed. Right here in the Isle of Skye Scotland. We love this story. We hope you find it heartwarming too.
One Good Story Deserves Another
More On Scotland
And MacEwens

Would you like to share a travel story with us?
We have an easy to use form where you can send us your story, and we'll publish it as a page on our site that you can send your friends to.
Or perhaps you have a Scottish clan story?
We have a page for that too.... Visit our Clan MacEwan -- MacEwen page to read stories other have sent us about the clan or to send us your story. It's easy to share...  no code to write, just plain English, and easy to follow directions.
Did you read one of those pages and come back here without sharing? Go on back and tell us your story....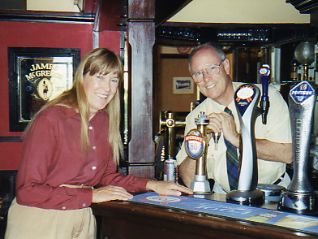 There's nothing earth shattering about our Isle of Skye Scotland story... it's just a heartwarming little story that we love to tell. We'd love to hear yours.
Little stories are what make travel so rewarding.
Happy travels... even if you don't travel the world... just remember that life is a journey... embrace and enjoy it! Judy and Mark
Curious about what else we've written about?  Search our site for a destination or travel tip.

But... We'd love to have you share this page or comment on it…
Thanks, Judy and Mark

Go from Isle of Skye Scotland to Mouse Travel Stories
Go to Clan MacEwan/MacEwen Stories
Go from Isle of Skye Scotland to MouseToursTravels Home Page