The Keys To The Castle!

COVID slowed us down for a couple of years, and now a few health issues challenge us.  We're still traveling if not writing about it quite so much. Our goal in 2022 was get to all seven continents in one year... and we did it.

Going forward health issues may not allow us to travel.  No one can take away those memories though.  We hope all of you are well and staying safe... and that you find some inspiration here for YOUR future travels. 

You never expect to get the keys to the castle when you stay in one…
One thing I have to tell you is that some castle keys pretty much looked like ordinary keys.  Not all of them are wonderful big old keys. 
I'm sure there are some like that, but let me tell you the story.

We planned to drive around Ireland, stopping wherever we wanted for the night… find a room in a B&B or a Pub or little hotel…

But Mark is romantic, and he likes to try for a splurge once in a while…
And castle stays are at the top of his list.


We looked up Ross Castle…
(Their website gives you a warning... they will tell you this is the one in Oldcastle not the one in Killarney.)

When In Ireland, Stay In A Castle
We found that this was one that we probably could fit into our budget.  So when we were ready to leave Dublin, we emailed them to see if they had a room available for the night. 
We were glad to find out that they did…. and they sent us directions to the castle.

Ancient History and Irish Lore On The Way
We went to visit the Hill of Tara.  There are several ancient monuments here.  According to lore, Tara was the seat of the High Kings of Ireland from the times of mythological beginnings.

While Tara may be significant in Irish lore, there is not much to see today… you just need to feel the area and think about the myths that surround you.

Off To Find The Castle
By late afternoon we struck out to find the castle.  Finding the little town of Oldscastle wasn't a problem, though it is much further out than we expected.

Mark kept asking. "How much further?"  And I'd say….. "Oh another 30 or 40 km." 

I'll give you the directions because the castle really is worth a stay… and because I want you to see just out in the middle of nowhere we were!

From Oldcastle, we were very glad to have the detailed directions that she sent us.

Take the N3 to Kells - That was easy enough….
From there proceed on the the R 163, which turns into the R 154 to Oldcastle

Proceed through the village going west towards Mount Nugent on the R154. 
Mount Nugent wasn't on our map, but we found the village just fine…


In the centre of Mount Nugent turn left at the Drapers shop and follow the road ( L 7081 ) to the village of Ross.  (What village?)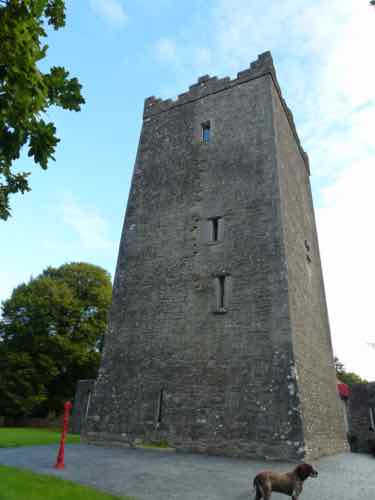 You will pass Sheelin Nursing Home on your left and pass over a small, narrow bridge with Lough Sheelin on your right.
Proceed up the hill and after 300 yards on top you come to a cross road with a signpost for Ross Castle;
Turn right for the castle.
Follow the laneway to the end, where the tower will guide your way to the parking lot. 

The laneway was very, very narrow…
...But yes, once we got further up the road, the castle tower did guide us to the parking lot.

A Norman Castle

This Ross Castle is a Norman Keep… a wonderful square tower watching over the lake.  It was built in the 1500s and rebuilt a couple of times.  (Fortunately for us with modern conveniences added.)

So much for the history of the castle.
When we arrived, we were given our choice of rooms as we were the only guests. 
We chose the masters bedroom at the top of the tower…
So what if we had to climb 4 flights of winding stairs?


When we asked about dinner, the manager told us that she usually could cook upon request, but she was having a big party for her daughter the next day, and she really couldn't.  She suggested a nice country club restaurant about 30 minutes away, and we said that would be fine.

So we settled into our room and got ready to go out for dinner. 

But What About The Keys To The Castle?
Oh yes... the keys to the castle.  Here's the point of this little story…

When we descended the stairs again, our hostess said there was only one little problem.  They lived about a mile away, and with all the party preparations, they really couldn't be there when we got back from dinner….

"So," she says, "Can I give you the keys to the castle?"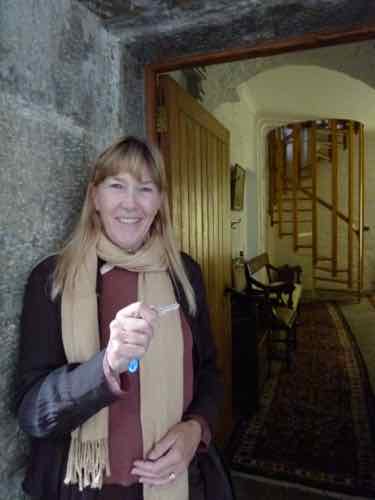 No one has ever said that to us.  Can I give you the keys to the castle!  What fun.
Keys to The Castle But Not Alone

Did I mention there was a ghost?  And a Knight In Shining Armor?  And a parrot… well, not really a parrot.

When we got back from dinner, I really wanted to send an email telling all our family about having the keys to the castle.  No wifi in the tower room, so I had to go to the bottom floor. 

It was just me and the suit of armor in the corner.  And the parrot reminiscent of a Monty Python skit…

It was windy outside. 
Now stone castles don't creak, but windows do rattle, and I could hear the wind…

It was just a little spooky being down there all alone. 
Upstairs the room was spookier at night too…
Or romantic depending on how you look at it! 


I kept wondering if Sabrina the ghost was around.  I understand she only shows herself to men, but neither of us encountered her...  Only the castle dog.


A Terrific Castle Stay With Terrific Hosts
Our host and hostess told us that there was more history nearby. 
We were on our way to see the New Grange and Knowth monuments in the Bru na Boinne, but our hostess told us not to miss Loughcrew… which was also a great burial mound, but it was more rustic… and free... with docents to tell you all about it. 
It's one of the top Neolithic passage tombs and it's fun to climb up to it and see it without the crowds you encounter in Bru na Boinne.

Ross Castle is a terrific little castle to stay in. 
Not a fancy castle hotel this one…  Just makes you feel like lord of the manor… especially if they give you the keys to the castle... if only for a night.
Here's the website for this Ross Castle... If you go to Ireland, stay in a castle

Happy travels... even if you don't travel the world... just remember that life is a journey... embrace and enjoy it! Judy and Mark
Curious about what else we've written about?  Search our site for a destination or travel tip.

But... We'd love to have you share this page or comment on it…
Thanks, Judy and Mark