Avebury
Guess At The Mystery
Wander In the Stone Circle
COVID slowed us down for a couple of years, and now a few health issues challenge us.  We're still traveling if not writing about it quite so much. Our goal in 2022 was get to all seven continents in one year... and we did it.

Going forward health issues may not allow us to travel.  No one can take away those memories though.  We hope all of you are well and staying safe... and that you find some inspiration here for YOUR future travels. 

Avebury is an impressive stone circle.  It is near to Stonehenge, but seems a world away.  If you like these ancient stone circles, you should go looking for it.

It is a true henge monument...
With the huge stones you would expect...
And since it's a henge... with a huge circular bank and ditch.
Huge as in the bank is a mile around...
And even though the ditch is impressive, it is only half its original depth.

Avebury Is The Largest Stone Circle

It is so big that it's hard to get a photo that really tells you what it's like.
It is the largest stone circle in Europe.
We've read that it is approximately 14 times larger and 500 years older than the more famous Stonehenge.
A Few Stats If You Want Them

There are about 650 massive stones arranged in circles and avenues.
There are two ceremonial avenues of standing stones departing from the main ring.
You can wander along one... the West Kennet Avenue. It was originally 1.5 miles long (2.5 km) and connected Avebury to another small stone circle called "The Sanctuary" on Overton Hill.
This was originally a wooden circle with sarsen stones added later.
Today all that can be seen are concrete markers showing the former positions of the circles.

You Feel Like You Discovered It

It's one of our favorites not because of its great size, but because we felt like we discovered it all by ourselves the first time we went.
It doesn't get the publicity that Stonehenge does.
Its stones are not as finely sculpted and finished, but you can wander among the stones and somehow feel the ancient power of the place.

You Can Drive Right Through It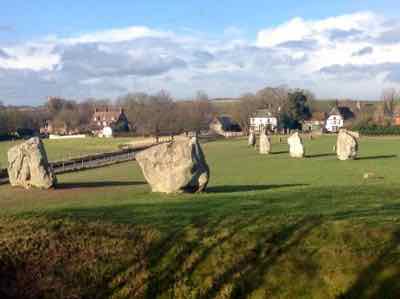 There is a road that passes right through the circle.
The beauty of Avebury is that there is a village right there.
In fact the 400 year old Red Lion Pub sits within the stone circle right on that road. Where else can you get a bite to eat and a pint inside a stone circle?
Avebury receives more visitors all the time.
If you arrive on a Bank Holiday, like we did one time, you will say, "Wow, how can anyone say this is undiscovered and uncrowded!"
Plan to arrive in the middle of a quiet, non-holiday week, and you will feel like you have it pretty much to yourself.

Other Sights Nearby

Silbury Hill

Just a little south are other interesting sites... Silbury Hill is the largest man-made prehistoric mound in Europe.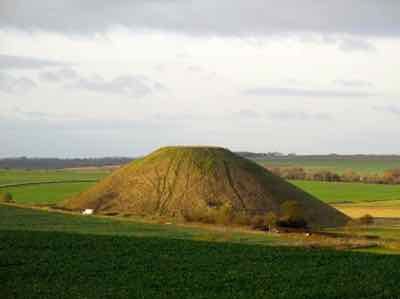 The base is perfectly round.
You can climb it for a view around the country side.
No one really has an explanation for it's original purpose.
Though scientists have dug here, nothing significant has been found to date as far as we've read. Is it a sundial? A rich burial site? Your theory is as good as anyone's so far.
Research is going on at Stonehenge and these related sights all the time, so we may fall behind on some of that information.

West Kennet Long Barrow
A short distance from Silbury Hill is a neolithic burial site called the West Kennet Long Barrow.
It is visible from Silbury Hill. This barrow was probably in use for 1,000 years for multiple burials.
The mound itself is 110 yards long (100 meters)... a long barrow indeed.
You can walk to it from Avebury (about 1.5 miles, 2.5 km) or from Silbury Hill (1 mile, 1.6 km) or you can park nearby and walk to explore it (1/2 mile, 0.8 km).

Where Avebury Is - Where To Stay

This amazing stone circle lies only about 24 miles (39 km) north of Stonehenge and is part of the Stonehenge World Heritage Site.
You can easily spend a full day hiking peacefully around the stones and earthworks.
Visit it before or after you visit Stonehenge.

There are shops like the Henge House where you can buy books and souvenirs.
There are several B&Bs in the village.
An information center can help find a room, or you can ask at the Red Lion Pub...
They had three basic rooms one time when we were there. If you're lucky, they might still have them.  Snag one and you get to sleep in a stone circle!
The second time we visited that's exactly what we did... what better way to feel the mystery.
(If these interest you, you should know that there are ancient megaliths all over the UK and in Carnac, France too.)

Happy travels... even if you don't travel the world... just remember that life is a journey... embrace and enjoy it! Judy and Mark
Curious about what else we've written about?  Search our site for a destination or travel tip.

But... We'd love to have you share this page or comment on it…
Thanks, Judy and Mark