Ancient Irish Monuments
Our Take On Academic Definitions
COVID slowed us down for a couple of years, and now a few health issues challenge us.  We're still traveling if not writing about it quite so much. Our goal in 2022 was get to all seven continents in one year... and we did it.

Going forward health issues may not allow us to travel.  No one can take away those memories though.  We hope all of you are well and staying safe... and that you find some inspiration here for YOUR future travels. 

You may have figured out that we like prehistory, so let's define ancient Irish monuments.
Hopefully, you'll find this more interesting than our nieces did....
They pretended to be asleep in the back seat when we were exploring some of these sites!
We've talked about some of the ancient Irish monuments we've seen...,
The passage tombs of Bru na Boinne and sites like the Hill of Tara...
But what are all those other monument scattered around all of Ireland.

Some Ancient Irish Monuments Are Tombs

Passage Tombs

We'll start with "Passage Tombs" like Newgrange and Knowth.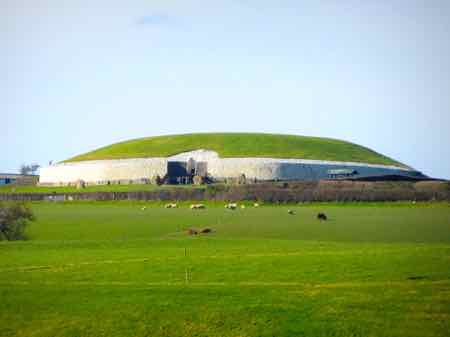 These are round tombs with an identifiable passage that leads from an entrance to a burial chamber. They often have spectacular solar alignments.... The passage at Newgrange lights up during the Winter Solstice.
Some call these "passage cairns", arguing that they were burial chambers only for very important people.... That instead of a grave, the chamber may be likened instead to a womb, and that they may have been linked to an earth goddess and fertility.
Interpretations aside, "Passage Tombs" are round mounds with passages and chambers.
Portal Tombs - Dolmens and Such

Other types of tombs are "portal tombs" which are constructed of three or more huge standing stones and covered with earth.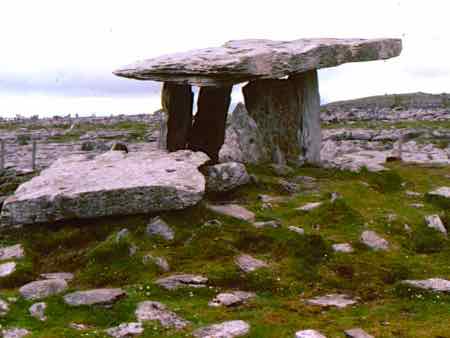 "Dolmens" are the uncovered remains of "portal tombs". One haunting "dolmen" stands out on the Burren.
There are "court tombs" which are half-circles with a courtyard in front, and "wedge tombs" which look like pie shaped versions of "court tombs".

Cairns and Ring Forts
Moving on to other ancient Irish monuments, you have just plain old "cairns" which are basically piles of stones which may or may not contain a tomb.
More Than One Type Of Ring Fort!

Then you have Ring Forts.
That sounds pretty simple doesn't it? A fort shaped in a ring? Not so fast.
You've got "Cashels" which are ring forts built mainly of stone.
"Crannogs" are ring forts built on small islands near a shoreline and connected by a causeway.
"Raths" are ring forts of ditch and earth-wall construction which was topped with a wooden palisade.
Hill forts are ring forts on hilltops.
And Promontory Forts are self-explanatory.... Sometimes with one side consisting of a sheer cliff.

Standing Stones

And then you get into "stones".... You'll find "Standing Stones" of course.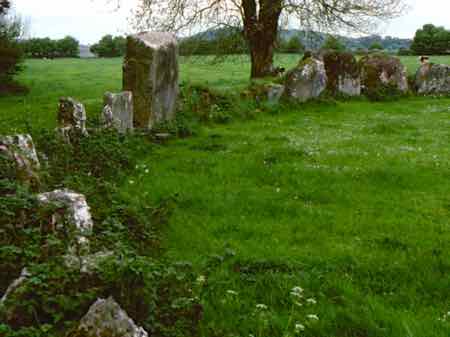 We've talked about those before. They may stand alone or as part of a "henge monument."
"La Tene Stones" are standing stones with Celtic carvings.
And "Ongham-Stones" bear inscriptions in a special language that was used in ancient times.

Ley Lines and Fairies

Among the more controversial "constructions" are "Ley-Lines". These are supposed alignments; straight lines connecting important sites or some say "power points." Let's just say that there may be a lot of speculation here, which leads us to....
Fairies of course.
Because it's Ireland, you also will find references to Fianna and Fairy Hills.
The scientific explanation is that after hundreds or thousands of years some monuments like passage tombs developed legends around them that they might be passages to the "other world".
Can't tell your ancient Irish monuments without a scorecard...
And there you have it.... crannogs, raths, fairy hills and all!
Next you'll be seeing leprechauns!
Happy travels... even if you don't travel the world... just remember that life is a journey... embrace and enjoy it! Judy and Mark
Curious about what else we've written about?  Search our site for a destination or travel tip.

But... We'd love to have you share this page or comment on it…
Thanks, Judy and Mark