London For Free?
Be Frugal Walk, See Museums, and Save
COVID slowed us down for a couple of years, and now a few health issues challenge us.  We're still traveling if not writing about it quite so much. Our goal in 2022 was get to all seven continents in one year... and we did it.

Going forward health issues may not allow us to travel.  No one can take away those memories though.  We hope all of you are well and staying safe... and that you find some inspiration here for YOUR future travels. 

London is expensive... So we look for things we can do to enjoy London for free. 
Window shopping and walking don't cost anything.  Just get a feel for the city... then spend your money on things that are important to you.


Those ticket prices add up in a hurry when you have to pay admission.
Remember whenever it costs you 10 Pounds, that's really closer to 14.00 US Dollars and 11 Euros...
...give or take...
It depends on today's exchange rate of course....
But whatever the exchange rate is when you read this...


The fact is you'll find plenty of admission prices that are 10 or 15 Pounds and more.
You will want to see the Tower of London... and you should, but the admission fee is 17 Pounds... that's $25.00 or 20 Euros!
Your travel budget will go further if you can balance those kinds of prices out with less costly pleasures.


What Can You Do In London For Free?

Lots of things as it turns out... We'll tell you some of the things we've enjoyed.


First Of All Think Museums

      The British Museum,
      The Tate Britain,
      And the Tate Modern.
      Also the National Galley in Trafalgar Square. It's full of old master's paintings.

Enjoy Trafalgar Square

See Trafalgar Square itself with its column monument to Lord Nelson.
St. Martin-in-the-Fields church is in one corner of Trafalgar Square. Admiralty Arch marks the entrance to the square.
If you go through Admiralty Arch you end up on the Mall.

Walk The Mall - See The Changing Of The Guards

Walk down The Mall to see the Changing of the Guard at Buckingham Palace.
Join the crowds at the fence. The ceremony takes place at 11:30, but to get a good vantage point you'll want to arrive earlier.
If there isn't a crowd, you'll know you're there on the wrong day.
They don't preform the ceremony everyday. Check the schedule before you go and stand around.

Walk Around Parliament - See Big Ben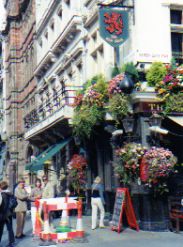 You could go in another direction from Trafalgar Square and walk down Whitehall Street.
Stop in a pub for a pint... you'll have to pay for that, but you do have to eat, and Whitehall connects Trafalgar Square to Parliament Square.
Pause to peer through the fence at Downing Street, see if you can catch a glimpse of 10 Downing Street where the Prime Minister lives. The Bobbies probably won't let you pause for long though.
At Parliament Square you can see the outside of the Parliament Building, take pictures of Big Ben, and walk the Westminster Bridge for free.
Westminster Abbey is across the street from Parliament. There is an admission fee... they need it to maintain the building, but the Abbey says they will never turn away worshipers.
There are free organ recitals on Sundays, check their website to see details.

Spend Time In The Parks

You can wander around in any of the London Parks and Gardens.
St. James Park offers some of the best views of Buckingham Palace in London.
Enjoy the show as speakers get up on their soapbox at Speaker's Corner in Hyde Park. Free speech is alive and well, and some of it may sound a little tedious, but there will be plenty of hecklers to spice up that action.
The Diana Memorial Statue is also in Hyde Park.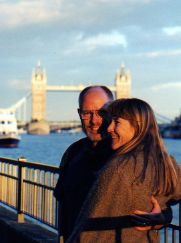 The Victoria Embankment

Another fun thing to do in London for free is to walk the Victoria Embankment along the River Thames...
There are famous sights all along the river...  It's a great place to stop and get pictures of them.
More Free Wandering

Take in the shops and theaters around Piccadilly Circus.
Window shop on Bond Street.... Old or New.
Look for antiques at Portobello Road Market or Camden Passage.
Spend time in Covent Garden.
You see... there are lots of things you can do that will help stretch your travel budget.  Just look around and follow your interests.

Use your walking tour and your time seeing London for free to choose what you want to spend your hard earned vacation money on.
Happy travels... even if you don't travel the world... just remember that life is a journey... embrace and enjoy it! Judy and Mark
Curious about what else we've written about?  Search our site for a destination or travel tip.

But... We'd love to have you share this page or comment on it…
Thanks, Judy and Mark


International Travel Tips l Europe Travel Tips
Hotel and B&B Tips l Packing Lists
Go from London For Free to MouseToursTravels Home Page