Castle MacEwen
Directions to Find It For Yourself
COVID slowed us down for a couple of years, and now a few health issues challenge us.  We're still traveling if not writing about it quite so much. Our goal in 2022 was get to all seven continents in one year... and we did it.

Going forward health issues may not allow us to travel.  No one can take away those memories though.  We hope all of you are well and staying safe... and that you find some inspiration here for YOUR future travels. 

Many of the Clan members I hear from want to know more about the Castle MacEwen...
Where is the castle?
What does it look like?
But mostly...
How do you find it?
We went to Scotland looking for it, not really knowing what to expect, and it seemed like a bit of adventure...
...but it really is easy to get to once you know how...

So here goes...
The castle is on Loch Fyne near Otter Ferry, Scotland. That's on the west coast of Scotland about a couple of hours from Glasgow depending on how you drive... and driving really is the best way to get there. It's not exactly on most tourist routes.
Kilfinan is a tiny little hamlet just up the road from Otter Ferry, and this is where you can start a hike to get to the site....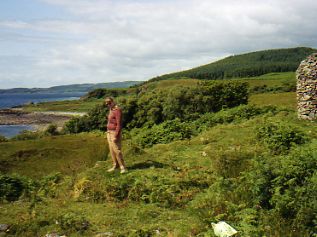 We say castle site...
Remember, the Castle MacEwen is just a wee pile of rocks...
And has been for hundreds of years!
Still, there is nothing quite as satisfying as finding it and standing on the site if you are part of the Clan!


The nice folks at the Kilfinan Hotel have sent us a copy of their hand drawn map to the Castle. If you travel there, the hotel is a great place to stay to start your adventure.... it's the closest accommodation to the castle site. The rooms are comfortable, there's a great little pub, and they are very friendly.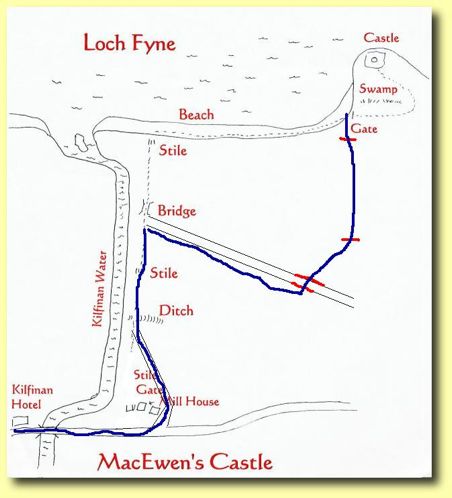 The walking directions we received to the Castle MacEwen from the previous proprietors of the Kilfinan Hotel were slightly different.... only in that they had us walking straight to the beach and over a second style. Ask at the hotel which way is best.
People are free to walk fields in Scotland at their own risk, but you must respect the property and the livestock. Here are the directions that we got complete with the caveats....
The walk involves some degree of difficulty and sensible footwear and clothing are recommended. Please close all gates behind you and take any litter home with you. Please also take care when crossing streams, stiles & stone walls as they may be slippery. No one accepts any responsibility for any accident or injury incurred during this walk.... not the property owners, not the hotel and not us. It is taken at the walker's personal risk. Cattle and sheep are present, so please do not disturb.
Directions to the Castle MacEwen Cairn:
Turn left out of the Kilfinan Hotel door and follow the road until you reach "The Old Smiddy" sign.
Turn left into the driveway which leads to 3 cottages. Immediately before the first cottage, turn right and go through the large metal gate which leads into a field. Keep to the left along the fence line, crossing ditches, a stone wall and a stile (with small MacEwen sign) which leads to the beach.
THIS SHOULD TAKE YOU APPROXIMATELY 30 MINUTES.
When you have reached the beach, turn right and walk along until the end where you will see another metal gate (with another small MacEwen sign). Go through the gate and follow the path for about 10 minutes.
Leave the path on the left (before it rises uphill) and go through rough ground where you should spot the cairn on the hillock in the distance. Continue in the direction of the cairn, going through trees and over rocky outcrops till the Castle site is reached. (You should be able to see the Loch nearly at all times.)
Hope you get to travel to Scotland and have as much fun as we did finding the Castle MacEwen. If you make it, lift a pint of McEwan's for us! And then... do us a favor and tell us about it. Go to Clan MacEwan/MacEwen Stories and just write a few words. We all want to hear about it.
Happy travels... even if you don't travel the world... just remember that life is a journey... embrace and enjoy it! Judy and Mark
Curious about what else we've written about?  Search our site for a destination or travel tip.

But... We'd love to have you share this page or comment on it…
Thanks, Judy and Mark

Clan MacEwan/MacEwen Stories l OUR Story About Finding the Castle
Jim's Clan McEwen Research l Isle of Skye - Scotland Welcome Home
Go from Castle MacEwen to MouseToursTravels Home Page