RV Travel in Europe
An Option To Explore
COVID slowed us down for a couple of years, and now a few health issues challenge us.  We're still traveling if not writing about it quite so much. Our goal in 2022 was get to all seven continents in one year... and we did it.

Going forward health issues may not allow us to travel.  No one can take away those memories though.  We hope all of you are well and staying safe... and that you find some inspiration here for YOUR future travels. 

RV travel in Europe? You may think of vacationing with an RV as an American experience, but think again...
Europeans have been caravanning for years too...
...as have Australians and New Zealanders.
And while the term RV is catching on outside of the U.S...
...you will read most often about caravans or campervans.
There are many companies that rent RVs or campervans in Europe.
In general they will be smaller than the motorhomes you see rolling down American highways.



RV Travel In Europe Will Be Different, But...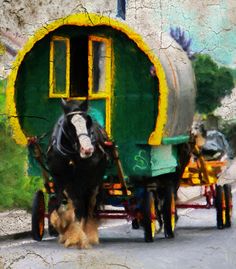 Not THAT different!
OK... so you can't have a bedroom, a living room, and a dining room...
But you can have a kitchen, and you can take efficient accommodations with you.
No... you won't be having to drive a horse drawn cart down the road...
(Though there are places where you can actually do that.)
We're talking RVs pretty much like you're used to seeing.
More RVs Now 
We recently took a "road trip" through Europe... Sweden, Poland (via ferry.... lots of room for an RV), Germany, Belgium and France. 
We saw many campervans and small RVs on the road. Only once did we see a large RV like you commonly see on US highways, but it was obvious there are plenty of people using this travel option. 
If you like the RV lifestyle, RV travel in Europe is something you should check into. 
Seeing Europe by caravan will give you a whole different experience than driving or taking the train and staying in hotels. 
You probably will have more chances to make friends with vacationing Europeans.

Lots Of Places To Park Rvs
Sure, you say, you can camp in the mountains. But what about the cities?
Yes, there are loads of campgrounds out in the countryside.... but you may be surprised to find that you can find places in the cities too.

You can set up your RV in the Bois de Bologne overlooking the Seine in Paris. 
You can find a camping spot on the beach just outside of Venice.
Set out the camp chairs for cocktails with a panoramic sunset view of Florence. 
And to make it better, there is often a bus stop or metro stop close by! (They are on the edges of cities, so expect about a 30 minute ride to the center of town.)


RVs Give You Different Options
With a camper van (or auto caravan) or RV, you can wander from campground to campground. 
You can shop in local markets for area specialties and cook yourself...
...or you can find small local restaurants if you don't want to cook.

Some Logistics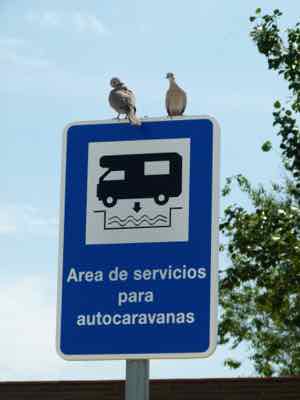 Gas is more expensive, but in general distances are shorter, so this won't be as much of a burden as you might think.

Most local tourist offices list area campgrounds for RV travel in Europe.
Most countries in Europe also tolerate "free camping"... just parking on the side of the road in a discreet spot.
There are plenty of websites that will rent caravans or campervans and give you advice on what you need to know for the RV experience European style.
About Dumping
So where do you "dump" when you need to?  
Well, at camp sites... but there are also facilities along the auto routes as we saw when we were driving a toll road in Spain.

You Can Take Your Own Rig
Here's something that might surprise Americans.... If you are an RVer, you can take your own "rig". 
This only works, of course, if you have more than a week or two for vacation. Reports on the internet say it's not as expensive as you think. 
If you're going to spend several weeks exploring, this is another option for RV travel in Europe.
Things To Remember If You Do Take Your Own Rig
You'll probably be happiest doing this if you have a motor home that is only 24-25 feet long (7-7.5 meters) and 8.5-9.5 feet wide (2.5-3 meters).

Tape the dimensions of your rig to the dashboard so you'll know height restrictions in meters.
You'll need a step-down voltage converter for the European 220-240-volt current.
Do A Swap?
Just like there are house swapping sites, there are some for RVs.
If you own your RV, these sites will allow you to do an RV swap. If you don't want to worry about changing the voltages etc., this might be a way to go.
Whether you're a visitor from abroad or a European looking for a new experience, it might just be fun to consider RV travel in Europe.
Happy travels... even if you don't travel the world... just remember that life is a journey... embrace and enjoy it! Judy and Mark
Curious about what else we've written about?  Search our site for a destination or travel tip.

But... We'd love to have you share this page or comment on it…
Thanks, Judy and Mark

International Travel Tips l Europe Travel Tips
Hotel and B&B Tips l Packing Lists
Go from RV Travel in Europe to MouseToursTravels Home Page