Fly In A Zeppelin
by Judy and Mark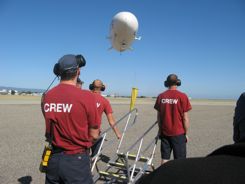 Zeppelin coming in for a landing
Here's a recent "trip", and we didn't even travel far from home! We had a chance to fly in a Zeppelin airship. Believe me, this experience was a "trip"!


This was actually part of a romantic weekend, celebrating a wedding anniversary. If you're looking for a different sort of romantic weekend, you might want to consider this.
For those of you who are into aviation, this is not a blimp... it's a dirigible. And it's made by the Zeppelin company in Germany. As of this writing there are only three flying in the world... one in Germany, one in Japan, and one in California. The one in California is the easiest to get a ride on.
If you think you might want to fly in a Zeppelin, just contact Airship Ventures. They are based at Moffett Field, California. That's in Mountain View, south of San Francisco and just north of San Jose.
The airship takes passengers from Moffett, but they also fly from other cities around California. Check their website for all the details....
Airship Ventures
We wrote more about our flight in the
Zepplin Eureka
on our Antique Airplanes website.
Whether you travel to ride in it or not... it's a trip you won't forget.
"Up Ship" as they say at Airship Ventures.... and
Happy Travels, J & M
Happy travels... even if you don't travel the world... just remember that life is a journey... embrace and enjoy it! Judy and Mark
Curious about what else we've written about?  Search our site for a destination or travel tip.

But... We'd love to have you share this page or comment on it…
Thanks, Judy and Mark