Ship or Check Luggage
With Airline Baggage Fees
Is Shipping Luggage A Good Option?
COVID slowed us down for a couple of years, and now a few health issues challenge us.  We're still traveling if not writing about it quite so much. Our goal in 2022 was get to all seven continents in one year... and we did it.

Going forward health issues may not allow us to travel.  No one can take away those memories though.  We hope all of you are well and staying safe... and that you find some inspiration here for YOUR future travels. 

Should you ship or check your luggage when you travel?
Some people advocate shipping your luggage ahead of you on your trip...
That eliminates having to deal with luggage fees...
...And it frees you from having to juggle your luggage in airports.
There has been a proliferation of baggage shipping companies since all the airline fees to check luggage went into effect.
That has made this a more viable option for travelers....
...BUT only you can decide if it will be best for you.

Door To Door Service
These new luggage shipping companies offer door-to-door service. The arguments in favor of using one are...
First, that it takes a long time standing in airport lines to check your bags.
And second, there are fees to check your bags and extra fees for overweight bags.

So Should You Ship Or Check Luggage?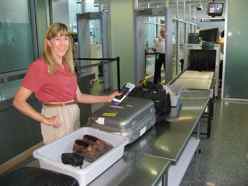 We personally think these shipping services are more expensive than checking your bags...
...and we don't think this is the best option for the casual tourist...
...but maybe you think differently.

When Shipping Could Help

There are also some times when ship or check costs might just tip the other way, so that shipping option will be worth it.
If you're a cruise passenger who just must have a different formal outfit for every dinner, you might have so much luggage that shipping it will be easier.
It could be great for athletes with lots of sports gear and equipment.
Or how about college students moving off to school?
It may be good for business men with lots of material for presentations or conventions.
We have friends from New York who have a summer house in Norway. They use shipping services to get the household goods they need to Norway. It was way too much to try and carry bedding and towels in their luggage.

Plan Ahead For Shipping Service

If you decided that shipping your luggage is for you, you need to plan ahead. Most of these companies take up to a week to deliver your luggage.
It takes even longer if you are traveling internationally.
If you want it delivered faster, it will cost you a lot more.
If you're usually a last minute packer, anything you forget to put in those shipped bags will have to go in your carry-on.

Always Carry Essential With You

We think you should always have your medicines, a change of clothes, and anything really important in your carry-on.
Even though these shipping services give you guarantees, remember "Murphy's Law." Things can go wrong. Some don't deliver on weekend or holidays... and do you know when the Bank Holidays are in London?
Compare two or three different companies for their delivery schedules and fees. Is there a cancellation fee if you change your mind or change your itinerary and pick-up date?

You Need An Address To Ship To

This option doesn't work unless you have a place to ship TO.
The address of a friend or your cruise ship or the hotel where you have a reservation.
Be sure to alert your hotel that luggage will be shipped to them, so they won't refuse it.
We've heard that some hotels won't accept shipped luggage for security reasons, so it's best to check with your hotel before signing up with the service.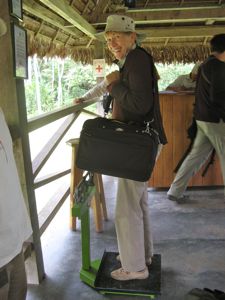 So weigh it out for yourself...
Maybe after you weigh your luggage!
Should you ship or check?
It's an option to consider.
Happy travels... even if you don't travel the world... just remember that life is a journey... embrace and enjoy it! Judy and Mark
Curious about what else we've written about?  Search our site for a destination or travel tip.

But... We'd love to have you share this page or comment on it…
Thanks, Judy and Mark

Go from Ship or Check to International Travel Tips l Europe Travel Tips
Hotel and B&B Tips l Packing Lists
Go from Ship or Check Luggage to MouseToursTravels Home Page